Keith Thurman vs. Jesus Soto Karass: Fight Time, Date, TV Info and More
Use your ← → (arrow) keys to browse more stories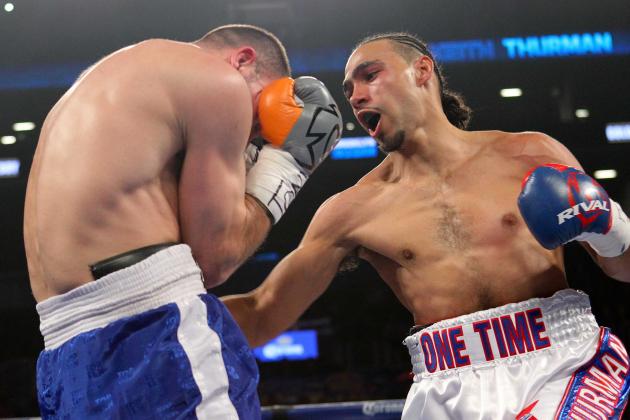 Ed Mulholland-USA TODAY Sports

Keith "One Time" Thurman (21-0, 19 KO) has been allowed back in the city of San Antonio. After stopping Diego Chaves at the AT&T Center in July, Thurman thanked "this city right here...San Diego," for its support.
The only problem with that was that the AT&T Center is in San Antonio. Thurman's record is perfect, not his geography.
Fighting on the undercard of the Adrien Broner-Marcos Rene Maidana clash, the 27-year-old Thurman will attempt to take the next step towards a world title when he faces the rugged Jesus "Renuente" Soto Karass (28-8-3, 18 KO).
Soto Karass stopped Andre Berto in the 12th round of their exciting bout, which appeared on the same card as the Thurman-Chaves bout. Showtime seems to have a wealth of young and exciting fighters at 147 pounds.
The winner of this fight is likely looking at a title shot, so as De La Soul would say, "Stakes is High."
Here's how you can watch the entire card.
When: Saturday, Dec. 14 at 8 p.m. ET
Where: The Alamodome, San Antonio
TV: Showtime
The Book on Thurman and Soto Karass
The Time is Now for 'One-Time'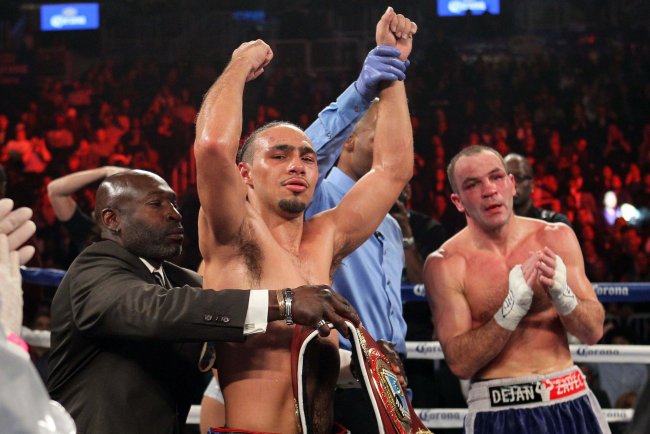 Ed Mulholland-USA TODAY Sports
Thurman has spent the last three years as one of boxing's brightest, up-and-coming stars, but now is the time for him to remove the "up-and-coming" for "One Time" Thurman. If he beats Soto Karass, he could be in line to take on the winner of the Broner-Maidana fight.
Thurman told Keith Idec of BoxingScene.com that he'd like a shot at Broner, who he expects will beat Maidana. It would be an interesting fight considering that Thurman is a natural welterweight with proven power.
Before that fight can take place, however, both Thurman and Broner have business to take care of on Saturday night. Don't you just love it when two young fighters who are on a collision course fight on the same card?
The Most Appropriate Nickname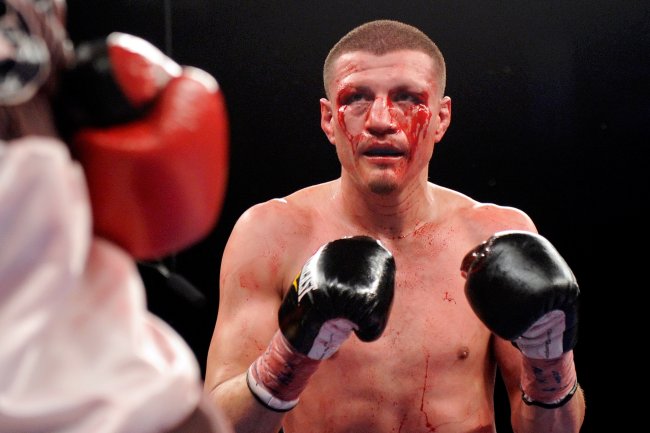 Ethan Miller/Getty Images
There isn't a fighter in the sport with a more fitting nickname than Soto Karass. The Spanish-to-English translation of Renuente is "reluctant or unwilling." Nothing better describes the way Soto Karass approaches his opponents.
He fights with a fire that is unmistakable and with a will that is often stronger than his skill set. He's not the quickest, or one of the hardest punchers, but his relentlessness makes him formidable. Many opponents seem to want Soto Karass to go away and accept the fact that his athleticism isn't up to par.
Who wins Thurman-Soto Karass, and how?
However, the 31-year-old is unrelenting and surly in the ring. He'll keep coming at Thurman on Saturday night, no matter how much punishment he takes.
Prediction
Thurman is too skilled and too hard of a puncher for Soto Karass. The latter deserves a lot of credit for earning a chance to compete in a fight with a lot on the line. He knocked off Selcuk Aydin and Berto to set up this opportunity, but Thurman's speed and power combination will force him to eat a wealth of punches.
This one is probably going to be one-sided and bloody. Thurman will win by a TKO in either the eighth or ninth round.
Follow me for news and musings on The Sweet Science.