If you listen to pound-for-pound king Floyd Mayweather Jr., the end of the road is near. His current mega-deal with Showtime is set to expire late in 2014, and that leaves just four more potential opportunities for someone to take the zero of this generation's best overall fighter.
Thus far, Robert Guerrero and Saul "Canelo" Alvarez have tried, but both men were thoroughly dominated—outclassed really—in lopsided decisions, and at the moment, the cupboard is pretty bare of compelling options for his next bout.
Amir Khan has been most recently linked to a potential fight with Mayweather, but that fight won't generate nearly the dollars or anticipation of his previous contest. The Brit is a decent enough fighter, sure, but he's thus far failed to live up to his massive hype and has a 2-2 record in his last four fights.
No, that fight just won't do in terms of legacy-building, which is really all it's about for "Money" at this point, but there is one name out there who most observers feel would.
Get where I'm going with this?
Manny Pacquiao returned to the ring last month after nearly a year away from the sport.
Much of that time was spent recovering from a stunning knockout loss to long-time rival Juan Manuel Marquez just over a year ago, and doing his due diligence to make sure that he didn't suffer any lingering effects from one of the scariest punches seen inside a boxing ring in some time.
On that score, it appeared to be all systems go, as Pacquiao dominated a game—but woefully overmatched—Brandon Rios for a unanimous decision victory last month in Macau.
Predictably, even before the official scorecards were read, both the Twitterverse and boxing blogosphere were once again alight with speculation—some would say wishful thinking—about a possible Mayweather vs. Pacquiao showdown.
One that has been discussed, debated and ultimately passed over time and time again in the past.
There is little doubt, that if it should come off, the fight would still be a blockbuster on both pay-per-view and at the gate, but that's not what we're concerned about here. The real question that fans should be asking is: Would a win over Pacquiao still carry the same weight—in terms of legacy—for Mayweather as it would've a couple of years back?
The answer to that question is a resounding no.
In fact, looking at it from just a legacy perspective, Pacquiao is the ultimate high-risk, low-reward bout for the pound-for-pound king at this point.
Now before you jump out of your seat and mistake the point, nobody is saying they shouldn't fight if possible. Nobody is saying that it doesn't still have the potential to be highly exciting and intriguing.
Perhaps most importantly, nobody is saying that there are even many better potential fights out there.
The questions being raised here revolve exclusively around Mayweather's legacy.
It's certainly a fair question to ask how much credit he would receive for beating a 2013—or later—version of a fighter who seemed to reach his zenith somewhere around late 2009 or early 2010.
During that stretch, Pacquiao was simply blitzing through solid opponent after solid opponent.
Between 2007 and 2011, he defeated no less than five fighters who are absolute locks for induction into the International Boxing Hall of Fame.
After defeating Oscar De La Hoya in late 2008, he stopped Ricky Hatton and Miguel Cotto in consecutive fights, before taking a soft touch against the dangerous Joshua Clottey and then culminating that wave of excellent opponents by—literally—breaking the face of the much larger Antonio Margarito.
It was during that stretch, when Mayweather was tinkering with retirement and only fighting once a year, that this bout would've made the most sense.
A victory for Floyd then—when there was legitimate debate over who was the top pound-for-pound fighter in the sport—would've easily been the most impressive and significant achievement of his career. It would've given him that defining win over a rival that so many of the all-time greats have.
Muhammad Ali has Joe Frazier and George Foreman among others.
Sugar Ray Leonard has Roberto Duran, Tommy Hearns and Marvin Hagler.
Duran had Leonard.
On and on we can go.
For Mayweather, Pacquiao had the potential to be that guy, that win which silenced all the doubters.
But for a variety of reasons—everything from money and blood tests, to promotional feuds and pretty much anything else you can think of—the fight never took place when it was at its most important.
There's absolutely nothing to be gained by rehashing all the he said, he said of accusations, recriminations and mudslinging, just suffice it to say, that both guys are at fault. You can divvy up the blame however you want, but nobody has clean hands.
But clearly, the time for this fight has passed, at least in the sense of adding to Mayweather's legacy.
A win now would only be impressive to his most ardent supporters. Those people are going to applaud anything he does anyway. They'll treat the win as proof positive of everything they've ever said.
Mayweather would, in their eyes, be seen as better than Pacquiao, not just today, but at any point in history. That may be true, even though a win today says nothing of how the fight would've played out three or four years ago.
That's not to say that Floyd wouldn't have won then too, but that we simply don't know that for a fact.
Even more to the point, a victory today would open Mayweather up to fresh criticism from many of the doubters.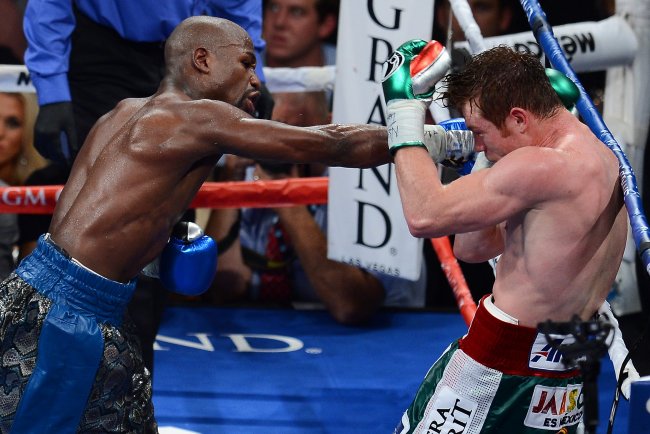 Ethan Miller/Getty Images
There's little doubt—even though Floyd is actually the older of the two fighters—that Mayweather is fresher. He's rarely been in a true fight—much less a war—inside the ring.
Pacquiao has been through the ringer a few times. He's clearly not close to the same fighter he was when he topped the pound-for-pound lists. His killer instinct is gone, his once fearsome punching power is diminished and he just isn't the imposing buzz saw that rose to stratospheric heights during his reign.
Mayweather, however, is just as dominant as ever. He seems, if anything, to have gotten better, and his dominance of Canelo in September might just have been the opus performance of his career.
Even a win will give his detractors fresh ammunition. It would feed the narrative that Mayweather either avoided fighters altogether, or he waited for them—like Shane Mosley and Miguel Cotto—to be on the downslope before fighting them.
You can call that criticism fair or not, but it's hard to deny that it will be part of the conversation should the two meet.
Then there's the nightmare scenario—at least from Floyd's perspective—of losing.
A defeat to this version of Pacquiao not only would add credence to the Mayweather avoided him because he was afraid of losing crowd, but it would also call into question his overall greatness and the title of best of his generation.
All of this adds up to a true no-win situation for Floyd, and nobody is asking you to feel bad for him, or to even absolve him of blame for helping create this situation.
Even with all these hypotheticals, the chances of a bout coming off remain a long shot at best.
For this fight to happen sometime next year or beyond, a lot of things will need to drastically change.
Obviously the money and other differences between the two fighters and their camps will need to be resolved in some way. Pacquiao's financial situation has recently been greatly complicated by tax issues in both the United States and at home in the Philippines. So that might be easier to resolve than before.
Then there's the network/promotional issue. Mayweather is now with Showtime and runs his own promotional outfit, but he has co-promoted with Golden Boy Promotions for years, while Pacquiao is the main cash-cow of Bob Arum's Top Rank and their network sponsor HBO.
It's just not very likely that all these irreconcilable differences will resolve now when they weren't when the fight was truly important. Don't forget, there was a time that this fight was the talk of the entire sports world and not just boxing.
That doesn't mean we won't keep hearing about it. Or that it wouldn't have been a great fight back in its time.
But today, it just might be more trouble than it's worth. That's particularly the case if you're Floyd Mayweather.
A win would silence none of the critics and add little to your legacy.
A loss would not only embolden, but possibly prove many of the critics right. It would be devastating for the legacy of a man who has spent years crafting an image with an undefeated record as its centerpiece.
There's nothing to gain, but everything to lose.