Chase Elliott set a new track record during qualifying for Sunday's 46th Snowball Derby at Five Flags Speedway in Pensacola, Fla. and will be on the pole for racing's premier short-track race.
His first lap was timed in a record 16.133 and his second lap was timed in 16.182.
#SnowballDerby: @chaseelliott just broke the track record and will be on the pole for the Snowball Derby. 16.133 seconds.

— Speed51.com (@speed51dotcom) December 7, 2013
Elliott, who spent this year racing in the ARCA Racing Series and NASCAR Camping World Truck Series, is coming into this year's Snowball Derby with plenty of momentum, winning the American 400 on Saturday, Nov. 2 at Fairgrounds Speedway in Nashville.
The son of former NASCAR great Bill Elliott, he is no stranger to the tight turns at Five Flags Speedway. The 18-year-old won the 2011 Snowball Derby and twice has won the Snowflake 100, which is run on Saturday night. Elliot finished fifth in the Snowball Derby last year.
A strong field will line up on Sunday afternoon, including the hometown hero Johanna Long, who won the Snowball Derby in 2010. Long qualified 23rd for Sunday's race.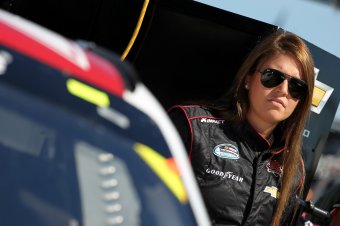 Geoff Burke/Getty Images
Despite running a limited schedule in the Nationwide Series, Long finished 23rd in points in 2013. She finished 20th in points in 2012.
Augie Grill won the Snowball Derby in back-to-back years in 2007 and 2008 and is back looking for the hat trick this year; he will start fifth.
Grill has had an outstanding season, winning three Southern Super Series wins, two coming at Montgomery Motor Speedway and another at Mobile International Speedway. It would have been four, but Grill was disqualified failing post-race tech inspection at Five Flags Speedway in June.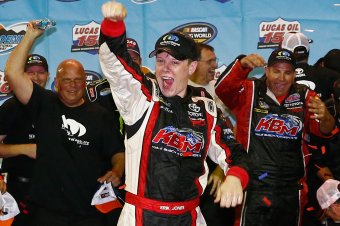 Tom Pennington/Getty Images
Erik Jones is the defending champion and qualified 12th this year. He will ride for owner Kyle Busch, who dueled with Jones in the final laps in last year's event, with the NASCAR all-star having to settle for second.
NASCAR Sprint Cup regular David Ragan is back for another shot in the Snowball Derby. Ragan, who has two Sprint Cup wins and 34 top-10 finishes, checked in eighth last year.
Veteran Bubba Pollard qualified second and won three Southern Super Series races this year ,including one at Five Flags in September. Pollard was 12th in the 2011 Snowball Derby and last year finished 27th.
Qualifying fourth was Daniel Hemric, who won the Southern Super Series by one point over Pollard this year. Hemric won a Southern Super Series race at Five Flags and was the Blizzard Series points champion at Five Flags this year.
There were 33 drivers that qualified for the Snowball Derby, and there is a last-chance race on Saturday where the four remaining spots for the field will be filled.
Unofficial Starting Lineup - 2013 Snowball Derby Presented by JEGS
31st - 34th will be determined by the Last Chance Race tomorrow afternoon
1 9 Chase Elliott
2 26 Bubba Pollard
3 8 John Hunter Nemechek
4 98 Daniel Hemric
5 112 Augie Grill
6 99 Casey Smith
7 29 Austin Theriault
8 77 David Ragan
9 91 Zak Hausler
10 90 Grant Enfinger
11 25 Ross Kenseth
12 51 Erik Jones
13 51 Stephen Nasse
14 71 Kyle Benjamin
15 7 Paul Shafer, Jr.
16 96 Ben Kennedy
17 42 Chad Finley
18 41 T.J. Reaid
19 74 Preston Peltier
20 18 Hunter Robbins
21 15 Mason Massey
22 12 Derek Thorn
23 10 Johanna Long
24 129 Spencer Davis
25 53 Boris Jurkovic
26 22 Jeremy Pate
27 1 Mike Garvey
28 11 Logan Boyett
29 29 Landon Cassill
30 29 Anderson Bowen
31 TBD Last Chance Race #1
32 TBD Last Chance Race #2
33 TBD Last Chance Race #3
34 TBD Last Chance Race #4
35 41 Chris Davidson
36 2 Donnie Wilson
37 45 Clay Rogers
Lineup provided by Speed51.com.