Lukas Podolski is back in training and ready to add his considerable firepower to Arsenal's title tilt. If Podolski can hit the ground running, he may save Arsene Wenger a significant sum of money come January.
Arsenal's No. 9 has made just two competitive starts this season. He tore his hamstring while facing Fenerbahce at the end of August and has since spent more than three months on the sidelines. However, his rehabilitation is now almost complete. Podolski trained fully with the first team this morning and could be in contention for selection at Manchester City in a week's time.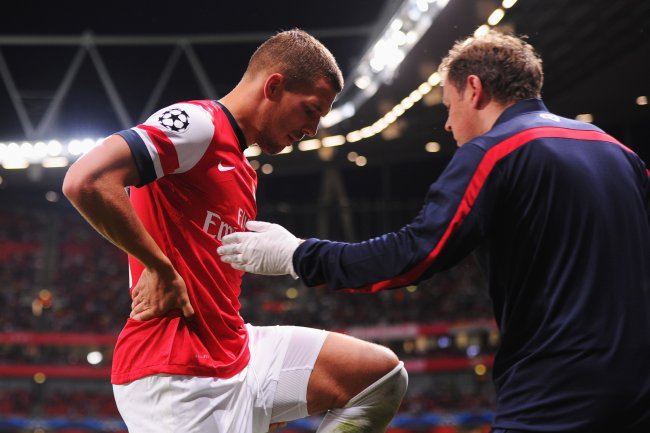 Michael Regan/Getty Images
In his absence, Arsenal have had to rely heavily on Olivier Giroud. With Yaya Sanogo and Theo Walcott also sidelined, the Frenchman has been forced to lead the line without a suitable understudy. Wenger was widely expected to dip in to the transfer market to resolve the situation come January.
However, the availability of the prolific Podolski may give the Arsenal manager cause for reconsideration.
It's worth noting that one of Podolski's two starts this season yielded two goals. The German international produced two fabulous finishes to sink Fulham back in Autumn.
There are few better finishers in the entire Arsenal squad. When the ball drops onto his hammer of a left foot, he strikes it with awesome power and unerring precision.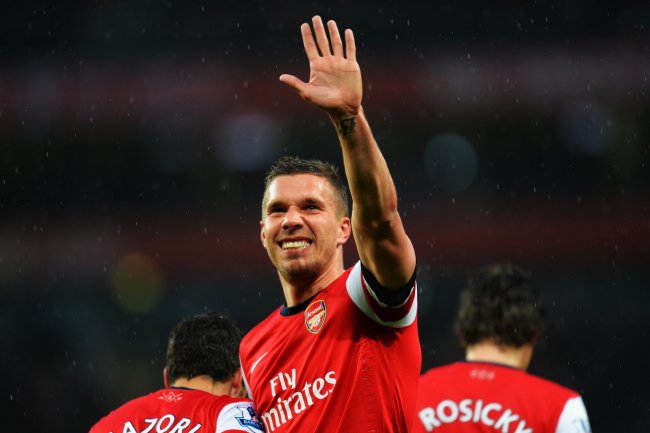 Shaun Botterill/Getty Images
Last season, Podolski produced 16 goals in all competitions. Given that he spent much of the second half of the campaign as a substitute, that's an excellent tally for a player in his first season of Premier League football.
The reason Podolski found himself out of favour is that Wenger grew concerned over his lack of defensive application on the left-wing. However, that could mean Podolski is now primed for a switch to a central position.
Podolski played his first competitive game for Arsenal as a centre-forward, at home to Sunderland on the opening day of the 2012/13 season. He did not perform well, and spent most of he subsequent campaign alternating between left-wing and the substitutes bench.
However, in spring of this year there were indications that Wenger was plotting to redeploy Podolski through the middle. In April he told Arsenal.com that he and the German "work a lot" on his potential role as a centre-forward. In May, Wenger insisted again that Podolski has the necessary qualities to succeed there:
He has the qualities because he is a good finisher. He has a good technique and because we have a game based on very quick combinations I believe he can be a part of that.
When injury robbed Arsenal of Olivier Giroud during their crucial 2012/13 run-in, Podolski got his chance. He responded with a brace against Wigan, demonstrating the devastating finishing that has become his trademark.
For much of this season, it has been easy to forget that Podolski even plays for the Gunners. Arsenal fans should now ask themselves the following question: If Wenger moved to sign a player with Podolski's attributes and goalscoring record during January to supplement Giroud, would you be happy?
I suspect the answer is a resounding yes.
Podolski is on the way back. Premier League defences had better beware.
James McNicholas is Bleacher Report's lead Arsenal correspondent and will be following the club from a London base throughout the 2013/14 season. Follow him on Twitter here