Texas Longhorns at Baylor Bears: Complete Game Preview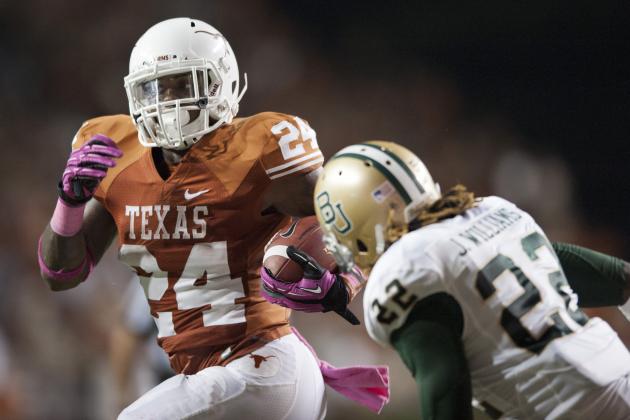 Cooper Neill/Getty Images

The regular college football season will come to a conclusion Saturday, and the Texas Longhorns game against the Baylor Bears will be the final test of the Longhorns roller coaster season.
On paper, Texas and Baylor look to be in a similar situation in the Big 12 standings. Both are 7-1 against conference opponents—each team's loss occurred against Oklahoma State—and will be playing for at minimum a share of the Big 12 title Saturday. The Bears and the Longhorns have been hit with the injury bug, which has forced them to rely on backups in key positions. Both teams even share the I-35 highway, but the Longhorns and the Bears took polar opposite roads to get to Saturday's game.
For Texas, 2013 has resembled a week-to-week episode of Survivor, with a lot of the fanbase anxiously waiting to vote off the Longhorns leader Mack Brown. The 1-2 start to the season all but crushed Texas fans hopes of playing for a conference title. But the Longhorns snapped the nonconference start and won six straight against Big 12 opponents.
On the other hand, 2013 has been a fantasy season for the 10-1 Baylor Bears, who lead the nation in total offense, scoring offense and passing efficiency. But the often unmentioned storyline of the magical season is the Bears' defensive turnaround, which has held opponents to 22 points per game.
Can Texas end its regular season with an upset win over Baylor?
When: Saturday, Dec. 7, 3:30 p.m. ET
Where: Floyd Casey Stadium, Waco, Texas
TV: Fox
Austin radio: KVET 98.1/1300
Waco radio: KRZI 99.1/1660
SiriusXM satellite radio: XM 117; Sirius 202; Internet 969; Spanish 970
Spread: Baylor (-14), per VegasInsider.com
Last meeting: Oct. 20, 2012, Austin, Texas
Last outcome: Texas 56, Baylor 50
Begin Slideshow

»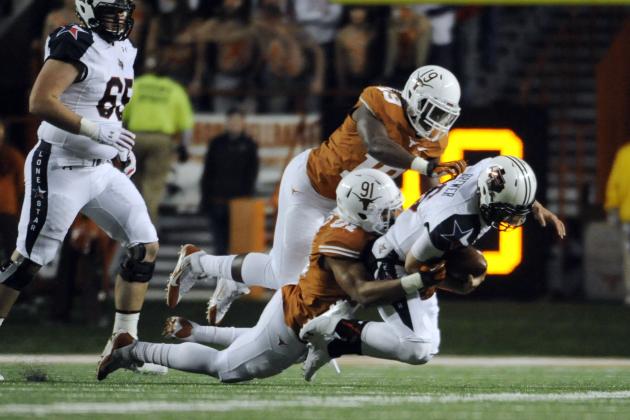 Brendan Maloney-USA TODAY Sports

Defense: Make Baylor One-Dimensional
Baylor's offense has the ability to gash opponents on the ground with running backs Lache Seastrunk and Glasco Martin. The Bears can also air it out with the best of them, thanks to the most efficient quarterback in college football, Bryce Petty.
If Texas attempts to control every aspect of Baylor's offense, it will not leave Waco victorious. But if the defense can make the Bears one dimensional, the Longhorns could have a chance.
Baylor's passing offense has declined significantly without star wide receiver Tevin Reese, who was sidelined with a broken wrist during the Nov. 7 game against Oklahoma. The Bears went from averaging 417 passing yards per game through the first seven games of the season to 276 yards without Reese.
Since Reese's injury has already taken away some of the Bears' spark, the Longhorns focus should be on pressuring Petty and stopping the run.
Offense: Pound the Rock
Baylor's defense is one of the most improved units this season. The Bears gave up an average 502 yards and 37 points per game in 2012. But this year's defense is allowing 355 yards and just 22 points per game, ranking No. 29 in total defense.
Talk about a turnaround.
But when you factor in the unimposing nonconference schedule Baylor played at the start of the season, the stats may be a bit deceiving.
The Bears have given up 143 rushing yards—No. 6 against the run in the Big 12—and 28 points per game against Big 12 opponents.
The Longhorns are without running back Johnathan Gray, but Joe Bergeron and Malcolm Brown proved to be difference-makers in the Thanksgiving game against Texas Tech. The Bergeron-Brown duo combined for 230 yards rushing and 5.2 yards per carry. The same will be expected Saturday.
If the Texas defense can make Baylor one dimensional, and the offense can successfully pound the rock, the Longhorns could in fact win at minimum a share of the Big 12 title.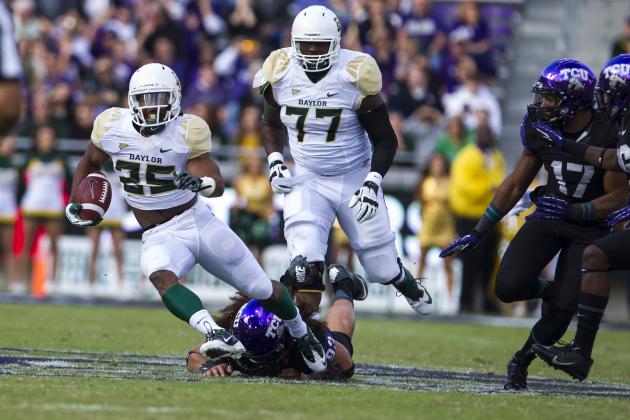 Jerome Miron-USA TODAY Sports

Offense
The Baylor Bears' offense nationally ranks No. 11 in rushing, No. 4 in passing and No. 1 in scoring, passing efficiency and total offense.
Not bad, right?
But Baylor will meet its match Saturday against the Texas defense, which has turned 2013 into the ultimate comeback story of the Big 12. (By the way, how crazy is it for Texas' defense to be labeled as a comeback story?)
Texas entered conference play ranked dead last in NCAA rushing defense and No. 114 in total defense, after allowing an average of eight yards per carry and 309 yards rushing against nonconference opponents at the start of the season. But Mack Brown made the difficult decision to replace defensive coordinator Manny Diaz with Greg Robinson.
Brown's decision changed the future of the Longhorns' defense.
Robinson's simplified scheme helped the defense snap the horrendous start and has since held opponents to three yards per carry and 127 yards rushing through eight conference games. But the recent injury to linebacker Steve Edmond will impact the Longhorns' ability to stop Baylor's ground attack.
Baylor will need to take advantage of Texas' injured defense Saturday and come out running the ball.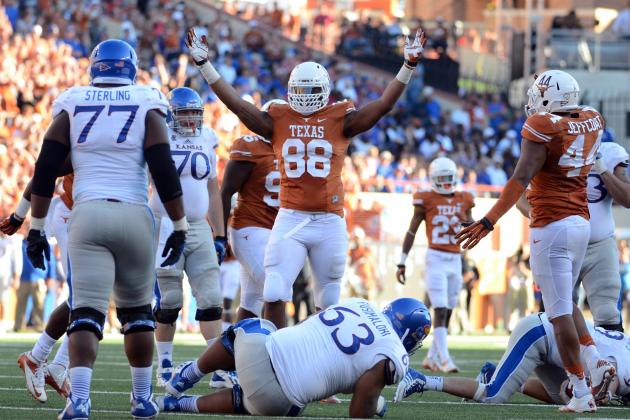 Brendan Maloney-USA TODAY Sports

Junior defensive end Cedric Reed
Texas' defense would not be as dominant without defensive end Cedric Reed.
Reed was thrown into the mix in 2012, after defensive end Jackson Jeffcoat missed the second half of the season with a torn pectoral muscle. Reed struggled at times, but the playing experience he gained in 2012 paid dividends this year.
In addition to constantly pestering opposing quarterbacks, Reed has accumulated 17 tackles, nine sacks, 15 quarterback pressures and four forced fumbles this season. His stats make it easy to speculate whether Saturday will be his final game wearing a Texas jersey, so keep an eye on No. 88.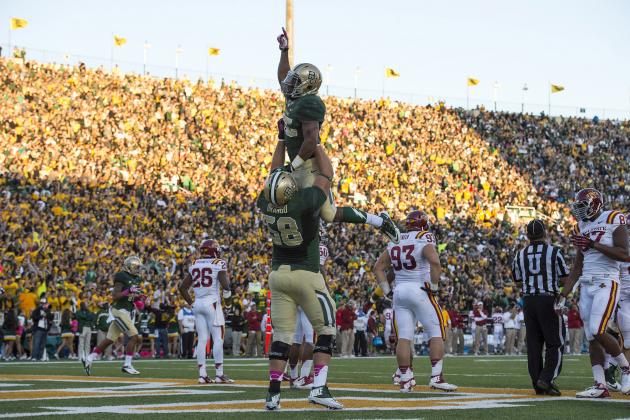 Jerome Miron-USA TODAY Sports

Running Back Lache Seastrunk
It is difficult to choose one player to watch on Baylor's offense, but someone to keep an eye on is junior running back Lache Seastrunk.
Seastrunk leads the Bears ground game with 7.8 yards per carry and 109 rushing yards per game. But the talented running back was sidelined against Oklahoma with a groin injury and has not been 100 percent since. Unfortunately for Texas fans, Seastrunk is expected to be close to 100 percent Saturday, according to Art Briles.
In other words, expect a ground-and-pound attack featuring No. 25.
Brendan Maloney-USA TODAY Sports

Texas head coach Mack Brown on Baylor's multi-talented offense
They're so good with the bubble and screen game on the outside that you've got to be out there with them. But that lightens the box for the run game. At the same time, if you don't put people out there, you can't tackle in space in one on one situations and they've trapped you. The other thing that they do, which is so unique, is they go faster than anybody.
Baylor head coach Art Briles on Texas' in-season turnaround (via BaylorBears.com)
It speaks to their resolve, faith, energy and that they believe in what they're doing. I think they've held tough, just like the rest of us. You're going to have some things not go your way and the way you handle it determines who you are. I think they've done a good job staying on course and putting themselves in the same position we're in.
Texas senior safety Adrian Phillips on Baylor quarterback Bryce Petty
He's not afraid to throw the deep ball. He will take shots at you. It doesn't matter if his receivers are covered up or not, he has that much faith in his receivers to make the play. That's what you want from your quarterback, so we know the challenge.
Baylor senior safety Ahmad Dixon on playing Texas (via BaylorBears.com)
It'll be a great game. They've had an outstanding season bouncing back from losing games. They're a great team. Coach (Mack) Brown has done a great job with those guys, and I look forward to playing them.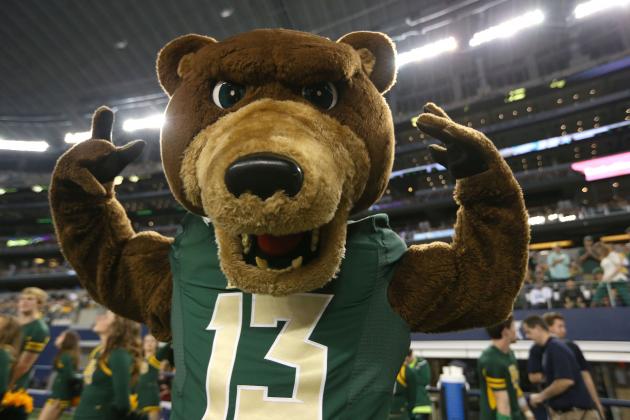 Matthew Emmons-USA TODAY Sports

The Texas Longhorns are coming off of a 41-16 win over Texas Tech, in which the Longhorns game plan was centered around the offense's run game, and the defense's ability to rush the passer and stop the run. A similar game plan will be vital in order to beat the well-balanced Baylor Bears.
But Texas' recent plague of injuries may be a setback the Longhorns are not prepared to overcome.
Texas is starting backups at quarterback, running back, defensive tackle, weakside linebacker and strongside linebacker. Some people will say injuries are an excuse, but the lack of depth from the Longhorns two-deep could very likely be the determining factor of Texas' inability to beat Baylor. ... Well, depth and the fact that Baylor is arguably the best team in the Big 12 this season.
Prediction: Baylor 45 Texas 35
Unless otherwise noted, all quotes were obtained firsthand.
Follow Taylor on Twitter: @Taylor_Gaspar