After four straight weeks of double-digit first-half deficits, the Indianapolis Colts came out strong against the Tennessee Titans on Sunday, getting out to a 6-0 lead in the first quarter. The Colts defense was able to play well throughout, picking up four turnovers in the victory.
The defensive success allowed the Colts to use their whole offensive playbook, and their late-game lead allowed them to pound the run in the fourth quarter. Just when they needed it, running back Donald Brown found enough room to rumble for 46 yards and the game's final touchdown on six carries.
Indianapolis is now 8-4, with a three-game lead in the AFC South. A playoff spot is all but guaranteed (just one win or a Tennessee loss will clinch the division crown), now all that needs to be determined is which seed. The Colts currently own the No. 3 seed, having the tiebreaker over Cincinnati due to a better record in the AFC. However, the Bengals host the Colts this week, and the winner will likely take the No. 3 seed.
So, what do you need to know heading into the Colts' biggest game of the regular season's last month?
Division Standings
AFC South Standings

| | | | | |
| --- | --- | --- | --- | --- |
| Team | Wins | Losses | Point Diff. | AFC Standing |
| Indianapolis | 8 | 4 | +11 | 3 |
| Tennessee | 5 | 7 | -3 | 8 |
| Jacksonville | 3 | 9 | -178 | 15 |
| Houston | 2 | 10 | -93 | 16 |
ESPN.com
The Titans made it close once again, but the Colts pulled out the close win, improving their division record to 4-0. The Colts have two more divisional matchups left, both at home. Indianapolis is back at the top of the AFCS.
On the other side you have the Titans, who aren't out of the playoff picture at 5-7, but took a big blow on Sunday. They are just one game behind Miami and Baltimore for the sixth spot.
The rest of the division is still sad, but the Jacksonville Jaguars managed to win their second straight game with a 32-28 win over the Cleveland Browns. Cecil Shorts scored the game-winning touchdown with 40 seconds left, giving Jacksonville their third win in four weeks. At this rate, the Jaguars may just play themselves out of a top-five pick.
The Houston Texans' 10-game losing streak continued this week with a heartbreaker against the New England Patriots. The Texans jumped out to a 17-7 first-half lead, but allowed New England to score 27 second-half points and couldn't put a scoring drive together in the final minutes after Stephen Gostkowski's 53-yard field goal put the Patriots up by three with just three minutes left.
Injury Report
Week 14 Injury Report

| | | | |
| --- | --- | --- | --- |
| Name | Position | Injury | Status |
| Kavell Conner | LB | Ankle | Questionable |
| Josh Gordy | CB | Groin | Questionable |
| Greg Toler | CB | Groin | Questionable |
| Jeff Linkenbach | OG | Quad | Out (Week-to-week) |
| Ricky Jean Francois | DT | Foot | Out (2-4 weeks) |
| Dan Herron | RB | Pectoral | Out (IR) |
Colts.com
The Colts suffered three major injuries on Sunday: Jeff Linkenbach, Ricky Jean Francois and Dan Herron. Herron is out for the season with a torn pectoral, but isn't a big contributor outside of special teams.
The injuries to Jean Francois and Linkenbach are a bit more concerning.
Jean Francois is out for 2-4 weeks with a plantar fascia tear. Jean Francois is a good run-stopper, but Fili Moala has been playing well and rookie Montori Hughes has been decent when given the chance. Moala is actually a stronger pass-rusher than Jean Francois, and the overall drop-off should be minimal.
On the offensive side, the loss of Linkenbach (week-to-week with a torn quad) is harmful simply because of a loss of depth on the offensive line more than anything else.
Let's clear up "torn quad" for Linkenbach. As week to week, looking at a mild Grade II strain. Not a rupture (i.e. full tear).

— Will Carroll (@injuryexpert) December 2, 2013
Mike McGlynn may be inserted back into the starting lineup, but Joe Reitz could see the start as well. Reitz was actually the first lineman off the bench for heavy sets on Sunday, not McGlynn.
What Needs to Improve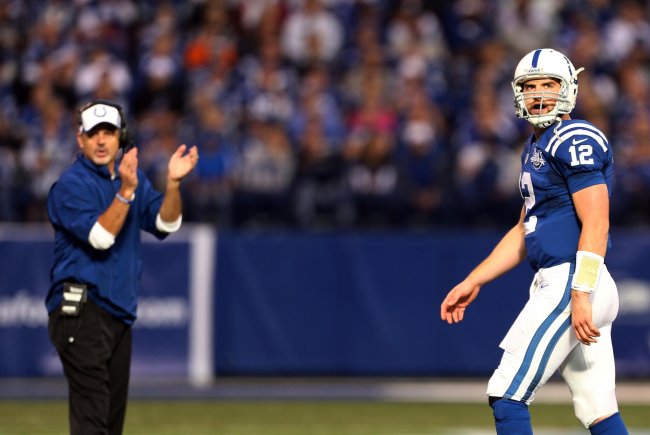 Brian Spurlock-USA TODAY Sports
We discussed Andrew Luck in this space last week, but it's worth talking about him again this week.
Don't take this the wrong way, Luck isn't the biggest problem on this team. But his issues are ones that can actually be fixed, so we'll take this space to talk about something that stuck out on Sunday.
Pre-snap reads.
One of Luck's strengths is his intelligence and his ability to read a defense at such a young age. On Sunday, however, he missed a few opportunities that cost the Colts.
The lack of talent surrounding Luck has put him in a position where he cannot afford to miss reads prior to the snap, especially considering the lack of coaching adjustments. Luck, at times, trusts the play design too much, assuming that the designed first read will be open no matter what (which was discussed last week). This is compounded by his obvious lack of trust in the offensive line, which causes him to rush his reads and/or throws at times.
Unfortunately, the Colts have very little talent on the outside, so the designed read is covered more often than not. Last season, Luck was more apt to leave the pocket and make something happen on the fly, but he's holding back in that area this season for some reason. It was clear against Tennessee, when his reluctance to leave the pocket led to five sacks.
Whether it's coaching or just Luck regressing a bit, Luck needs to be more willing to leave the pocket.
But, regardless of whether that happens or not, Luck can improve his pre-snap reads and adjustments.
Here's one play that stuck out on Sunday.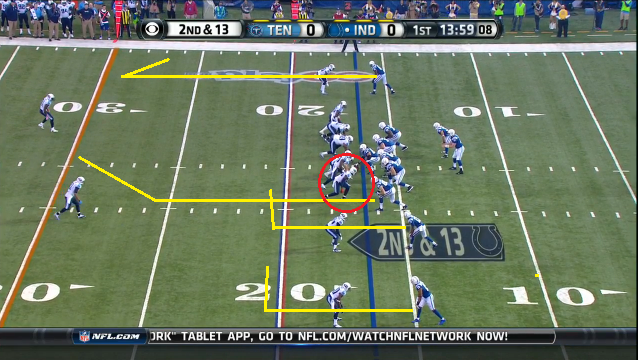 NFL Game Rewind
You can see the outside linebacker showing blitz, while the corners play press man-to-man coverage. The routes that the receivers play are shown in yellow.
In this kind of situation, two audibles/hot routes would be ideal for the Colts. First, a hot read to tight end Coby Fleener needs to be put in place. With the linebacker blitzing, the closest defender to Fleener is the strong safety, who is 10 yards off the line of scrimmage at the snap.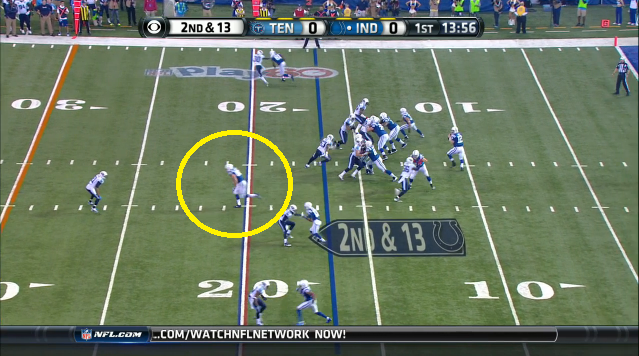 NFL Game Rewind
A hot route to Fleener here gives Luck the option to go to Fleener for a sure five yards or so if the blitz is successful, with potential for yards after the catch.
The other alteration that could be made here is a deep route by T.Y. Hilton or LaVon Brazill on the left side. With the corners playing press coverage and the blitz forcing the safety up to cover Fleener, there is room for a shot down the left side as long as the line can hold off the blitz. Brazill and Hilton are both fast enough to make a defense pay for that kind of mistake.
With those two moves, Luck could give himself a shot at a big play while also giving himself an all but sure thing for a safety valve.
Instead, the play goes on as planned and Luck forces a pass to a well-covered Brazill, setting up a long third down.
Veteran quarterbacks can and will do this, and the ones that do it well are the ones that have success. For Luck to become an elite quarterback in the league, it's these kinds of plays that he'll have to make.