There's no questioning Oregon senior wide receiver Josh Huff's focus after his nine-catch, 186-yard, three-touchdown performance in the Ducks' 36-35 "Civil War" win over Oregon State.
With his third score—a leaping grab for the game-winner—Huff may have spared head coach Mark Helfrich some offseason heat.
Oregon hadn't lost consecutive games in the same campaign since dropping three straight late in 2007, the same season it last loss the Civil War. The Ducks also won at least 10 in four straight regular seasons.
All three streaks were in jeopardy when Oregon State wide receiver Victor Bolden took a jet sweep 25 yards to the end zone, giving the Beavers a 35-30 lead with 98 seconds remaining.
Josh Huff's TD catch in final minute of #CivilWar helps @WinTheDay edge @OSUBeaversFB 36-35. Play of the Game: http://t.co/0IUOj36zmm

— Pac-12 Networks (@Pac12Networks) November 30, 2013
The Ducks' uninspired November play before Friday's rivalry tilt sparked discussion of Helfrich's fit as head coach. It was addressed in the ESPN Pac-12 mailbag, per Ted Miller. The topic was also broached in Thursday's edition of the Portland Tribune.
As Oregon struggled with an Oregon State team that had lost four straight, including a 69-27 debacle last week against Washington, it became a talking point on social media Friday.
This is setting up like an epic win for Oregon State and Mike Riley. And a really, really bad moment for Helfrich & Oregon.

— ESPN Pac-12 (@ESPN_Pac12blog) November 30, 2013
So, um, Mark Helfrich. Maybe losing a genius like Kelly does hurt a little?

— Michael Felder (@InTheBleachers) November 30, 2013
Great win by Oregon, but think it's time to write them off as a tried and true title contender again. Dont think itll happen under Helfrich

— Aaron Torres (@Aaron_Torres) November 30, 2013
Indeed, losses at Stanford and Arizona, as well as a win over struggling Utah, wherein the Utes were within a field goal midway through the third quarter, were not inspiring confidence in the first-year head coach.
Oregon also had the remarks of defensive coordinator Nick Aliotti directed at Washington State head coach Mike Leach just weeks prior to the slide, where Aliotti called him "low class."
Then there was the dismissive sentiment Huff and teammate De'Anthony Thomas expressed about the Rose Bowl before the Ducks' 42-16 loss at Arizona. While the spirit of their comments may have been misinterpreted, as Huff told CampusInsiders.com this week, Helfrich still distanced the program from them on Tuesday's Pac-12 coaches teleconference call.
With such background noise, it's easy to understand why Oregon's motivation might be questioned. But if anyone in green and yellow was guilty of lacking it Friday, it certainly wasn't Huff.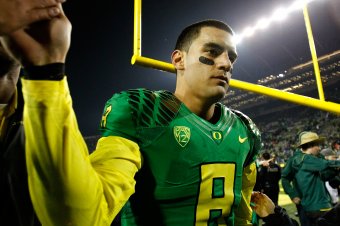 Jonathan Ferrey/Getty Images
The same is true for quarterback Marcus Mariota.
Friday wasn't the one-time Heisman Trophy favorite's best night by any stretch. He completed just 50 percent of his passes and was intercepted twice for the second time in as many weeks. Still, Mariota was dynamite when the Ducks needed him most, engineering the winning drive with veteran savvy.
If the head coach can be assigned blame when focus is seemingly lacking, he deserves credit when focus produces a win. And Oregon was locked in for that final drive.
Mariota persevered throughout this rough spell, which not coincidentally coincided with him battling a left knee injury.
Oregon also lost starting running back Byron Marshall early at Arizona. Helfrich cannot control injuries, but rarely does such circumstance spare a head coach criticism—particularly the head coach of a program aspiring to win conference and national championships.
Oregon eschewed title contender tradition when it hired Helfrich, an assistant without head coaching experience, instead of luring away a big name. For that reason, Helfrich was likely destined to attract criticism if his team fell short of Chip Kelly's lofty standard.
However, Oregon has succeeded in promoting assistants with no prior head coaching experience at college football's top level. Mike Bellotti made the leap after working under Rich Brooks, and Kelly flourished immediately after succeeding Bellotti.
While there's typically no shame in a 9-3 season, such a record would have marked a considerable step backward for the program. That's precisely what Oregon athletic brass wanted to avoid in keeping the Ducks' look as close to the Kelly era as possible upon his NFL departure.
Thanks to the inspired play of Huff, that won't be a concern in Helfrich's first offseason with head coaching responsibility to his credit. A bowl win gives the Ducks at least 11 wins for the fourth straight year as the program reloads for another run at the top of the Pac-12.