Itaquerao Tragedy in Sao Paulo Delays 2014 World Cup Opening Ceremony Stadium
Use your ← → (arrow) keys to browse more stories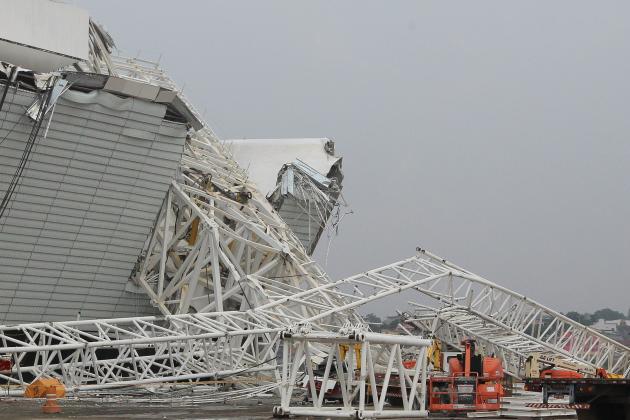 Getty Images/Getty Images

The disaster at the Itaquerao stadium in Sao Paulo yesterday afternoon had tragic consequences for two families, as reported by the Associated Press' Stephen Wade and Jenny Barchfield (via SportsIllustrated.CNN.com).
Thoughts remain with the families of truck driver Fabio Luiz Perreira and builder Ronaldo Oliveira Santos, both fathers and victims of cruel luck.
Brazilian president Dilma Rousseff, FIFA president Sepp Blatter and Corinthians Football Club (via Sky Sports), the team that will use that stadium for home games next year, have all released statements offering their condolences.
The city itself is still dealing with the immediate aftermath of damage and what it could mean for Sao Paulo's World Cup future.
Firemen evacuated the site yesterday and a period of mourning is now being observed for the two men who lost their lives.
Workers will pick up their tools again on Monday, December 2, but only three quarters of the stadium will continue to be erected.
In the eastern section, where the accident occurred, progress will remain postponed until a thorough investigation has been conducted into how a crane managed to collapse and destroy that side of the arena.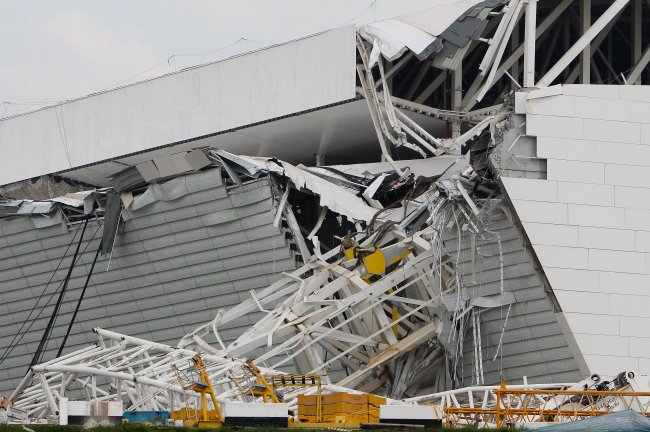 Getty Images/Getty Images
There are a few theories that have been offered so far as to what caused the crane to collapse. Journalist Tim Vickery told Sky Sports of speculation that three days of incessant rain caused instability on the ground. Vickery also revealed that the Sao Paulo authorities are investigating whether "it was human error or machine error." More will be known once that investigation, started today, is concluded.
Meanwhile rumours continue to flow as to the reason for the collapse and the potential delays to the stadium project. As of November 13 the Arena Itaquerao was declared 95 percent ready by Obderecht.
One worker, speaking to Brazilian football magazine Placar, suggested pressure to finish the stadium in the next five weeks led to a careless error.
FIFA had set deadlines of December 31 for all six remaining stadiums to be delivered to world football's governing body.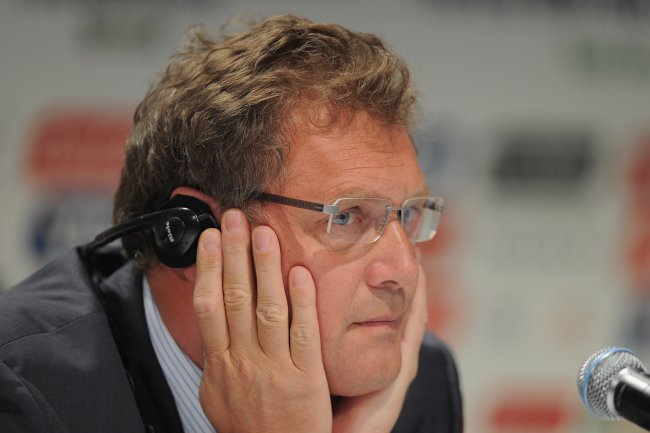 Michael Regan/Getty Images
That original deadline now looks impossible. Sky News report that FIFA have said work could be delayed by up to two months, meaning the Itaquerao would not be finished until the end of February.
But yesterday's fatalities spoke of problems that go beyond one city's planning for a World Cup that seems to be fast spinning out of control.
In June last year, a worker was killed in Brasilia at the Estadio Mane Garrincha stadium, and earlier this year there was another death at Manaus' Arena Amazonia.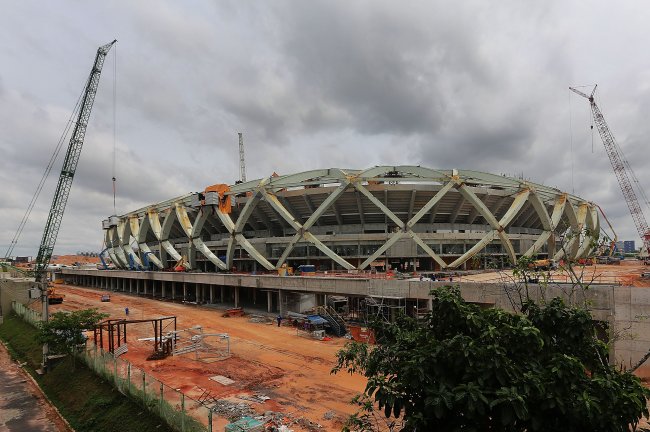 Mario Tama/Getty Images
In May, just weeks before the start of the Confederations Cup, part of the roof collapsed at the Arena Fonte Nova in Salvador. Thankfully the damage was not extensive and games could go ahead as planned.
There have been problems at other stadiums that are not scheduled to be used at the World Cup. Eight people were injured at the Arena Gremio earlier this year, when a safety rail gave way allowing fans to fall several feet onto a concrete floor.
FIFA general secretary Jerome Valcke took to Twitter to speak of his shock at the Itaquerao incident but in Brazil it is one more misfortune to befall those not in line to benefit from the tournament once it arrives on these shores.
Extremely shocked by the news from Sao Paulo. Our thoughts are with the families of the victims of this accident. (1/2)

— Jérôme Valcke (@jeromevalcke) November 27, 2013
According to Sao Paulo based newspaper Folha de Sao Paulo FIFA "do not have a Plan B" if the stadium cannot be completed on time.
Six games are scheduled to take place in Brazil's most heaving metropolis, including the opening ceremony and match as well as one semi-final.
But with over six months to go until the start of the World Cup on June 12, the chance that Sao Paulo will be cut from the list of host cities is minimal.
Right now, however, there are graver issues to consider than a World Cup kick-off.