Will Ferrell Will Reportedly Co-Host SportsCenter as Iconic Ron Burgundy
November 25, 2013

Jayne Kamin-Oncea-USA TODAY Sports
December will belong to Will Ferrell.  
The Big Lead's Jason McIntyre reports the star of the upcoming Anchorman 2 (Dec. 20) will guest host ESPN's 6 p.m. SportsCenter Thursday, Dec. 5. 
UPDATE: Tuesday, December 3, 2013 at 4:15 p.m. ET by Gabe Zaldivar
It seems as though we have some glorious confirmation from ESPN in the form of this Ron Burgundy interview of Peyton Manning. 
There you have it, Burgundy and Champ Kind (David Koechner) will guest host SportsCenter on Thursday, Dec. 5 at 6 p.m., so set your DVRs accordingly. 
End of Update---
It's important to note that McIntyre cites two sources who refrained from being recognized because an official announcement has not yet been made. 
These anonymous sources also told TBL that there will be, "some sort of Ron Burgundy element to (the) telecast." Unfortunately, McIntyre has, as of this writing, been unable to receive comment from ESPN officials. 
Now, this will hardly be Ferrell's only foray into sports commentary in December. As NBC OlympicTalk reported earlier Monday, Ferrell will don the mustache and mannerisms of his beloved Ron Burgundy character for TSN's coverage of Canadian Curling trials this Sunday. 
Below follows a commercial for that future treat. 
Now extrapolate that to about an hour of sports highlight coverage, and you have every reason to welcome December with open arms. 
Of course, we have to remind that the report cites anonymous sources, so there is no official word whether Ferrell will co-host or, if he does, how much we can hope to see Burgundy report sports news. 
However, there is every reason to believe the man who is very important and who has leather-bound books around his mahogany-smelling apartment will grace us all with his hilarity.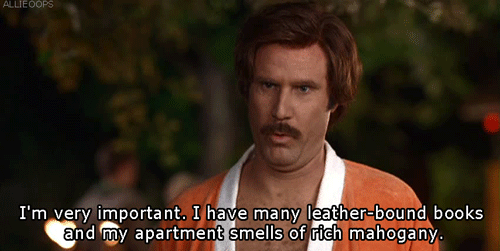 GIF Credit: Giphy
As TBL reminds, ESPN has welcomed a few guest stars onto the set of SportsCenter recently. Jimmie Johnson and Billy Crystal tried their respective hands at calling sports highlights. 
The Hangover's Ken Jeong co-hosting is a personal favorite. Here he is mixing things up with the Pacers' Roy Hibbert. 
With presumed early-December cameos in the sports world, Ferrell's camp seems ready to plaster the actor's image all over the place ahead of the highly anticipated sequel, Anchorman 2, which premieres Dec. 20. 
If Ferrell does drop by, let's hope there is room for his buddy Burgundy. Just be careful what you put on the teleprompter. 
Hit me up on Twitter: