This was supposed to be the year that the Chicago Bulls put it all together and emerged with the Larry O'Brien Trophy for the first time since Michael Jordan made the final shot of his Bulls career to take down the Utah Jazz.
Welp. So much for that.
Per sources, Derrick Rose tore his right meniscus and will need surgery.

— K.C. Johnson (@KCJHoop) November 23, 2013
DRose will undergo surgery in the near future. Until that is completed, it's known if he will miss season or not.

— K.C. Johnson (@KCJHoop) November 23, 2013
Bulls make it official. Release says medial meniscus tear and indefinite absence. Source said he's returning to Chicago for surgery.

— K.C. Johnson (@KCJHoop) November 23, 2013
The fact that K.C. Johnson of the Chicago Tribune is even mentioning the possibility of missing the remaining portion of the season is troubling. But even if he does return at some point, which is possible with a meniscus tear instead of the dreaded torn ACL, there's no guarantee that he'll be effective.
Rose was struggling to return to his pre-injury form before this second malady. Now what? Is he going to have the physical strength or mental fortitude necessary to regain the explosiveness and efficiency that made him so special?
Tim Grover, a man who has trained Michael Jordan, Kobe Bryant and Dwyane Wade, had the following to say about when he could return:
Couple ways to deal with a meniscus tear. Take it out, you return faster but can shorten your career. Reattach it, miss maybe 4-6 months.

— Tim S. Grover (@ATTACKATHLETICS) November 23, 2013
Going into the 2013-14 campaign, optimism reigned supreme.
Derrick Rose's athleticism was on full display during preseason action, and he looked completely healthy and ready to go after spending well over a year rehabbing from a torn ACL. Jimmy Butler was poised for a great year after breaking out during the second half of the 2012-13 season, and he was going to be the best two-way shooting guard Rose had ever played with.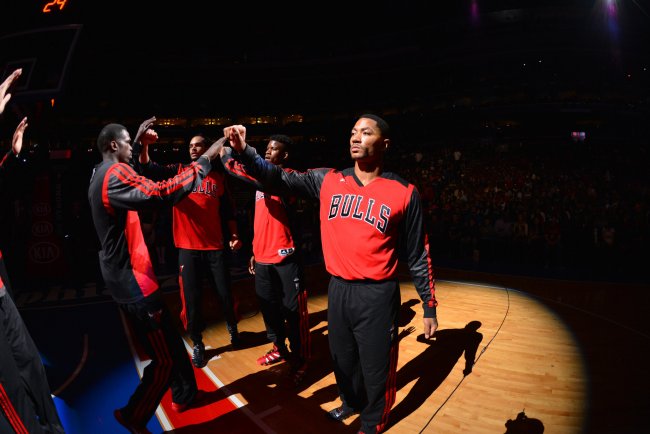 Jesse D. Garrabrant/Getty Images
Add in Carlos Boozer, Luol Deng and the rest of a deep team with one of the premier coaching minds in Tom Thibodeau at the helm, and you had the makings of a title contender.
But now, as ESPN Chicago's Nick Friedell said on SportsCenter after the Bulls lost to the Portland Trail Blazers, "They they have no shot." When Rose tore his right meniscus (note: not the same knee he injured against the Philadelphia 76ers in the 2012 playoffs) on the play you can see below, all of the Bulls' title chances just limped away:
And if you want to see what those chances look like on the way back to the locker room, well, we've got you covered there, too:
Gulp. #Blazers #Bulls #DRose pic.twitter.com/uC817MgP3o

— Isaac Ropp (@iropp) November 23, 2013
Without Rose, the Bulls just aren't the same.
This is a team that needed some inspired play from Nate Robinson to get past the Brooklyn Nets in the first round of the 2013 playoffs, and now Lil' Nate is playing for the Denver Nuggets. The roster as a whole is weaker, as so much faith was placed in Rose returning to full strength and reclaiming his spot as one of the NBA's top players.
In fact, take a look at the Rose-less depth chart:
Point Guard: Kirk Hinrich, Marquis Teague
Shooting Guard: Jimmy Butler, Mike Dunleavy
Small Forward: Luol Deng, Tony Snell
Power Forward: Carlos Boozer, Taj Gibson
Center: Joakim Noah, Nazr Mohammed
Solid? Sure.
Capable of competing for anything other than a decent seed in the reeling Eastern Conference and then an early postseason exit? Definitely not.
There are two main problems: point-guard play and a complete lack of offensive ability.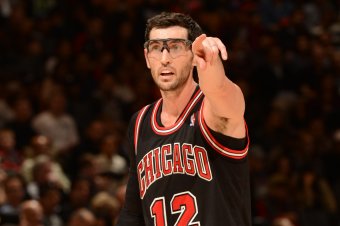 Ron Turenne/Getty Images
After the loss to Portland, Hinrich is averaging 8.3 points, 2.8 rebounds and 4.5 assists per game while shooting 38.2 percent from the field. It's tough to imagine him doing much more, as he hasn't played at least 30 minutes per contest since the 2010-11 season.
Now 32 years old, Hinrich is definitely more suited for a backup role than anything else. And if he's thrust into the starting gig, that's problematic.
Especially because there isn't much depth.
All of it comes in the form of Teague, and this isn't the Jeff version, who's tearing things up for the Atlanta Hawks and asserting himself as a truly elite floor general. Instead, it's the younger brother, Marquis, who is only 20 years old and in no way ready to lead an NBA team.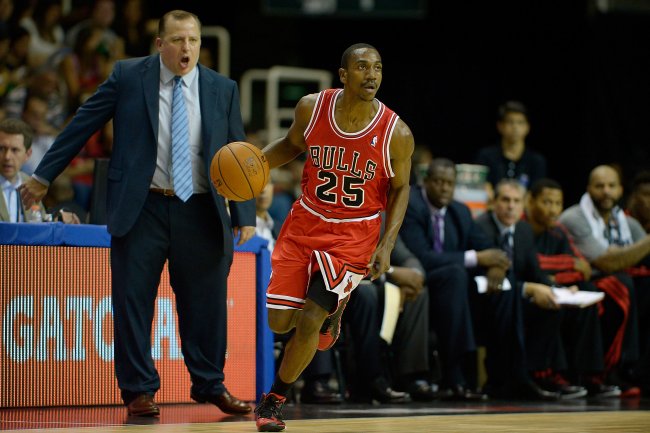 Alexandre Loureiro/Getty Images
The Kentucky product is averaging 2.2 points, 0.4 rebounds and 0.8 assists per game, and he looks absolutely terrified to shoot the ball. The number of open looks he's passed up is staggering, especially because he doesn't want to put up attempts when surrounded by big men, choosing instead to kick it out and reset the play.
But Rose's absence isn't just so detrimental to Chicago's title chances because of the ineptitude of the backup point guards. It's extremely disadvantageous because he is the offense.
Without the dynamic floor general, how are the Bulls going to create offense? Carlos Boozer and Luol Deng are competent second and third options in a solid offense, but neither of them is capable of stepping up and taking on the lead role.
And beyond that...yikes.
Plus, the Bulls have no shot creators. None!

— Mohamed Mohamed (@Moesquare) November 23, 2013
According to Basketball-Reference, the Chicago offense was already struggling, likely a result of D-Rose's poor shooting percentages and penchant for turning the ball over. The Bulls are scoring 100.6 points per 100 possessions, beating out only the Boston Celtics, Cleveland Cavaliers, Charlotte Bobcats, Milwaukee Bucks and Utah Jazz.
Elite company, right?
Only two of the four factors—effective field-goal percentage, turnover percentage, offensive rebounding percentage and free throws per field-goal attempt—are particularly impressive:
| Stat | Value | NBA Rank |
| --- | --- | --- |
| eFG% | 45.5 | 28 |
| TOV% | 15.7 | 22 |
| ORB% | 30.5 | 1 |
| FT/FGA | 0.238 | 6 |
And now, it gets worse.
While the offensive rebounding should remain stellar, the same can't be said about the other three factors. The turnovers will likely decrease, but only because the Bulls won't be attacking as much, so any improvement there will be negated by corresponding declines elsewhere.
Rose—despite all his shooting woes and 40.2 effective field-goal percentage, below the team average—was helping out the first mark. Even when his shots weren't falling, he was opening things up for his teammates through his attacking mentality.
As a result, the effective field-goal percentage might not get worse in his absence, but it also won't trend too far upward. It's the free throws per field-goal attempt that will truly suffer due to the absence of the top penetrator.
Just look at what the Bulls did after Rose went down in Rip City. When he left the game, there was 3:20 remaining in the third quarter and the score was tied at 68. In the remaining one-plus quarters, Chicago only managed another 27 points for a total of 95.
If you prorate that to 48 minutes, the Bulls would have scored 85 points without Rose. It doesn't matter how elite a defense is; if the offense struggles that much, it's going to have an inordinate amount of trouble winning games.
In fact, it only takes two images to portray the difference between the Bulls with Rose and the Bulls without him.
Image No. 1: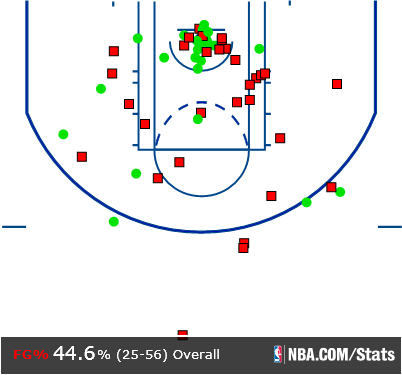 NBA.com
Image No. 2: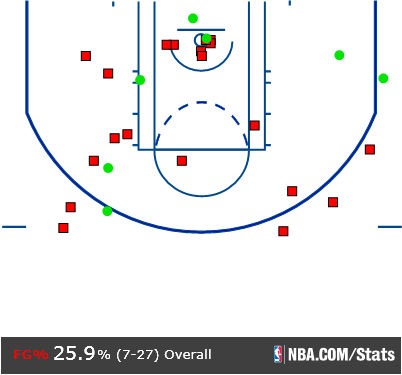 NBA.com
While the former shows the Bulls' shots against the Blazers before the Rose injury, the latter shows the team's distribution of attempts after he retreated to the locker room. Notice how much more scattered they are post-injury?
Chicago doesn't have guards who can consistently penetrate into the interior of a defense and work from there. Instead, the Bulls are going to be stuck throwing up contested mid-range jumpers and relying on three-point shooting that they don't have.
Depending on whether you're feeling optimistic or realistic, offense is either going to be an adventure or a disaster for Thibodeau's squad.
That said, the defense is still going to be superb in the Windy City. It'll be solid enough night in and night out that the Bulls could still finish as one of the top three teams in the Eastern Conference, especially since no teams have emerged as challengers to the Pacers and Heat.
Maybe the Atlanta Hawks will. Maybe they won't. Beyond them, no other team in the East has a winning record, and every one of them is mediocre at best at the moment.
But it doesn't matter whether the Bulls finish at No. 3 or No. 8 (I refuse to go lower than that since the defense is still that of a playoff team). They have zero chance of beating either of the elites.
How are they going to take down the two-time defending champions with a weaker roster than the one that Miami eliminated rather decisively last season? How are they going to beat the Pacers, a team that boasts a better defense and a good offense?
Can the Bulls win a title without Rose?
Hint: They aren't.
When Rose walked back into the tunnel at the Moda Center with only one fully functional knee, he was carrying more than his body weight and a load of heavy spirits.
He was also shouldering the Bulls' title dreams, an intangible collection of hopes that won't return at any point during the 2013-14 campaign. Those are now as fleeting as the gusts of air that give the Windy City its nickname.