Stuart Broad took five wickets to leave Australia in trouble on Day 1 of the Ashes in Brisbane—but you'd not exactly know about it if you bought the local Courier-Mail in Queensland.
The seamer was made public enemy No. 1 by the Australian press after an incident in which he did not walk despite a thick outside edge in the summer series.
On the eve of the Ashes, the Courier-Mail revealed its plan to bar all talk of Broad.
It will be interesting to see what the Courier Mail will have to say after @StuartBroad8's performance.. pic.twitter.com/9cWrhhuaSl

— Sky Bet (@SkyBet) November 21, 2013
That was complicated somewhat by Broad being unquestionably the star of the opening day.
Whether you like him or not, his contribution was the telling one. He was booed before he bowled his first over of the morning, then struck in his second to remove Chris Rogers.
He took the first four wickets to fall, including Michael Clarke via a bouncer that reared up on the Australian skipper.
So how do you cover the cricket when you refuse to talk about the key player? Here's the Courier-Mail's attempt—and to be fair to them, despite the premise of ignoring him being somewhat ridiculous, they've actually done a pretty good job.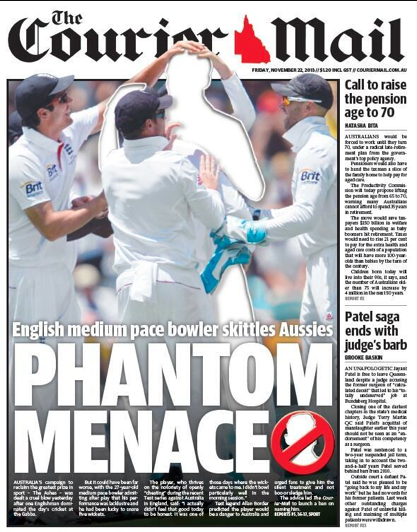 Courier Mail
Broad appears to be taking it in good spirits. According to reports, he has been identified as a player who would respond well to the boos of an Australian crowd by psychologists, and the early evidence certainly bears that out.
Broad walks into press conference carrying a copy of today's Brisbane Courier Mail. He looks happy

— Nick Hoult (@NHoultCricket) November 21, 2013
From @StuartBroad8: "In our medical assessments, our psychologists said 3 players would thrive on abuse: me, Prior and KP." Aka shrinkwrap

— tomfordyce (@tomfordyce) November 21, 2013
In the press conference that followed the day's play, Broad was spotted with a copy of the paper tucked under his arm.