The Case for Julius Randle as Top Overall Pick in the 2014 NBA Draft
November 13, 2013

Dennis Wierzbicki-USA TODAY Spor
The Champions Classic might not have featured any of the 30 NBA teams, but dozens of scouts were in attendance to watch one of the biggest NBA events of the year. After all, three of the top prospects expected to declare for the 2014 draft were all in action. 
Well, more than just the super trio were playing, but Jabari Parker, Andrew Wiggins and Julius Randle stole the show. 
Of the trio, it was Randle who emerged as the most dominant, even though his Kentucky Wildcats couldn't complete the comeback against the veteran Michigan State Spartans. Thanks to a superb second half, the freshman power forward finished with 27 points and 13 rebounds, making it 3-for-3 when it comes to 20/10 performances during his first collegiate season. 
He did more than stand out during that one game. He made a rather definitive case as to why he should be a leading candidate for the top overall pick next summer. 
More NBA-Ready than Wiggins

Denny Medley-USA TODAY Sports
As impressive and highly touted as Wiggins has been, he's still a kid adjusting to the college game, and he's eventually going to morph into a kid transitioning from college ball to the ranks of professional basketball. 
Wiggins is brimming over with upside, but that doesn't make him the safe pick to be a superstar. That's Randle's job, as he's using his immense physicality to prove that he's already prepared to bang around with NBA-sized players. 
Would you be surprised if Randle had scored on this play? 
He consistently met every physical challenge that Tom Izzo and the Michigan State Spartans threw in his general direction, and the result was his third game with at least 20 points and 10 rebounds...in three tries. 
After the game, Izzo had the following to say about Randle to ESPN: ""What I loved about him, he gritted his teeth, was ornery and nasty and he wanted to put them on his shoulder. For a freshman, that speaks volumes. He completely did that. You could see it and hear him. Tough kid."
It's a far cry from what we were hearing about Wiggins leading up to the season. 
For all the hype and excitement, scouts were trying to temper the expectations by pointing out the concerns about Wiggins' motor. Here's what one scout told ESPN's Jeff Goodman: 
Great athlete, no way he's the top pick in the draft. Julius Randle is better. There's just way too much hype. His skill level is average. He made a few shots but plays straight up and down and doesn't have any playmaking skills. Everything has to be a straight-line drive. Right now, he's the third- or fourth-best player for Kansas. He's long and athletic but has a long way to go.
There have been questions about his ability to stay engaged throughout a game. How well can Wiggins play when there isn't as much competition? Does he have enough "love of the game" to endure the rigors of an 82-game NBA season? 
You won't hear any of those inquiries voiced with Randle's name in the same sentence. 
He proved just how passionate and ready he is during the second half against Michigan State, when he almost willed the Wildcats back into the game. He may also have willed himself right up to the top of the draft board. 
More Unique Set of Skills than Parker

Streeter Lecka/Getty Images
Although Kansas and Michigan State were the victorious teams, Randle and Jabari Parker were the two most impressive players in action Tuesday night. 
While Duke did fall out of the ranks of the undefeated teams by allowing the Jayhawks to pull ahead late, Parker still put on a show. He finished the game with 27 points, nine rebounds, an assist and two steals, but it was the method in which he piled up the points that was so impressive. 
Parker treated fans in attendance and viewers at home to a non-stop show of perimeter jumpers and dunks in transition, proving that the Carmelo Anthony comparisons might be pretty accurate. And yet, he didn't distinguish himself from the field as much as Randle did. 
As DraftExpress wrote before the start of the college basketball season about Randle, "Extremely unique prospect due to his combination of size, strength, scoring instincts and ball-handling skills. Very difficult to find players with his skill-set, at any level of competition."

Dennis Wierzbicki-USA TODAY Spor
And it's completely true. 
While Parker is a tremendous shooter and top-notch prospect, he's a 'tweener with a set of skills that doesn't differentiate him from too many good players in the NBA. Those skills have the potential to become elite, sure, but it's much more rare to find a player like Randle. 
I'll get into the specific combination of power and finesse below, but it's a set of skills that allows the Kentucky power forward to stand out at any level. How many players in the NBA are still true back-to-the-basket guys who can also face up and dazzle opponents with both footwork and physicality? 
There aren't too many, and that's why Randle gets to stand out even more than the sharp-shooting, scoring forward from Duke. 
Physical/Finesse Combo

Jonathan Daniel/Getty Images
Some of the plays that Randle made against Michigan State just aren't supposed to be possible for a full-grown NBA player, much less a college freshman playing in his third game for the Wildcats.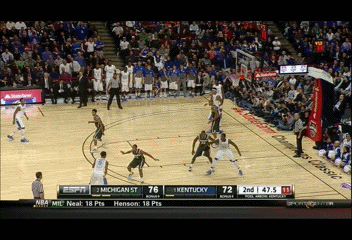 http://twitpic.com/dl2166
When a defense throws a triple-team at a player, he's supposed to kick the ball out. Instead, that happened.
That type of patience, power and finesse shouldn't ever be combined into one NBA-ready package. It's not fair for the opposition. And yet, Randle has it all. 
His ball-handling, footwork and soft touch are all on display in that one play, and it's by no means the only one that stood out against MSU.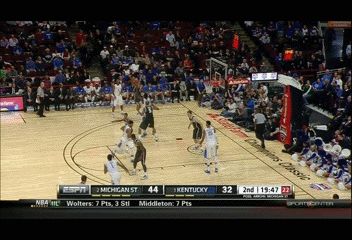 http://twitpic.com/dl2b13
How about the sheer power of this bucket? 
That's a grown man's move. There's no doubt about that, as he takes contact and keeps on charging to the hoop to finish the bucket. Randle has consistently been able to overpower the opposition, and while he won't have as much of a physical advantage at the next level, he doesn't need to. 
After all, he can go to work with his feet as well. 
Nothing topped that move on Tuesday night. He showed off everything he had in the bag of tricks on one play, and it was quite clear that he was operating in slow motion as he tortured the Michigan State defense. 
Go back to that same video.
At 0:54, Randle grabs the ball and goes coast to coast, showing off his ball-handling and finishing skills in one fell swoop. You'll also want to check out the spin move at 3:03. While Randle misses the shot, he's able to haul in the offensive board and get to the charity stripe. 
The entire highlight reel is full of plays that will make you sit back and ponder how one player can have so much physical strength and technical skill at such a young age. 
Now Randle is not without weakness. No player is. 
He must learn how to kick the ball out of the post, start hitting a higher percentage of his free-throw attempts and become more of a defensive player than he's been through three games (or was in high school, for that matter). But remember, we're just three contests into his college career. 
And if he already looks this dominant, then the sky is the limit. In this case, the sky is the No. 1 pick in the 2014 NBA draft. 
Randle may not have the name recognition among fans that Wiggins and Parker enjoy (yet), but he has it where it counts: among scouts and people that work in NBA front offices.