FIFA U-17 World Cup 2013: 5 Things We Learned from Mexico vs. Nigeria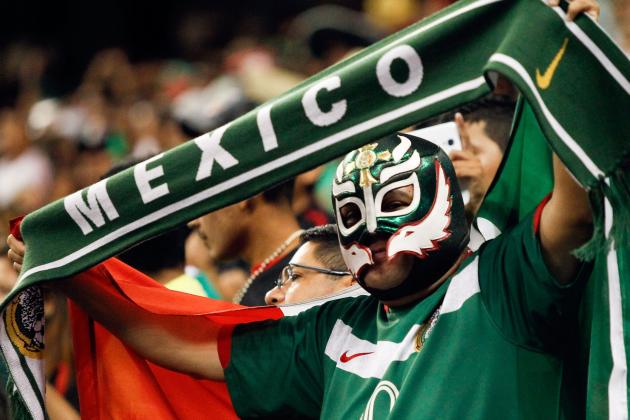 Bob Levey/Getty Images

Mexico and Nigeria played in the final match of the FIFA U-17 World Cup 2013. It was the second time they faced each other in the tournament, with the African side winning both games.
The victory also set Nigeria as the most successful team of the competition—with four titles—since it was founded in 1985. It was also its first since 2007, when they defeated Spain in penalty kicks.
For Mexico, it was the third time they advanced to the final match and the first they have lost.
Let's see what we learned.
Begin Slideshow

»
It is clear Mexico need to work more in the defense. This has been an issue that has affected national football on a regular basis.
The defenders, especially the centre-backs, have to stop the attackers sooner. They tend to wait too long to fight for the ball.
The left-back and the right-back have to get back to their positions more quickly, especially if they were helping in the attacking zone.
Kelechi Iheanacho won the Golden Ball after scoring six times, four of those against Mexico in the group stage.
Iheanacho proved he is strong, fast and skillful. He dribbles with ease and has a fantastic ball-striking.
His creativity set him as a very valuable playmaker. Overall, this kid has a lot of talent and intelligence.
The Pachuca forward never let his teammates down. Ochoa is the kind of player who can change a game in the blink of an eye.
He scored once in the round of 16 against Italy, another in front of Brazil in the quarterfinals and finally he sent it away twice in the semifinal versus Argentina.
Ochoa knows how to leave the defenders behind; he is very cunning and takes advantage of his technique. He can shoot or header.
There is no stopping in Nigeria when it comes down to counterattacking.
They know how strong and fast they are, hence they resort to this old strategy, which, by the way, gave them a lot of success in the tournament.
In the final match, they surprised Mexico twice. The Eaglets may not be the most technically gifted squad, but they sure know how to turn things around and take advantage of their strengths.
Raul Gutierrez played for Mexico when he was an active footballer. After retiring, he focused on coaching, and his results with the U-17 squad are enviable.
No other Mexican coach has won so many games in a World Cup, despite the category: U-17, U-20, senior.
He has been in charge in 14 games, having won 12 and lost two. Mexico went unbeaten in 2011, while in this edition, he lost the first game of the group stage and the final, both against Nigeria.
Gutierrez has given the youngsters confidence and strategy, when combined have been key elements in the squad's performances.