P.K. Subban is a blossoming superstar in Montreal. He's fresh off a Norris Trophy in what was just his third season as a pro. He currently leads the Canadiens in scoring with 15 points in 16 games and is second in NHL defensemen scoring.
Yet it seems as though his head coach, Michel Therrien, doesn't quite see him the same way that most of the hockey world does. Subban has recently seen his ice time diminish, and his coach has been far from supportive of his best player when asked about it by the media.
Through the first 10 games of 2013-14, it seemed Subban could do no wrong. He was Montreal's best player on a nightly basis and played heavy minutes in all situations—even strength, power play and penalty kill.
But it appears as if something happened on October 26 against the San Jose Sharks. From that night on, Therrien has been sitting his young star on the end of the bench for prolonged periods of time.
That game against the Sharks was the last time Subban received a regular shift while the Canadiens were short-handed. In the five games since then, he has seen the ice for a grand total of 17 seconds while down a man.
Subban might not be the best shutdown defender in the league, but you'd think Therrien would want his best player on the ice in key situations. That hasn't been the case recently.
Perhaps Therrien is just using those two minutes to allow Subban a chance to breathe.
Yet that doesn't explain why Subban did not see a single shift in the last 2:48 seconds of a one-goal game against Dallas on October 29, as pointed out by Mike Boone at Hockey Inside/Out.
And this keeps happening. Boone again noticed that Subban did not receive a single shift in the last four minutes of a 2-2 hockey game against the St. Louis Blues on November 5.
What is Michel Therrien thinking? What coach, in his right mind, glues his best player to the bench in the dying minutes of a tight hockey game?
Speaking of ice time, Subban received just 20:52 seconds against St. Louis. Alex Pietrangelo, the Blues star defender, was on the ice for 30:49. Almost a full 10 minutes more than the 2013 award winner for best defenseman in the NHL.
P.K. Subban needs ice time. He makes things happen on the ice that other players simply don't. He energizes his team with his electric skating and lethal one-timer.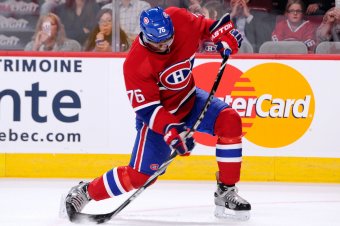 Richard Wolowicz/Getty Images
Instead of allowing his most talented player the freedom to create, Therrien is caging him in and denying him the chance to be special.
Montreal's bench boss obviously has his reasons, but he won't give them publicly. Contrarily, he has stirred the pot with some less than encouraging comments about Subban and his chances of playing for Team Canada in 2014.
Consider the following passage from an October 31 article by Sean Gordon in The Globe and Mail, a nationally distributed Canadian newspaper.
...when Therrien was asked if Subban should be on Team Canada, he said, "It's not for me to say. I'm in charge of the Montreal Canadiens."

On whether Subban is a world-class player he added: "Whether I see him that way or not, my opinion doesn't change anything."

Therrien's caution stands in contrast to the recent boosterism from hockey people such as Larry Robinson, David Poile and Lindy Ruff, each of whom put in a public word for their players.
Should P.K. Subban be on Team Canada's roster in Sochi 2014?
Therrien was given a prime opportunity to put to rest any controversy about his and Subban's relationship by simply stating that his best player deserves to play for Team Canada in February. It doesn't matter whether he actually thinks so or not.
Predictably, the Canadiens coach backed off a little when pressed further on November 4.
In a follow-up story, Therrien told Gordon that Subban is "a thoroughbred. You have to guide a thoroughbred because he will win you races."
The coach continued:
Our relationship? Coaching is coaching. Coaching is about drawing the maximum out of players, and it's all part of that. I'm quite aware of his talent, I know exactly how far he can go. We're going to do what it takes to get there, that's where he wants to go too. It's a challenge any coach would want.
It's obvious that Michel Therrien has chosen an unconventional approach in dealing with his team's young superstar—in fact, he has chosen not to treat him like a superstar at all.
Superstars are allowed to play through mistakes. They see more ice than anyone else and play in all situations. Their coaches support them when challenged by the media.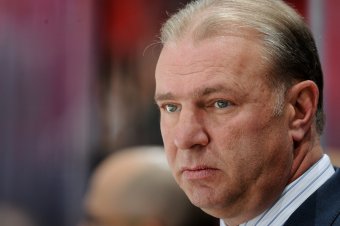 Francois Lacasse/Getty Images
Therrien has apparently decided that Subban is not yet a superstar. Or at least he isn't ready to treat him as one. The coach will continue to challenge Subban in hopes that he elevates his game to yet another level.
It's a big risk to take. And it seems unnecessary.
All young players need to prove themselves, yet Subban has already done that. He has shown the hockey world that he is one of the best there is since returning to the Canadiens lineup following a brief contract dispute in early 2013.
He has done all his coaches have asked of him since becoming a regular in Montreal back in 2010-11. He has matured defensively while still developing into the Canadiens' most lethal offensive weapon.
Yet apparently he still hasn't done enough to please Coach Therrien.
If his risk works, Therrien looks like a genius and Subban will be hoisting his second Norris Trophy before we know it.
But what if it doesn't. Remember, Subban is a free agent at season's end.
He could decide that Therrien's antics simply aren't worth it and sign elsewhere. Any of the 29 other teams would jump at the chance to sign him and treat him like the superstar that he is.
Therrien's approach could backfire, and the result would be devastating to the Montreal Canadiens. And if the Habs' coach does run Subban out of town, you can be sure his second stint with the Canadiens will end just as his first did.