Kimi Räikkönen's No-Good, Very Bad Week Ends on Lap 1 of Abu Dhabi GP
Use your ← → (arrow) keys to browse more stories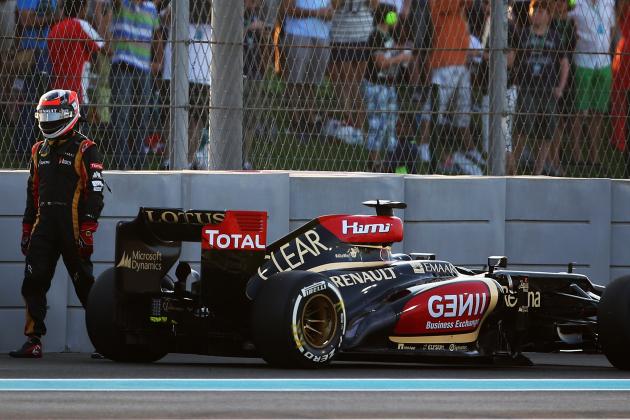 Paul Gilham/Getty Images
Kimi Räikkönen, after retiring on the first lap of the Abu Dhabi Grand Prix.
Looking back on Kimi Räikkönen's Formula One career, it is hard to think of a worse week than the one that just ended with a broken front suspension at Turn 1 of the first lap of the Abu Dhabi Grand Prix.
Of course, Räikkönen has been at odds with his team, Lotus, all season, particularly over his pay. In August, reports emerged that Lotus had been unable to pay their star driver's salary. Although the team hoped to retain Räikkönen for the 2014 season, the Finn was linked to an open seat at Red Bull when Mark Webber announced his retirement. Ultimately, he signed with Ferrari, with whom he won the 2007 World Drivers' Championship, saying at a press conference before the Singapore Grand Prix that "the reasons why I left from the [Lotus] team is purely on the money side, that they haven't got my salary."
This strained relationship was tested again on Oct. 27, at the Indian Grand Prix. Late in the race, Räikkönen was in third place, leading his teammate, Romain Grosjean, and Ferrari's Felipe Massa. Grosjean, on fresher tyres, was being held up by Räikkonen and both were in danger of being passed by Massa. With the Finn refusing to let his teammate past, he received a harried message from the Lotus pit wall saying, "Kimi, get out of the f***ing way!"
To fans watching comfortably from their couches at home, the language may have been shocking, but in the heat of the moment, in the middle of a race, such language is surely not meant to offend, but rather to express the urgency of the request.
Räikkönen did eventually let Grosjean through, and the Frenchman managed to hold off Massa to finish third. With his tyres deteriorating, Räikkönen slumped to a seventh-place finish. After the race, Lotus apologized for the language in the radio message, although Räikkönen had responded on the track with, "Don't shout there, mother-f***er. I will when I have a chance."
That seemed to be the end of it, until Thursday, when Räikkönen did not show up in Abu Dhabi for his media and sponsor commitments preceding the race. By Friday, Räikkönen was in the paddock and ready for free practice, but he was still not happy.
The problem, apparently, was not the radio message but the Finn's unpaid salary. And Räikkönen has threatened to go on strike for the remainder of the season if he does not get his money.
On Saturday in qualifying, Räikkönen's week went from bad to worse. After qualifying fifth, he was disqualified when it was discovered that his car's floor was more flexible than the regulations allow. This meant that he would have to start from the back of the grid.
While it would have been entertaining to see the Iceman carve his way through the field from last place, we never got a chance. Räikkönen's Abu Dhabi Grand Prix ended with a broken suspension as he was battling with Giedo van der Garde's Caterham into the first corner.
Before the race, the BBC's Ben Edwards and David Coulthard were discussing whether Räikkönen should have started from the pit lane, rather than the back of the grid, which would have allowed him to avoid any first-corner incidents. He chose not to and, prior to driving himself away from the circuit, confirmed that he thought this was the correct decision, despite the early end to his race.
Going forward, it seems highly unlikely that Räikkönen will skip the remaining grands prix in the United States and Brazil, if for no other reason than his love of racing. However, this week has no doubt left a bitter taste in his mouth.
With Sebastian Vettel taking his seventh win in a row in Abu Dhabi, Räikkönen may have to wait until next season, when he will have Ferrari power beneath him, to cleanse that bitterness with his next grand prix win.