New Zealand Maori vs. Canada Rugby: Live Blog, Scoring Updates and Analysis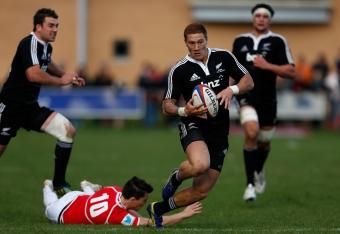 The NZ Maori All Blacks take to the field today in Canada.
Paul Thomas/Getty Images
New Zealand's Maori All Blacks begin their North American tour this afternoon against Canada at Toronto's BMO Field. It has been almost a year since these two teams faced each other at Oxford University; the Maori won that contest 32-19.
Over the summer, Canada was moments away from sweeping the 2013 Pacific Nations Cup. Yet, they are a team that has improved mightily under their head coach and former All Black selector Kieran Crowley. Today, Canada will be missing many of their top players, but will seek to use the sell-out crowd in Toronto to their advantage.
We'll have all the scoring updates and analysis for you, live from the press box, here on Bleacher Report.
Scroll down to find our latest updates from the game.
Match Kickoff Time: 1pm EST
Match Location: BMO Field - Toronto, Canada


Canada Roster vs Maori All Blacks (via Rugby Canada)
H. Buydens, R. Barkwill, D. Wooldridge, J. Phelan, T. Ardron, N. Dala, J. Moonlight, Aaron Carpenter (C), P. Mack, L. Underwood, C. Trainor, H. Jones, C. Hearn, J. Hassler, M. Evans,
Canada Reserves
J. Ilnicki, R. March, A. Flagg, K. Gilmour, A. Kleeberger, J. Mackenzie, P. Parfrey C. Braid
New Zealand Maori Roster vs. Canada (via AllBlacks.com)
Kane Hames, Hikawera Elliot, Ben Afeaki, Jarrad Hoeata, Joe Wheeler, Liam Squire, Luke Braid, Elliot Dixon, Piri Weepu, Tim Batman (c), Zac Guildford, Jackson Willison, Charlie Ngatai, Andre Taylor, Robbie Robinson
Maori Reserves
Chris Eves, Nick Barrett, Ash Dixon, Blade Thomson, Shane Christie, Jamison Gibson-Park, Ihaia West, Matt Proctor
Jeff Hull is a contributor to Bleacher Report. Follow him on Twitter: @HullatHome
Unless otherwise stated, all quoted material was obtained first hand.
Thanks for staying with us here at Bleacher Report for this live blog.
Be sure to follow me on Twitter: @HullatHome for more great rugby news, talk and analysis.
Post Match Analysis:
Canada can take heart that their offence produced some great moments in today's match, but the Maori were never really in danger of dropping this contest.
Without their stars, Canada simply did not have the steel to match up against their more classy and experience opponents.
In the end, it was the result that myself and many other expected.
The Maori will move on to play the United States next week in a game they should win handily.
Canada flies to Georgia, where they will have only two days to prepare on the ground, before taking on the Georgians in their national stadium in Tiblisi.
Final score 40 - 15 for the New Zealand Maori over Canada.
Post match analysis and Coach's comments to come.
Nick Barret grabs another Maori try off an embarrassing Canadian giveaway at their own 5 meter line.
Canada was trying for miracle stuff there, a shame that the scoreline will read higher than it should.
40 - 15 for Canada with almost no time left.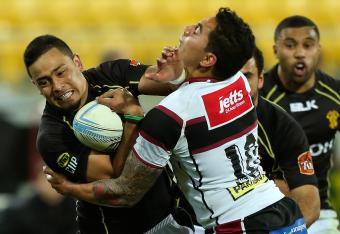 12 minutes left in this game and Canada are miraculously within nine points. They are under pressure in their own end, but an upset is still there to be had, if they can regain possession.
Sadly, it looks like Canada's comeback is over.
A set move off of a Maori scrum in the Canada end results in a corner-try for Matt Proctor, who had come off the bench and on to the wing.
The score makes it 33 - 15, which is almost exactly the score our pre-match analysis called for.
Canada will look to finish with a flurry in front of their home fans.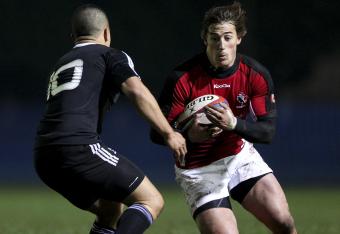 Sensational moment for Canada, who are now coming alive.
Ospreys wing Jeff Hassler - one of the few top-flight Canada players available for today's game - executes a set move off a line-out deep in his own end.
Hassler screams into the middle of the pitch and draws the remaining cover. His perfect 20 meter pass finds Matt Evans who races to the Maori 5 meter line.
From the ensuing line-out Canada, drive a maul over the Maori line and Aaron Carpenter collects Canada's first try of the second-half.
The Liam Underwood convert makes the score. 26 - 15 at the 60 minute mark.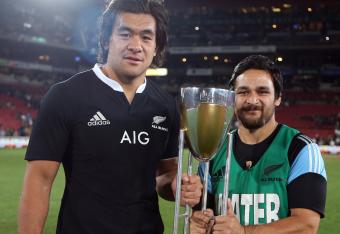 Canada opens the second-half by trying to take the Maori on in the forwards make headway - for a moment.
Unfortunately, a lack of accuracy again lets down the Canadians, and the ball goes over to the Maoris.
In rugby, making one-on-one tackles is essential, and sadly for Canada, that is just not possible for them this afternoon.
The power and pace of the New Zealanders is just two much for a single Canadian tackler to handle, and so gaps are beginning to open.
The result is Piri Weepu's second try of the match, and a 26 - 5 lead for the Maori.
Canada have not stopped playing, but you feel the game is over as a contest right now.
Just as I am typing those words, Liam Underwood - Canada's young flyhalf - bangs through a penalty to bring the Canadian total to eight points on the afternoon.
Half-Time Analysis:
Canada engineered one final attacking flurry before the end of the first-half, but it appears the Maori may just have too much power in attack.
Its clear that the Canadians have been told to play for all corners of the field. Their endeavour is encouraging, but it is unlikely to produce enough points to see them through to a come-from-behind upset win.
Despite all of their enterprising play, Canada are bleeding points and have not been securing enough possession to make the game competitive in terms of a scoreline.
What is positive is the brand of attacking rugby that both teams are playing, which is putting on a show for the 22,000 fans in attendance here in Toronto.
It is a good day for rugby in North America, even if Canada is unlikely to come away with a result.
Look for the Maori's fitness, pace and depth to expand the scoreline even more as the second-half drags on.
Our prediction was 35 - 17. In reality, the margin may be larger than that if the current trends continue.
On to the second-half.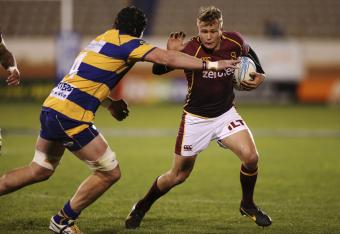 Canada scramble on defence and the Maori take advantage.
Robbie Robinson bowls his was over from in-front of the posts, and the Maori are beginning to overwhelm Canada.
The score stands 19 - 5 with only moments left in the first half.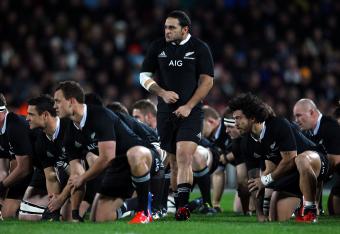 The Maori kick another penalty to the Canadian corner, but they infringe on the ensuing maul.
Again, Canada escape.
They clear their lines. Canada have not enjoyed a great deal of possession; however, it is 5 - 5 at close to the 30 minute mark, which is something that few would have expected.
Here at the 29 minute mark, an obvious forward pass is completely missed by all three match officials. Peri Weepu runs in an uncontested try past a stunned Canadian team and crowd.
The score is now 12 - 5 for the Maori.
To say that Canada were hard done by there, would be a tremendous understatement.
Both teams looking dangerous, but so far Canada have survived the errors which come with their attacking play.
One of the few unforced errors of the afternoon comes from Harry Jones who is caught offside in a ruck.
AndreTaylor misses the penalty attempt, however, and Canada continue to escape from their mistakes without cost.
How long can this keep up? You get the feeling that such a high pace will suit the Maori eventually, even though Canada look impressive at the moment.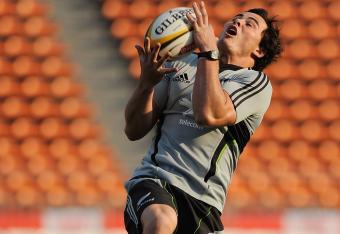 Canada are trying to play all the rugby, but it comes back to bite them.
While trying to break from their own try-line Canada are intercepted by the Maori.
After a few minutes of pressure, the Maori find an overlap of their own with Zac Guilford scoring in the far corner.
Its 5 - 5 aster 13 minutes.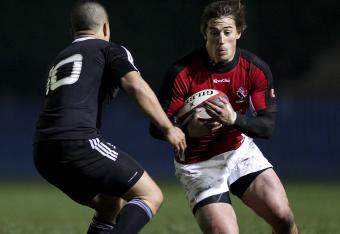 A chippy start to this context as Canada flanker John Moonlight thunders a Maori player out of bounds.
From the subsequent Canada line-out the Maori steal the ball and attack into Canada's 22-meter line.
A knock forward results in a Canada scrum at their own 22. Lots of nerves early on, but Ciaran Hearn shows that Canada is ready to play.
The Newfoundland centre breaks down the near side of the pitch and cuts infield, making 30 meters before a knock-on ends the attack.
Canada are exploding into this match.
From the subsequent scrum, Canada steal the ball and break wide. The ball sails to the wing, where Jeff Hassler finds on overlap and screams for the corner.
Canada get the first try of the game, as the BMO fans go crazy! Underwood's missed conversion means its a 5 - 0 lead for Canada.
The stadium in Toronto is jumping!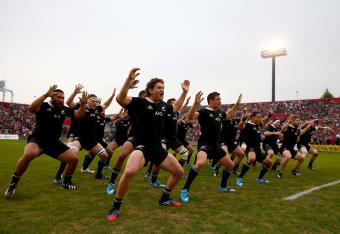 Teams are out on the field warming up at the moment.
Soon the Maori All Blacks will get things started with the Haka. It will be the first time the Haka will have been performed in Canada in decades.
A rare treat for North American rugby fans.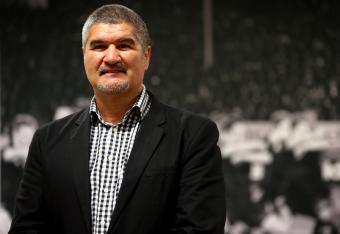 NZ Maori Pre Game Comments:
Maori Head Coach Colin Cooper: "It was a long haul over here and everyone is getting over the travel factor and we are putting things together. Those boys are the in-form players at the moment so they get the first opportunity. There's been plenty of competition for places and that's what makes this group exciting, anyone can replace anyone.
We have not had much time to gel, so we will have to just play what is in front of us and use our cultural connection to come together as a team."
Maori Captain Tim Bateman: "Canada pushed us very hard last year at Oxford in England, and we were very lucky to escape with a victory on that day. In my experience it is helpful for everyone to know their roles on the field, but since we have had so little time together, we will have to rely on instinct more than usual on the pitch this weekend."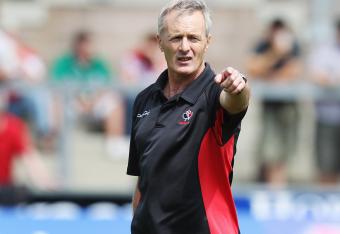 Canada Pre Game Comments:
Coach Kieran Crowley: "The key for us today will be to get closer to where we want to be in terms of a complete performance. We will look to implement our team systems and test our opposition. This is the best team available and we know we will have a massive crowd behind us here in Toronto."
Canada Captain Aaron Carpenter: "We're missing a few key players, but our roster is the strongest available and we're going to give them everything we've got and hopefully come out with a victory. Last year we came close at Oxford and we were minutes away and that gives us confidence for Sunday."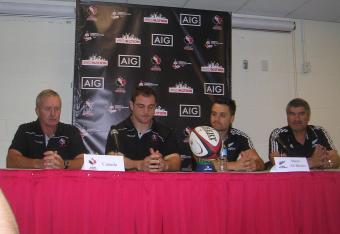 Pre-Match Analysis:
Neither one of these teams will have had much time to gel in the days leading up to this contest. It was a tired group of Maori All Blacks that showed up at the Wednesday press conference at BMO Field; the New Zealanders will surely be struggling to adapt to the time changes, even after a few days in Canada.
The Canadians will be energized by a capacity crowd today in Toronto, but it would seem that is where their advantages end.
Without an experienced kicker on the field, Canada will most likely look to run the ball from deep; putting on a show for the crowd and giving their dangerous back-line a chance to have an impact; however, that type of game will suit their opponents just fine.
Canada are without more than half-a-dozen of their first choice players, and they would normally need every one of them to threaten an upset over the Maori All Blacks. Coach Kieran Crowley will be telling his charges that strong two-man tackles and "chopping down" the Maori in defence will be key to keeping the match close, but with limited options off the bench, Canada will again find it hard to put together an 80 minute performance.
The human body can only tackle so many All Blacks before it begins to tire.
Canada is a much improved side, as their summer wins over Tonga and Fiji have shown, and while anything is possible, they will need play a near-perfect match to hold out hope of an upset.
Look for a closely fought first-half, with New Zealand's precision and offloading eventually helping them pull away in the second.

Bleacher Report Prediction: Maori All Blacks 35 - Canada 17
This article is
What is the duplicate article?
Why is this article offensive?
Where is this article plagiarized from?
Why is this article poorly edited?