Gennady Golovkin Stops Curtis Stevens After the Eighth in an Absolute War at MSG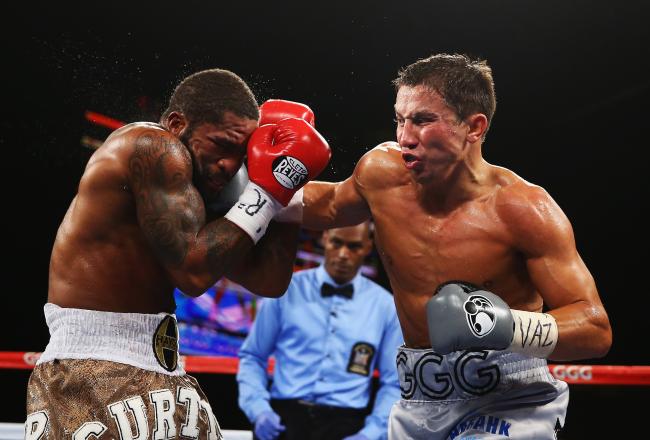 Golovkin blasted through Stevens in a dramatic and entertaining bout at Madison Square Garden.
Al Bello/Getty Images
Gennady Golovkin's express train to the top of the middleweight division kept rumbling down the tracks at Madison Square Garden on Saturday night, and unfortunately for Curtis Stevens, he was on the tracks when it got there.
Golovkin (28-0, 25 KO) dropped Stevens with a crushing shot in the second round, and finally pounded him into submission at the end of the eighth in a bout that was surprisingly competitive and dramatic from start to finish.
With the referee taking careful watch at the end of the night round, Stevens corner finally saw enough and saved their fighter from further punishment. With the victory, Golovkin retained the WBA Middleweight Championship and scored his 15th consecutive knockout victory.
Stevens (25-4, 18 KO) stuck to his gameplan, and he refused to back down against the Kazakh's fearful assault. He landed several of his signature left-hooks, and even appeared to rock Golovkin on a few occasions. But in the end, he simply couldn't stand up the the firepower of the champion.
His stock should not be diminished by what was certainly a gutsy, and determined performance in the face of an opponent, who on this night, was simply overwhelming.
That'll do it for us tonight fight fans.
Here's your quick recap:
Gennady Golovkin TKO 8 Curtis Stevens (Stevens corner stops contest after eighth round. Golovkin retains WBA Middleweight Championship)
Mike Perez UD 10 Magomed Abdusalamov (97-92, 97-92, 95-94)
As always, we hope you enjoyed our live coverage of Golovkin vs. Stevens. Stick with us here at Bleacher Report for all your post-fight coverage.
Big props to both guys.
GGG answered a lot of questions in my mind tonight. He took serious power shots from a big puncher. And he took them well.
Curtis Stevens is no joke when it comes to that left hand of his, and he landed more than a few of them.
Looking forward to seeing both guys again.
Golovkin called out Sergio Martinez after the fight. I say do the Froch fight.

— Brian Campbell (@BCampbellESPN) November 3, 2013
That's a fight that everyone wants to see, but likely won't ever happen.
Sergio is looking for big money fights with managed risk at this point...
GGG may bring big money, but he brings HUGE risk.
Gennady Golovkin is a monster.
But give Curtis Stevens a lot of credit. He fought hard against overwhelming odds.
He deserves another significant fight.
That's a good corner stoppage there.
Stevens was very brave, but he might have been too brave for his own good.
Golovkin TKO 8 Stevens in an absolute war.
The referee looking very closely at Curtis Stevens near the end of round eight and he's stopping the fight!
No clinches in this fight.
Just two guys going to war.
The fight that dreams are made of...credit to both guys.
Didn't think we'd be in the eighth round, but we are and the issue isn't settled.
GGG's body work appears to be paying dividends now. He's been going there all night and seems to have Stevens in some trouble with 90 seconds left in the eighth round.
They were throwing BOMBS that round. Wow. #GGGStevens

— Brian Campbell (@BCampbellESPN) November 3, 2013
What a fight.
Better get on your DVR/On-Demand and catch this one...
It's a can't miss.
This has an almost Rocky IV like quality to it...
GGG is the overwhelming favorite and he's beating up Curtis Stevens.
But Stevens is in the fight, landing some huge shots of his own, and he's winning over a lot of the crowd.
Great fight, even if the scorecards are wide.
Golovkin 69-63
GGG peppering Stevens with power shots along the ropes.
Stevens is not folding, but he's taking some big shots.
Stevens has slowed a bit, and he isn't throwing as much.
Just as I type that he connects with a big left hand that get's Golovkin's attention.
Great, great fight.
I've got GGG up big here, but he is having to earn it. Stevens is getting his attention. But Golovkin is just too much.

— Brian Campbell (@BCampbellESPN) November 3, 2013
Huge amount of respect for the heart and determination of Curtis Stevens...GGG just too much so far.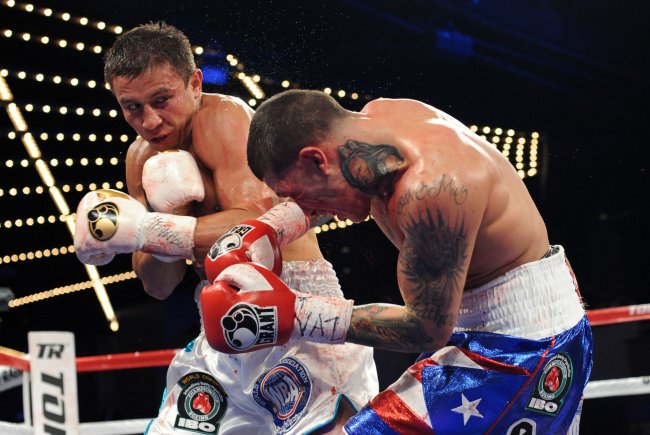 Joe Camporeale-USA TODAY Sports
GGG mauling Stevens along the ropes to close the sixth round...
If you're not watching this fight...
Shame on you. It's a war in MSG!
GGG is well ahead, but this has all the makings of the kind of fight that turns on one punch!
59-54 Golovkin after six.
Say all you want about Gennady Golovkin...but Curtis Stevens has some guts and some heart.
Absolutely MASSIVE shots landing for Golovkin here in the sixth.
Stevens is taking them and fighting back.
But this is getting really vicious!
Stevens landed the best punch of the round, but GGG was more active and took the fifth.
Four to one.
49-45 GGG
#GolovkinStevens Stevens getting aggressive and countering. Getting Golovkin attention.

— FightNights.com™ (@boxing) November 3, 2013
Stevens definitely has Gennady's attention now.
He's found his way back into the fight after that devastating second-round knockdown.
This has turned into one hell of a wicked fight.
Big shots landing for both guys in the fifth round!
Big left hook lands for Stevens and GGG's knee buckles ever so slightly...
DRAMA!
Curtis needs to stay off the ropes. That's where he's been getting broken down.
Keep it in the center where he has the space to land his hooks.
Stevens is connecting upstairs now with more frequency. He's snapping Golovkin's head back with those hooks.
Suddenly, we have a fight on our hands!
Dramatic ending to the fourth round.
Stevens with his best moments in the fight in the closing seconds. He landed some huge leather upstairs on Golovkin, but he seemed to take it well.
That's why you still can't blink on this fight.
This article is
What is the duplicate article?
Why is this article offensive?
Where is this article plagiarized from?
Why is this article poorly edited?