2013 Breeders' Cup Post Positions: Predictions and Slot Analysis for the Classic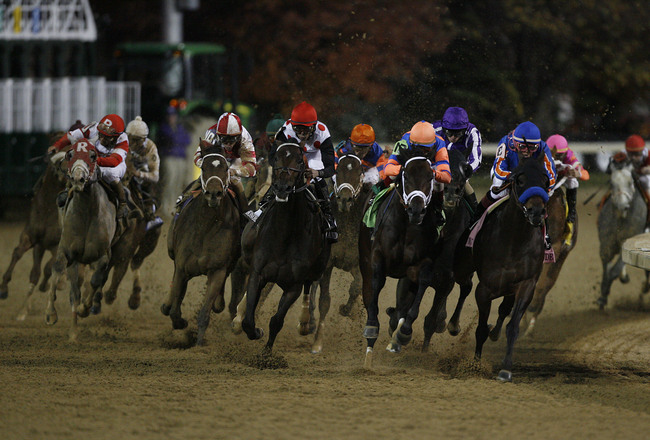 Twelve horses are set and ready to line it up and knock it out on Saturday. They are ready for a 1 1/4 miles, as Fort Larned looks to defend his title in this renewal of the Breeders' Cup Classic.
The favorite is Game On Dude, who is unbeaten in five starts in 2013. There's also the Belmont Stakes winner Palace Malice, who will take on the Travers winner in Will Take Charge.
Six horses in this field are winners of their last start, but only one can come away better than them all. Here is the breakdown by post position and where I think they'll finish.
Last Gunfighter
Post Position: No. 1
Best Strategy: Last Gunfighter's best shot is to hope that half this field chokes and doesn't show up on game day. In his last race, the Jockey Club Gold Cup, he ran mid-pack and stayed mid-pack. If there's a pace meltdown on the front end, perhaps he'll have some left in the tank to kick home.
Outlook: Half of the horses in the field are viable contenders. Last Gunfighter is not in that half. He's better off in lower-level stakes (Grade 2s and 3s races) and should stay out of the way in this one. I don't think he'll finish last, but he'll be in the final third of the field.
Projected Finish: Ninth
Paynter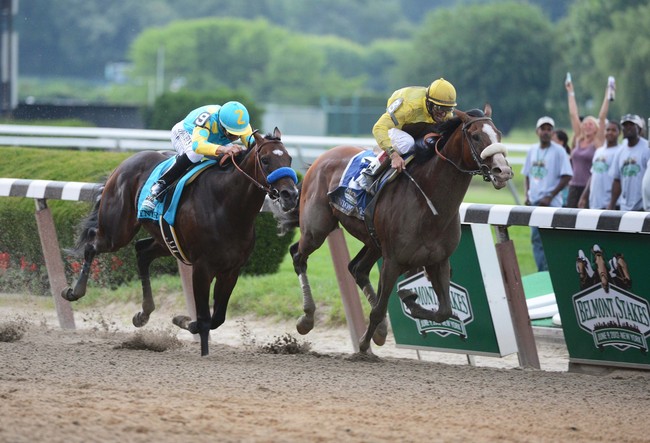 Post Position: No. 2
Best Strategy: Paynter is a fairly versatile horse, having won the Haskell as a three-year-old and nearly winning the Belmont Stakes. His best bet is to track the leaders three to four lengths off the pace. There is no shortage of speed in this race, but he can't be lazy and let it get too far away.
Outlook: The horses that will have a jump on him are classy front-runners. There's a chance they will be too swift for Paynter to keep pace. In his effort to keep up, he'll likely run out of juice and finish farther back than desired.
Projected Finish: Eighth
Planteur
Post Position: No. 3
Best Strategy: Like about a third of this field, Planteur runs mid-pack. At least, that was his approach in the Dubai World Cup in March. While he ran a spirited third, he had nowhere near the kick he needed to catch Animal Kingdom. He'll need a very fast pace to finish in the top three.
Outlook: The horses on the front end in this race are too good and too fast. Planteur has never run on dirt before, so that's an extra strike.
Projected Finish: 11th
Moreno
Post Position: No. 4
Best Strategy: Moreno has one strategy: run fast. He has to be first and hold on for dear life. He will have the jump on the horses to his right and left. If he gets the jump on Paynter, who will be two spots to Moreno's left, he'll have a clear shot to the lead.
Outlook: He's very fast on the lead for a three-year-old, but the older horses in this field have faster cruising speeds. He's going to try his best to grab the lead and hold on, but he'll fade and have little left to gallop home.
Projected Finish: 10th
Declaration of War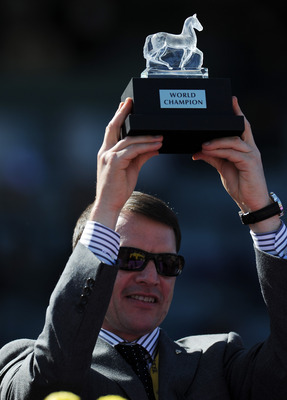 Post Position: No. 5
Best Strategy: He's never run on grass for his trainer, Aidan O'Brien. In his last race, a win at York, he raced near the front, tracking the field of six before accelerating past the leaders. If he employs this strategy, he could be in the mix on Saturday.
Outlook: You can't trust a horse to do something he's never done and win. In this case, he's never run on dirt. That's a huge, huge knock, even if he does come from Europe's most powerful trainer.
Projected Finish: 12th
Mucho Macho Man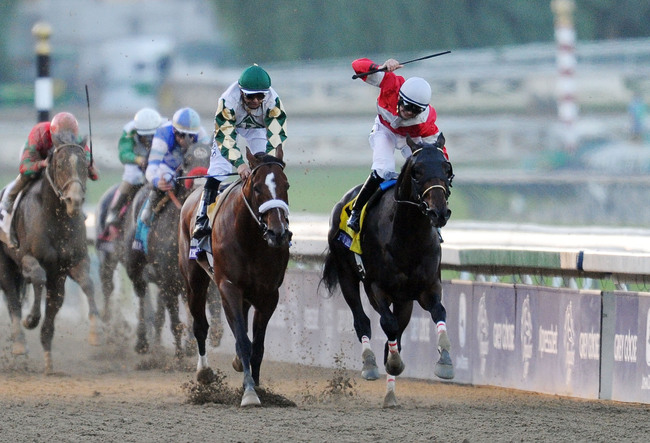 Mucho Macho Man (left) was second a year ago in this race.

Post Position: No. 6
Best Strategy: Mucho Macho Man has the perfect running style to win a race of this distance. He can track the leaders with a high cruising speed. He has Moreno far to his left, a horse going for the lead. Fort Larned to his immediate right will also be going to the front. If jockey Gary Stevens gets creative, he can keep Fort Larned wide, make him run farther and tire him out.
Outlook: Mucho Macho Man won the Awesome Again Stakes here to prep for this race. He won very impressively, and if he moves forward off that and runs back to his form from a year ago when he finished second to Fort Larned, he'll be a strong contender.
Projected Finish: First
Fort Larned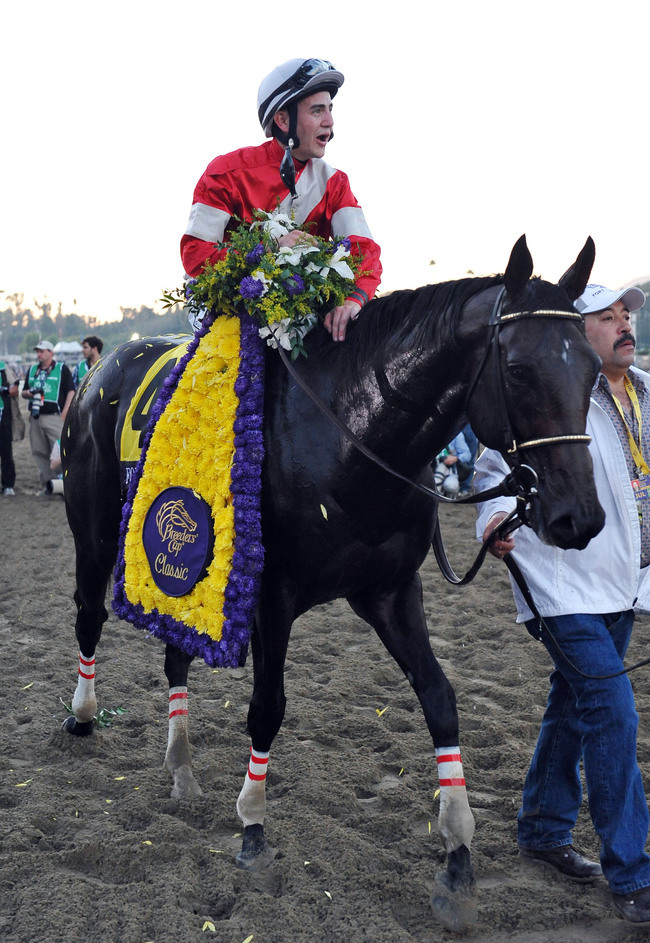 Post Position: No. 7
Best Strategy: Fort Larned needs to be on or very close to the lead. He's in a tough spot because his jockey, Brian Hernandez, will have to burn horse to clear Mucho Macho Man to his left and fend off Game On Dude two to his right.
He'll likely be butting heads with Moreno for the lead.
Outlook: Fort Larned isn't quite as sharp as he was a year ago. He's a very nice horse but prepped in a very soft race at Churchill Downs against a field of relative nobodies. He needs to break on top, but with all the other speed, he may be too gassed turning for home.
Projected Finish: Sixth
Palace Malice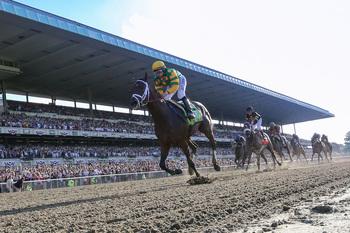 Post Position: No. 8
Best Strategy: Palace Malice is a stalker. Plenty of other horses will be content to have the lead, and he'll be happy to let them have it. If he lays off the leaders two or three lengths back, he'll be in perfect striking distance to charge down the lane.
Outlook: He'll let Moreno and Fort Larned battle for the lead. He'll have to contest with Game On Dude and Mucho Macho Man for positioning heading into the first turn. If his jockey gets him to relax early so he can find a rhythm, he'll be dangerous.
Projected Finish: Second
Game On Dude
Post Position: No. 9
Best Strategy: The 8-5 morning-line favorite, Game On Dude is one of, if not the, classiest front-runner in this field. What he'll do is read the speed to his left and sit on the lead or a length or two off it. To his right are the closers, so, in effect, he doesn't have anyone to worry about on his outside.
Outlook: The three horses to his immediate left—Mucho Macho Man, Fort Larned and Palace Malice—are fleet and likely to be on or near the lead. Mike Smith, Game On Dude's jockey, can wait to see where they shuffle and pilot his horse into the perfect spot.
The knock on Game On Dude is that he hasn't run against any quality horses, certainly not the ones he'll face on Saturday. A year ago he was the favorite in this race and finished seventh. He'll do better this year, but he'll be fighting to hit the board.
Projected Finish: Third
Will Take Charge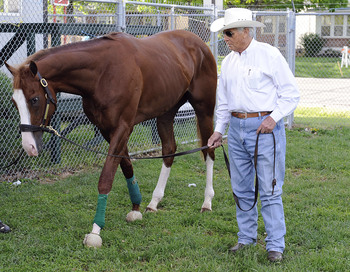 Post Position: No. 10
Best Strategy: Be lazy early but not too lazy. Will Take Charge does all his running late, just as he did in the Travers. Closers need pace, and he'll find no shortage of it. He'll have to worry about traffic down the lane, but closers—and jockeys aboard closers—are used to this.
Outlook: D. Wayne Lukas won this race with a three-year-old in 1999 with Cat Thief. Will Take Charge could be his next three-year-old to threaten. He'll be charging late, but it won't be enough.
Projected Finish: Fifth
Ron the Greek
Post Position: No. 11
Best Strategy: Post position doesn't affect closers too much, especially when they're outside. Ron the Greek will let them all storm to the lead, and he'll simply coast to the fence and save ground.
If he repeats his effort in the Jockey Club Gold Cup, he could be scary here. He did finish fourth a year ago in this race on this track.
Outlook: He'll take advantage of the heavy speed on the lead. Ron the Greek ran a little too good in the Gold Cup and will take a step back.
Projected Finish: Fourth
Flat Out
Post Position: No. 12
Best Strategy: Flat Out is in a tough spot. He's neither a speed horse nor a deep closer. He needs to find a spot in the middle of the pack to get comfortable and see if the leaders are too tired to hold on.
Outlook: If this race were at Belmont Park—where Flat Out won two of the last three Jockey Club Gold Cups—maybe he'd have a better shot. He didn't fire and hasn't given any indication that he'll win the biggest race of the year. He did finish third a year ago in this race, but far too many horses are better than him this year.
Projected Finish: Seventh
Keep Reading