Defensive Crunch: A Graphic Explanation of the Potential Holes in the Falcons Defense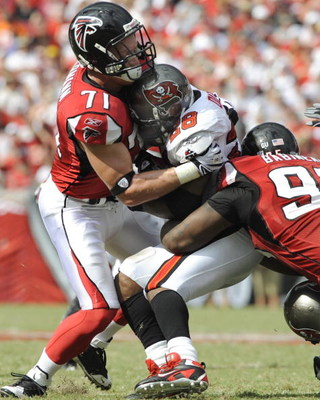 The 2009 Atlanta Falcons will only go as far as their defense lets them.
While the offense returns all eleven starters this year, the Dirty Birds will have at least five new faces on defense come opening day. GM Thomas Dimitroff's offensive personnel moves looked brilliant last year. This season will show whether he has the same touch on the other side of the ball.
There are a lot of changes coming; this guide will help you know what to look for.
New Starters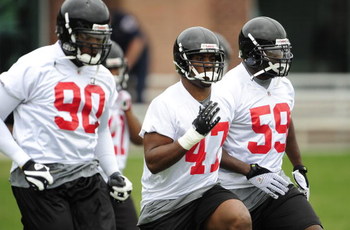 The new starters will play on all three levels of defense. With so many new faces, and so many young players being counted on, all three levels have potential problems.
Defensive Line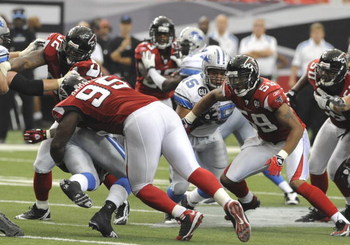 Coach Mike Smith likes to build from the inside out, so we'll start with the Defensive Line.
Grady Jackson
All 350 plus pounds of Grady Jackson have moved on via free agency.
The big run stuffer signed with Detroit. If the Falcons are going to stop the run this year, another big body will have to step in and clog the line.
Peria Jerry
The Falcons are counting on first round draft pick Peria Jerry to be that inside force. While the Ole' Miss standout should create more of a pass rush than Jackson did, Jerry is at least fifty pounds lighter and there's concern he could get pushed around up front.
Jamaal Anderson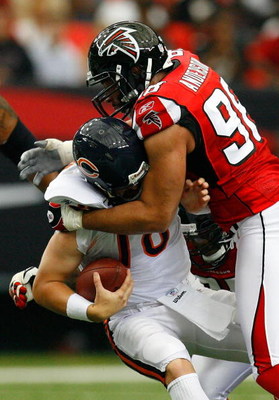 Another concern for the defensive line is the play of third year DE Jamaal Anderson. While he did manage to nail Bears QB Kyle Orton, Anderson only has two career sacks. He'll need to generate more pass rush to help Pro-Bowl DE John Abraham. If Anderson plays up to his talent level it could help hide some problems in the secondary.
Chauncey Davis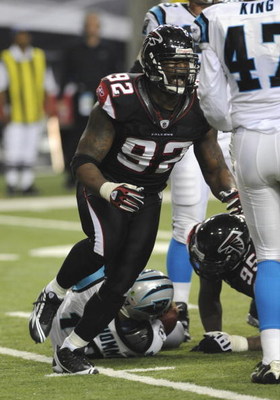 If Anderson can't generate the needed pass rush, expect to see more playing time for back-up defensive end Chauncey Davis (pictured). Rookie Lawrence Sidbury and second year man Kroy Biermann could also see time as pass rush specialists.
The Secondary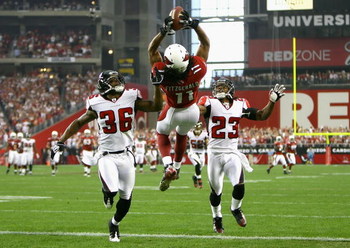 The pass rush is key this year because of holes in the secondary. With several young defensive backs and no proven stars, the secondary could become a real liability if opposing quarterbacks have time to look down field.
Chris Houston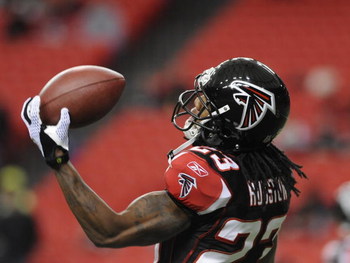 Chris Houston will start the season as the number one cornerback. He showed improvement last year. However, Houston will have to recognize routes faster and not get turned around when playing off receivers to become a star corner.
Brent Grimes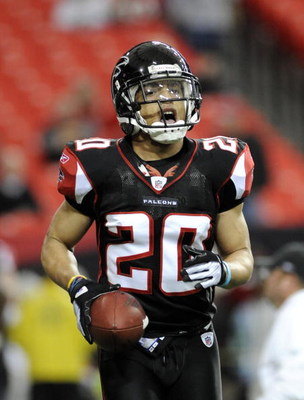 Brent Grimes will start the season as the number two corner. However, at 5'10" Grimes can be a liability against bigger, stronger receivers. Stasnding at 6'2", Muhsin Muhammad abused him for 147 yards and a TD in week four. All three divisional opponents can present similar size match up problems.
Chevis Jackson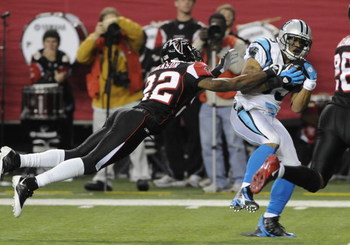 Chevis Jackson will battle Grimes for the number two spot. Jackson is also fighting Von Hutchins for the nickel back spot. Jackson has looked good at times, but has yet to prove himself against top receivers.
Lawyer Milloy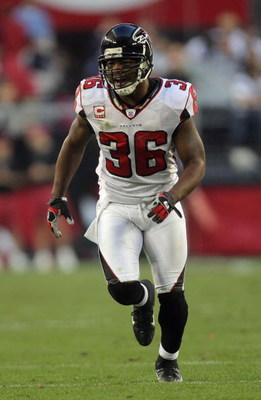 There will also be a new starter at strong safety. Lawyer Milloy, one of last year's captains, was released as a free agent. Milloy piled up ninety three tackles in 2008 and directed the other, younger players around him. His departure could be a major loss for the defense.
William Moore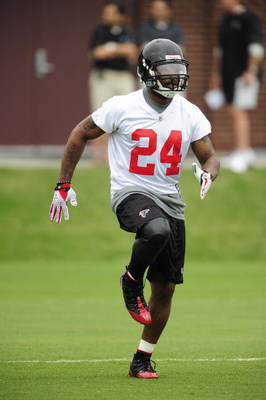 The front office hopes rookie William Moore can fill the hole at strong safety. Moore has loads of potential and was considered a top fifteen draft pick until a string of injuries during his senior season at Missouri. If Moore stays healthy he could be one of the seasons biggest surprises.
Linebackers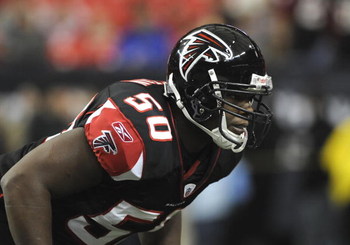 Things are a little more settled at linebacker. The Falcons are looking to build around MLB Curtis Lofton following his breakout rookie season where he racked up a whopping ninety four tackles.
Mike Peterson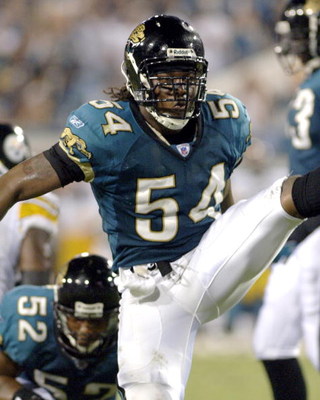 Lofton will be joined on the strong side by veteran LB Mike Peterson. Peterson comes from Jacksonville where he played under Coach Smith. The front office is hoping the eleven year veteran can continue to be productive having eighty four tackles in just ten games last year, and mentor the young linebackers around him.
Weakside LB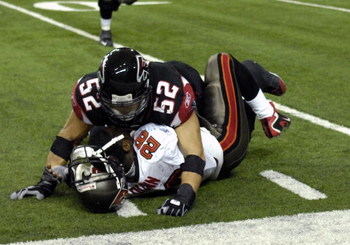 The weakside linebacker position is up in the air. Coy Wire would seem to be the front runner after seeing the most playing time last year. However, Wire will likely share snaps. Wire is more suited for run defense, while Stephen Nicholas and Robert James could see time in passing situations.
Robert James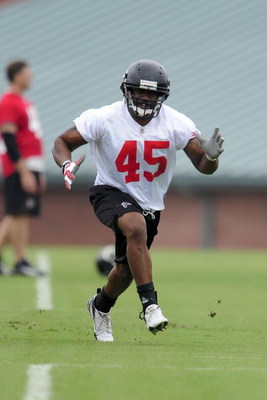 James has looked good at camp so far, and the word out of Flowery Branch is that the coaches are pleased with former the Sun Devil's progress. James missed all of last year after suffering a concusion but is back and ready to play.
LB Rotation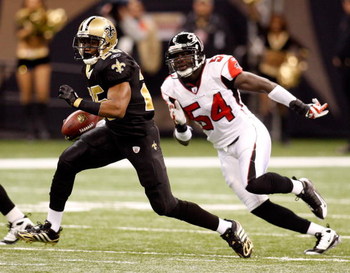 If some combination of Wire, Nicholas, and James can fill the hole at weakside linebacker, the unit should be the strongest part of the defense.
Conclusion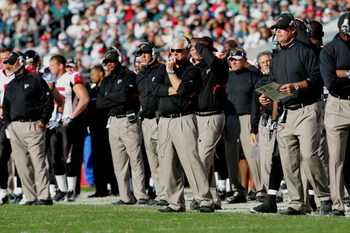 With so many new faces, there's no telling how good or bad, the defense will be this season. However, Dimitroff and Smith have done an excellent job with personnel thus far and deserve the benefit of the doubt. So cross your fingers and maybe, just maybe, defensive holes will turn into defensive stars.
Keep Reading

Atlanta Falcons: Like this team?