Pittsburgh Penguins Player Ratings: ECF Game Three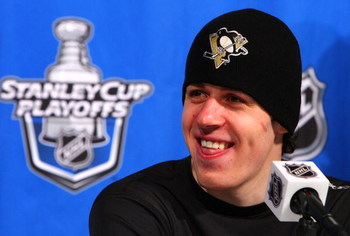 The Pittsburgh Penguins took a commanding three games to none lead in their best-of-seven game series with the Carolina Hurricanes, defeating the homestanding Canes 6-2 at the RBC Center.
As selected by the RBC's scoring crew, the game's three stars were Evgeni Malkin, Sidney Crosby and Chris Kunitz, all Penguins.
This is a simple evaluation of each player's performance, given on a scale of zero to 100, with 100 being the best possible score.
29 Marc-Andre Fleury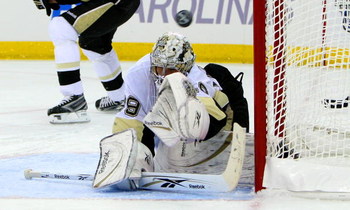 75
The Penguins' netminder was not tested too often in the first couple periods, but he made several necessary saves. His rebound control was a bit shaky at times and Carolina beat him twice off miscues.
32 saves on 34 shots, 94.1 save percentage
4 Rob Scuderi
78
After allowing the first Hurricane goal, Scuderi made several excellent defensive reads yet again.
1 shot on goal, 3 blocked shots, 20:27 minutes
2 Hal Gill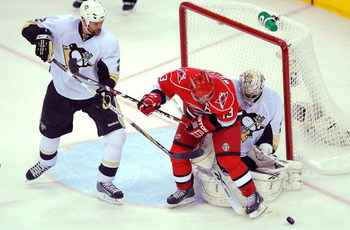 68
The U.S.S. Gill was sloppy on the defensive end at times and got beat badly on a speed rush by Eric Cole. He made very few eye-popping contributions.
+1 rating, 1 shot on goal, 1 blocked shot
44 Brooks Orpik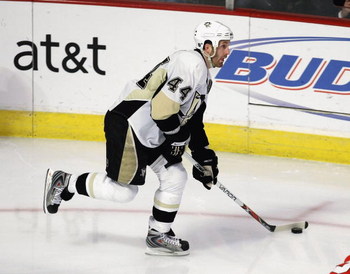 83
The most hated man in Raleigh made his presence felt along the boards, as usual. But he also rocketed a pair of shots in the direction of Carolina's net, surprising just about everyone.
+2 rating, 2 shots on goal, 2 hits
7 Mark Eaton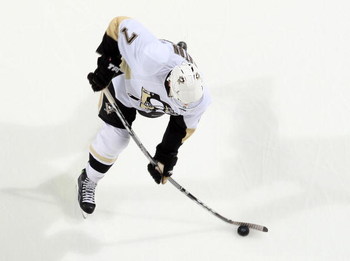 75
The biggest surprise of the 2009 playoffs was silent for most of the night. He didn't make any major contributions, but his play never hurt the Penguins on the defensive side either.
2 blocked shots, 2 hits, 18:35 minutes
43 Philippe Boucher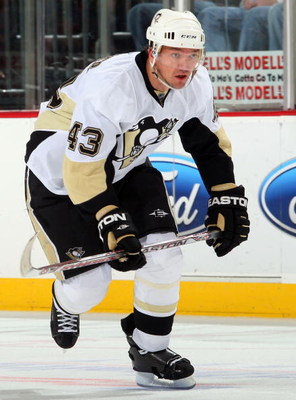 74
Boucher did not see much playing time, as most of the game was up-and-down 5-on-5 hockey. His biggest contribution of the night came in the final minutes of the contest, where he threw a few fists into the face of Ryan Bayda.
-1 rating, 1 shot on goal, 3 hits
58 Kris Letang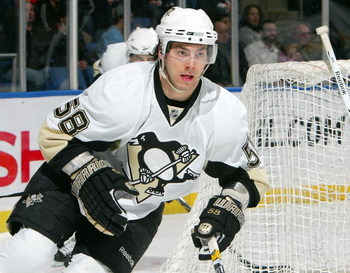 80
Letang was another defenseman who was invisible for most of the game. He did come out of hibernation during the few times the Penguins were on the Power Play.
2 shots on goal, 15:21 minutes
55 Sergei Gonchar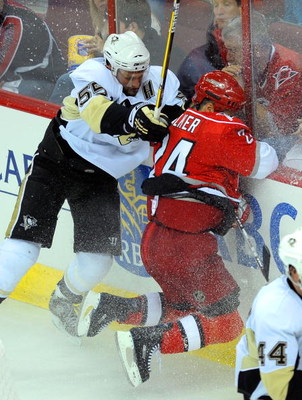 88
The Sarge was by far the most noticeable Penguin blue-liner. He drew assists on both of Evgeni Malkin's goals. He was also a force on the defensive end, leading the defense in blocked shots. His only blemish was a bogus boarding call after a hit on Scott Walker.
2 assists, +2 rating, 2 shots on goal 4 blocked shots, 19:30 minutes
27 Craig Adams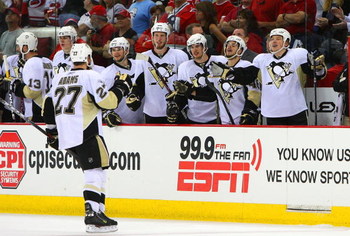 82
The former Hurricane was silently effective as a fourth-line skater, and he also picked up a pair of points. He scored his second playoff goal immediately after a faceoff in the third stanza, depositing it into the empty net.
1 goal, 1 assist, +1 rating, 2 shots on goal, 2 hits
25 Max Talbot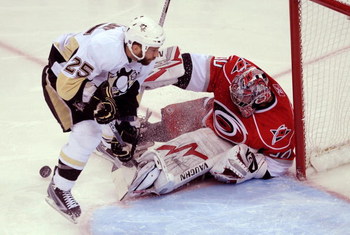 68
Talbot should have had a hat trick. He missed on three separate occasions after receiving brilliant feeds from Evgeni Malkin, none more so than the wide-open cage he missed without even getting a stick on it.
However, he didn't cost the Penguins anything.
+2 rating, 3 shots on goal, 14:10 minutes
81 Miroslav Satan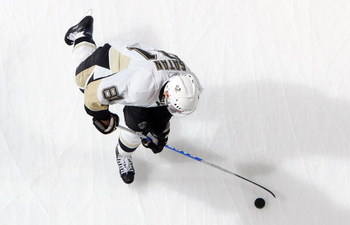 71
Satan's game went from decent to fairly invisible. He was very active in the first period, but received less playing time as the Penguins attempted to close out the game. He also took a semi-stupid penalty in the third period.
1 shot on goal, 10:14 minutes
24 Matt Cooke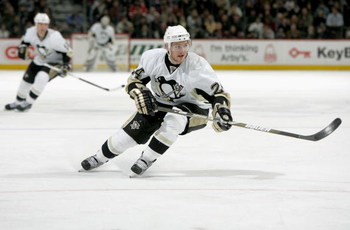 65
Cooke made a catastrophic error at the beginning of the game, allowing Matt Cullen to sneak in and poke home the first goal. From there on out, he threw his weight around, dishing out a team-high five hits.
-1 rating, 1 shot on goal, 5 hits
11 Jordan Staal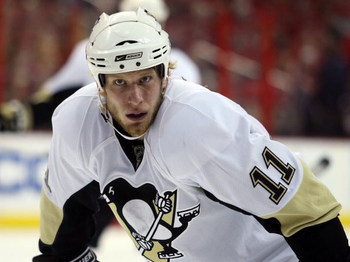 68
Staal was the hard-luck man of the night after being on the ice for both of Carolina's goals. He had a slight impact in the faceoff circle, but he missed a couple decent opportunities on Cam Ward's doorstep.
-2 rating, 3 shots on goal, 6 faceoffs won, 2 hits, 18:10 minutes
48 Tyler Kennedy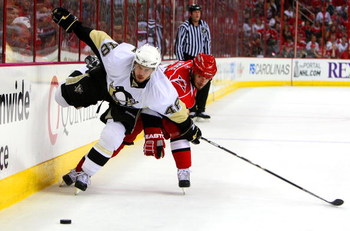 74
Tiger's speed gave Carolina blue-liners fits for most of the night, but his chances were few and far between. Any shots he did manage to get off, they were not in exceptionally good scoring positions.
-1 rating, 2 shots on goal, 15:21 minutes
26 Ruslan Fedotenko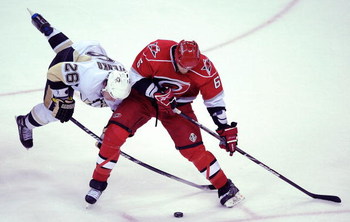 85
The Flying Ukrainian was a factor pretty much every time he stepped on the ice. He buried a wristshot to give the Penguins a 4-2 lead and he was also a dominant defensive presence.
1 goal, 1 assist, 3 shots on goal, 3 hits
71 Evgeni Malkin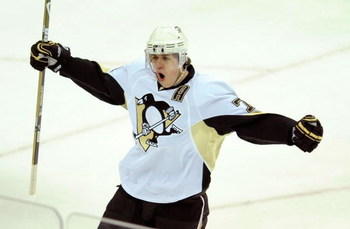 98
He was a monster, yet again. Every time he stepped on the ice, he drew the attention of all six Hurricanes and it still didn't matter. He scored twice in the opening period and made a lion's share of ridiculous passes.
2 goals, 1 assist, +2 rating, 5 shots on goal, 2 hits, 2 takeaways, 19:26 minutes
14 Chris Kunitz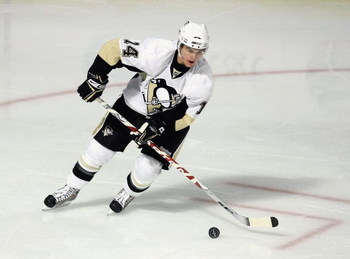 87
He did everything but score. His play has improved in just about every game since the second round, and he bagged two more nifty assists.
He lead the Penguins in shots for the night and also made his presence felt on the defensive end, registering four blocks.
2 assists, +1 rating, 6 shots on goal, 4 blocked shots, 2 hits
13 Bill Guerin
91
The grizzled veteran has made Ray Shero look better and better every game for going out and trading for him. His perfect tape-to-tape pass to Sidney Crosby to give the Penguins a 2-1 lead may have been the play of the evening.
Lost in the highlights was his slick backhand goal in the final minute of play, when the game was as good as over already.
1 goal, 1 assist, +1 rating, 3 shots on goal, 2 takeaways
87 Sidney Crosby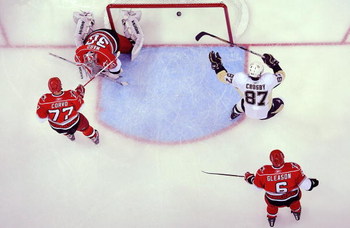 92
The Captain was the beneficiary of Bill Guerin's passing in the first period, scoring his NHL Playoff-leading 14th goal. He also continued to abuse the Hurricanes in the faceoff circle.
1 goal, 1 assist, +1 rating, 2 shots on goal, 1 takeaway
Keep Reading

Pittsburgh Penguins: Like this team?