Remaining 2013 Bouts with the Best Chance to Win Fight of the Year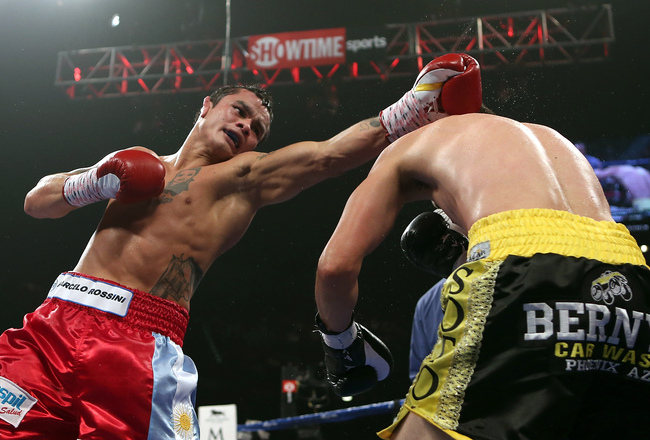 Josh Hedges/Getty Images
2013 has already been full of terrific fights. As of this writing, my vote for Fight of the Year would go to Timothy Bradley vs. Ruslan Provodnikov, but Brandon Rios vs. Mike Alvarado II and Artur Szpilka vs. Mike Mollo I would have been easy winners in previous years.
But other possible Fight of the Year candidates are still waiting in the wings. Last year, the first Rios vs. Alvarado fight looked like a sure pick for the distinction, until a bloodied Juan Manuel Marquez climbed off from the canvas and knocked out Manny Pacquiao at the very end of Round 6 in December.
The following fights have the potential to make this fall a memorable one.
5. Gennady Golovkin vs. Curtis Stevens on November 2
WBA middleweight champion Gennady Golovkin has been the hottest fighter in boxing over the past year. The Olympic silver medalist is undefeated as a professional and has knocked out 24 of 27 opponents. He'll enter this fight with 14 straight stoppages.
Curtis Stevens is a former light heavyweight and super middleweight who has cut down to 160. He's a knockout machine in his own right.
I expect this to be a firefight, but I think Golovkin's superior footwork will allow him to grab the better angles. I think he wins this fight inside of eight rounds.
But Stevens is probably the biggest puncher he's ever faced. I listened in on a media call earlier this week where he spoke with complete self-confidence. "I'm coming to knock GGG out," Stevens said. "I'm coming to wreck him."
Even if this fight doesn't end up being entirely competitive, it should be a thriller while it lasts.
4. Manny Pacquiao vs. Brandon Rios on November 23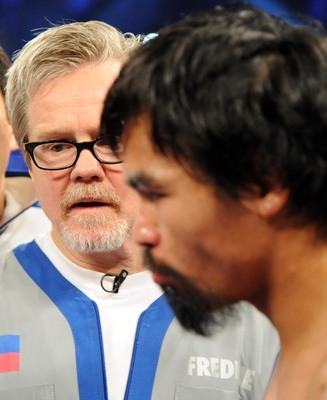 USA TODAY Sports
Brandon Rios and Manny Pacquiao are both coming off losses, but on November 23, they will make boxing history when they headline a pay-per-view in China.
Pacquiao is one of the top pound-for-pound stars of this century. Even though he lost twice in 2012, most people think he deserved to win in his split-decision loss against Timothy Bradley in June.
In December, he looked great against Juan Manuel Marquez, until he was put to sleep at the end of Round 6, thanks to a counter right that Marquez had been setting up for the past decade.
Rios is one of the most exciting brawlers in the sport, but so far he has shown little of the all-around skills that are necessary to beat a fighter of Pacquiao's caliber. Richar Abril clearly outboxed him in April 2012 and should have beaten Rios.
But Rios will put everything he has on the line against Pacquiao in November. He's a durable and rugged fighter with a true warrior's heart.
That can be all the recipe needed for a terrific fight.
3. Tomasz Adamek vs. Vyacheslav Glazkov on November 16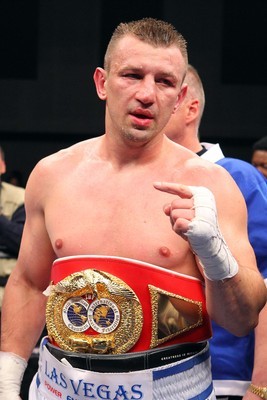 Ed Mulholland-USA TODAY Sports
This will be a throw-back Saturday afternoon fight, as NBC Sports will broadcast it live from the Turning Stone Casino in Verona, New York.
This is a relevant fight at heavyweight. Tomasz Adamek of Poland is a former world champion at light heavyweight and cruiserweight, and he's a long-time top contender at heavyweight who has challenged Vitali Klitschko.
I feel he got generous decisions in recent years against Eddie Chambers and Steve Cunningham. But outside of the Klitschko brothers, Adamek remains in the conversation for the next-best fighter in the division.
Vyacheslav Glazkov is a strong pressure fighter. He is 15-0-1 with 11 KOs. His draw came against Malik Scott earlier this year, in a fight that I think Glazkov deserved to lose. Aside from Ricky Burns and Ray Beltran, I consider Glazkov and Scott the worst decision this year.
But Glazkov vs. Adamek should make for an exciting fight. Glazkov is going to come forward and be the bully, while Adamek is going to box him. But he'll have to throw a lot of punches and picks spots to stand and fight if he wants to win.
This is a must-win for both men at this point in their careers, so they should both fight with a sense of urgency.
Nearby Syracuse and Utica have sizable Polish communities, so Polish fighters draw vocal and supportive audiences at Turning Stone. If this turns into a war, the electricity of the crowd should come across well on television.
2. Adrien Broner vs. Marcos Maidana on December 14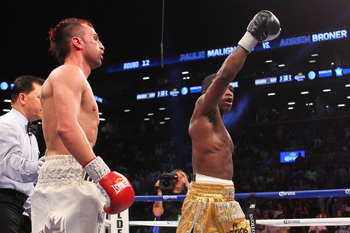 Ed Mulholland-USA TODAY Sports
Adrien Broner is 27-0 with 22 knockouts. He was a three-division world champion by 23. Golden Boy has already built him up to be the next Floyd Mayweather.
But he looked less than spectacular in his split-decision victory over Paulie Malignaggi earlier this year.
Marcos Maidana is an ideal opponent for him at this point. The rugged Argentinian will either expose Broner as an overhyped paper tiger or offer him the perfect foil for demonstrating his greatness at welterweight.
Golden Boy is betting a lot of fans will be willing to dole out pay-per-view dollars to find out.
Maidana always comes to fight, and fans know he will attempt to get in Broner's face and bully him. Broner has always demonstrated excellent defensive skills and a dangerous talent for fighting on the inside.
But he's never had to do it against a fighter as big and powerful as Maidana.
1. Magomed Abdusalamov vs. Mike Perez on November 2
In the co-main event of Gennady Golovkin vs. Curtis Stevens, Magomed Abdusalamov and Mike Perez will meet in a clash of hard-punching, undefeated heavyweights.
A native of the Republic of Dagestan in Russia, Abdusalamov is 18-0 with 18 knockouts. Perez, a former Cuban amateur, is 19-0 with 12 KOs.
Both fighters have been relentless and hammering offensive fighters so far in their careers. Perez has an excellent amateur background, so he should have the edge in boxing. Abdusalamov is the naturally larger man, so that could favor him in a slugfest.
The winner of this HBO-televised fight will get a huge boost in stature with the fans. Expect both big men to come out swinging for all they are worth.
Keep Reading