Mike Tyson and Evander Holyfield Make Appearance Together on 'Larry King Now'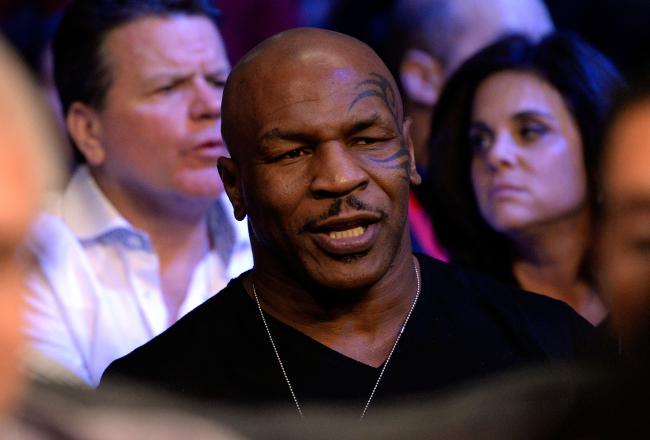 Jeff Bottari/Getty Images
It has been more than 16 years since Mike Tyson infamously bit Evander Holyfield's ear during a WBA Heavyweight Championship fight at MGM Grand Garden Arena in Las Vegas, but the legendary boxers were together once again on Thursday as guests on Ora TV's "Larry King Now."
Not surprisingly, the bulk of the conversation focused on what happened between them during that fight on June 28, 1997. It was the second meeting between them, as Holyfield had knocked Tyson out in their previous encounter, and Tyson was once again getting clobbered by "The Real Deal."
This led to Tyson biting Holyfield's ear in the third round. When asked by King why he did it, Tyson's reply made sense for those who are familiar with his antics.
"I'm crazy a little bit," Tyson said. "I was bleeding all over the place and I was frustrated."
Tyson was docked two points rather than being immediately disqualified by referee Mills Lane, but after a second bite soon after, Holyfield was awarded the victory. Many have wondered why Holyfield didn't get back at Tyson with dirty tactics of his own, but he had good reasoning when King inquired about it.
One of my corner men named Tim Hallmark said, 'Keep your mind on the lord because this prophet told me that something bad was going to happen like that.' It kind of made me mad because I was getting ready to bite him back. I realized they always get the person who comes and tries to get back, they get you worse. I held up, I came in there, I hit Mike two shots and then he bites the other ear, and I skipped back and I was getting ready to kick him, and the guy shouted again, 'Keep your mind on the lord,' and then the bell rang.
Tyson and Holyfield had clearly reconciled prior to coming on the show together and seemed to have formed a bit of a friendship. Holyfield described how they ultimately buried the hatchet.
Our first encounter after that we were at Madison Square Garden at an All-Star game, and I hear people hollering, 'Look out! Look out!' I looked up, Mike was over my head and he put his hand down there. I shook his hand and realized that everything is good, but everybody thought I was getting ready to get clocked.
Was Holyfield right to forgive Tyson?
While people are always going to remember Tyson based on some of the negative things he did, including biting Holyfield's ear, it's great to see that he has owned up to his mistake over the years. Also, it would have been very easy for Holyfield to hold a grudge, but he has moved past it as well.
Even though the biting incident will always be viewed as a black mark on boxing history, the fact remains that Tyson and Holyfield are two of the greatest heavyweights in boxing history.
That one moment shouldn't define either of them, and they are doing all they can to make sure that it doesn't.
*All quotes transcribed via the linked videos.
Follow @MikeChiari on Twitter
This article is
What is the duplicate article?
Why is this article offensive?
Where is this article plagiarized from?
Why is this article poorly edited?