Adam Scott won the first major of the 2013 season at the Masters in April. On Wednesday, that victory came full circle at the 2013 PGA Grand Slam of Golf.
In a tournament designed to specifically showcase the four major championship winners of the current season, Scott turned in a major-like performance to slam the door his 2013 campaign on a high note with an impressive victory, finishing Round 2 with a seven-under 64 and an eight-under total score.
Benjamin Everill of the Associate Press had this tweet to congratulate Scott on his victory:
Adam Scott wins the PGA Grand Slam of Golf. Comes from 4 back with 10 to play to win by 2. Course record 64. #CmonAussie

— Benjamin Everill (@beneverill) October 16, 2013
Golf in Morocco chimed in with this post on Twitter:
Congratulations to Adam Scott for winning The 2013 GRAND SLAM OF GOLF at Port Royal Golf Course , Bermuda with a phenomenal 64 .

— GOLF IN MOROCCO (@golf_inmorocco) October 16, 2013
Here is a closer look at the newest addition to Scott's trophy case, per the tournament's official Twitter account:
2 holes to play, Adam Scott and @JustinRose99 tied at -6, set up for an exciting finish, #PGAGrandSlam pic.twitter.com/Z3ZarKHQrL

— PGAGrandSlamofGolf (@PGAGrandSlam) October 16, 2013
It also posted a tweet with Scott holding the trophy on a green:
Adam Scott, 2013 #PGAGrandSlam champion. Sets the tournament course record in Bermuda with a 64 pic.twitter.com/wwDPWUxrYm

— PGAGrandSlamofGolf (@PGAGrandSlam) October 16, 2013
Scott rallied in Round 2 to overtake 2013 U.S. Open victor Justin Rose and win the trophy at Port Royal Golf Course in Bermuda. Rose led after Day 1 and for most of the round on Day 2, but Scott's eagle on the par-five 17th gave the Aussie enough juice to outlast the Englishman by two strokes.
Final Grand Slam of Golf Leaderboard

| | | | | |
| --- | --- | --- | --- | --- |
| Place | Golfer | R1 | R2 | To Par |
| 1 | Adam Scott | 70 | 64 | -8 |
| 2 | Justin Rose | 67 | 69 | -6 |
| 3 | Jason Dufner | 69 | 70 | -3 |
| 4 | Padraig Harrington | 74 | 71 | +3 |
PGA.com
*Leaderboard via PGA.com.
Reigning PGA Championship winner Jason Dufner finished third at three under, and Padraig Harrington—who did not win a major in 2013 but was a replacement for Phil Mickelson—could not repeat his championship performance from 2012, finishing a distant fourth at three over.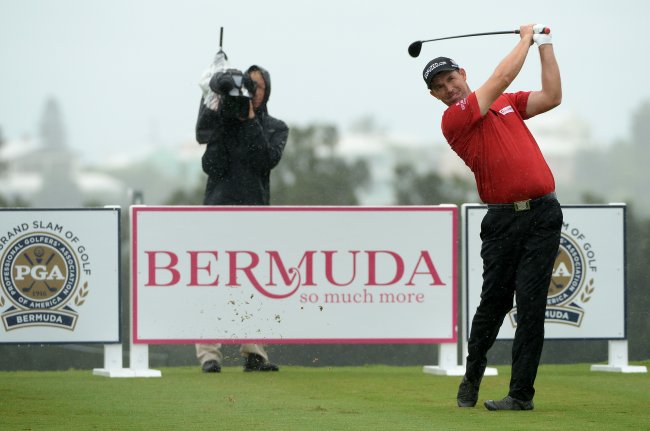 Ross Kinnaird/Getty Images
Jason Sobel of the Golf Channel showed sympathy for Harrington with this tweet during Round 2:
Padraig Harrington didn't win a major this year. Now he's in last place at the PGA Grand Slam of Golf. Like pouring salt in the wounds.

— Jason Sobel (@JasonSobelGC) October 16, 2013
But this tournament was about having fun, spending time on a magnificent course in Bermuda and getting a chance to reflect on the events of the past year or so, while also keeping one's golf game sharp for the upcoming season.
Just check out the 2013-14 PGA Tour season schedule for confirmation that even the best of the best need a break every once in a while.
Scott was hearing none of that on Wednesday, and at one point, neither was Rose. As two of the best international golfers in the world right now, Scott and Rose are no strangers to final-round fireworks with a trophy on the line.
Taylor Made's European Twitter account has this tweet to chronicle what was a strong start to Day 2 for Rose:
@JustinRose99 -4 thru 8 holes in the 2nd round @PGAGrandSlam -- So -8 for the event and a 4 shot lead with 11 holes to play.

— TaylorMadeGolfEurope (@TaylorMadeTour) October 16, 2013
The Englishman birdied four straight holes on the front nine, but finally slipped up on No. 9 with a bogey to fall to seven under. At the same time Scott started surging, and so did the man responsible for the popular "Dufnering" craze.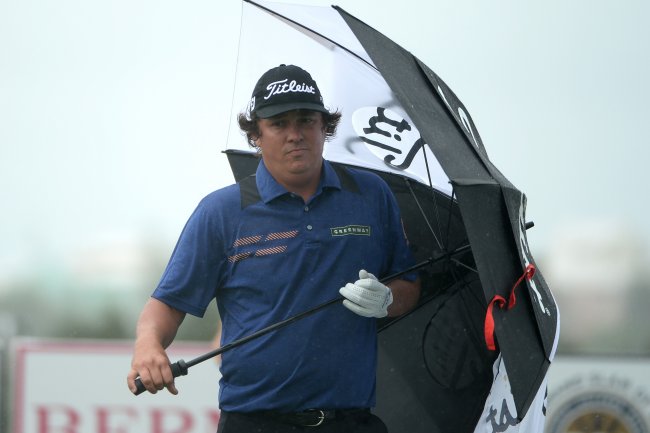 Ross Kinnaird/Getty Images
Down two strokes from his Day 1 score after 10 holes, Dufner decided to turn it on. He birdied three of the next five holes to stay in the mix, but a bogey on No. 16 virtually ended his chances to compete despite a last-ditch birdie on No. 17.
It was Scott who played error-free golf and made the most of his chances down the stretch at Port Royal. Three birdies in his first nine holes set the tone, but the real heroics came when the tournament was on the line.
Starting with a birdie on No. 13, Scott started to make his run. He added another on No. 15 and then hit the shot of the day on No. 17 from the fairway to set himself up for a short putt for eagle. It was the final nail in the coffin.
PGA.com's Twitter account had this post to recap Scott's heroics on No. 17:
Potential spoiler alert for #PGAGrandSlam: But you'll want to see this shot. (Adam Scott fans especially) http://t.co/HjY1zmuiIl

— PGA.COM (@PGA_com) October 16, 2013
The victory is the cherry on top of a season in which Scott has quickly become one of the most feared golfers on the planet. Currently No. 2 in the World Golf Rankings, the Aussie finished inside the top five in three of four majors in 2013 and also won The Barclays tournament during the FedEx Cup playoffs.
There's no guarantee Scott qualifies for a return trip to the Grand Slam of Golf in 2014, but the way he's playing right now, it wouldn't be a surprise if all four spots have his name on them this time next year.
Follow B/R's Ethan Grant on Twitter.