Justin Rose successfully tamed the treacherous 16th at Port Royal Golf Course in Southampton, Bermuda, which helped pave the way for the defending U.S. Open champ to take a two-stroke lead into the second and final round of the 2013 Grand Slam of Golf.
With the wind playing nice for much of the day at the gorgeous seaside course, birdies in the first day of this event were not hard to come by. However, things got increasingly difficult on the back nine.
Here is how things stand after the first round in this four-player exhibition:
Grand Slam of Golf Round 1 Leaderboard

| | |
| --- | --- |
| Golfer | Score |
| Justin Rose | -4 |
| Jason Dufner | -2 |
| Adam Scott | -1 |
| Padraig Harrington | +3 |
PGA.com
Four pars on the 18th leaves the @PGAGrandSlam leaderboard looking like this after round 1: Rose -4, Dufner -2, Scott -1, Harrington +3.

— Golfers Insider (@GolfersInsider) October 15, 2013
This is the 31st installment of this tournament—reserved for the winner of the year's four majors. Phil Mickelson, winner of this year's British Open, declined his invitation due to a scheduling conflict. So, his place was taken by Padraig Harrington—who is the defending champion of this event despite the fact he hasn't won a PGA tournament in three years.
Needless to say, this is not the first year one of the invitees has not attended, which is a slight surprise. It's not like this tournament is a tough sell.
Talk about incentive to capture a major, @JasonDufner and @padraig_h enjoy the view on the 8th hole #PGAGrandSlam pic.twitter.com/27DW7etfdQ

— PGAGrandSlamofGolf (@PGAGrandSlam) October 15, 2013
This is an exhibition, and while the $1.35 million purse will be paid out in very real cash, those totals will not be added to the official money list.
For the fifth straight year, the 6,845-yard, par-71 Port Royal course has been the home of this event. It's easy to see why this tournament returns to this gorgeous venue.
As this tweet points out, Scott's participation brings back an Australian presence to this event. It doesn't seem fair for Australians to get a pass into this event. Their weather is nice enough at the moment. Save this winter break for those who really need it!
Adam Scott is the first Australian golfer to play in the PGA Grand Slam of Golf since @geoffogilvy in 2006. pic.twitter.com/h7tD0u3E4G

— PGAGrandSlamofGolf (@PGAGrandSlam) October 15, 2013
While the course is short, it is not an easy test when the breeze gets to blowing, and it usually is. Tuesday was no exception. The winds weren't overly treacherous on Tuesday, but it did pick up as the round rolled along.
This left the front nine particularly vulnerable.
Harrington struggled to a one-over 37 on the front, while Rose, Dufner and Scott combined to go 11-under on the opening side.
Shootout so far in Bermuda among players who actually won majors this year. Scott, Rose, Dufner all -4 thru 8; defending champ Harrington E.

— Will Gray (@WillGrayGC) October 15, 2013
Dufner and Scott were tied for the lead at four-under with Rose one behind. Rose lost that stroke with a bogey on the ninth. It was the only bogey for the three on the front side.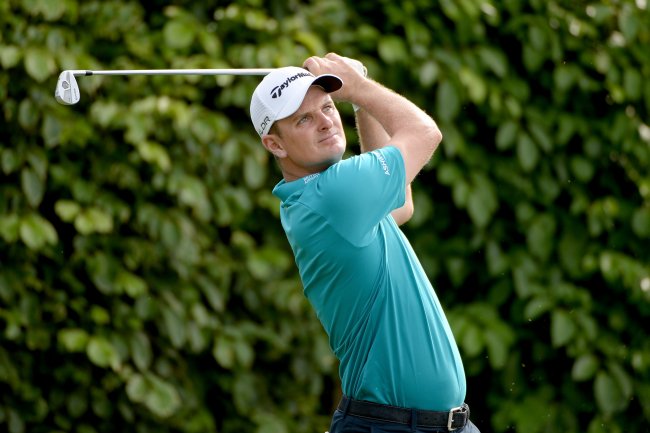 Ross Kinnaird/Getty Images
However, Rose surged back into the lead with birdies on holes Nos. 10 and 12 while Scott went on a par streak. Meanwhile, things got a little rough for Dufner. The defending PGA Championship winner bogeyed No. 10, picked that stroke back up with a birdie on No. 13 but then gave that right back with a bogey on No. 14.
After dropping to five-under with his birdie on No. 12, Rose suffered back-to-back bogeys and Scott picked up his first non par on the back with a bogey on No. 14. With Harrington also bogeying the 14th, it meant the entire group dropped a stroke to the course on the tough hole.
The 16th proved to be even more difficult, which is understandable:
The best camera position in golf, 16th hole @PortRoyalBDA #PGAGrandSlam pic.twitter.com/SDU9i1Ysq9

— PGAGrandSlamofGolf (@PGAGrandSlam) October 15, 2013
Scott had the hardest time of things after a bad break found him in an unplayable situation at the lip of a bunker. It led to the defending Masters champ suffering a double-bogey. Harrington also doubled and Dufner bogeyed. Rose was the only player to leave with a par.
Adam Scott double bogeys the 16th hole to drop to -1, @JasonDufner bogeys to drop to -2, and @JustinRose99 pars to stay at -3 with the lead.

— Golfers Insider (@GolfersInsider) October 15, 2013
Rose and Harrington both birdied No. 17 and parred No. 18 while Scott and Dufner parred out. The quality play on the finishing hole had to come to a delight to these lucky kids:
Class is in by the 18th green, kids wait for Adam Scott, @JustinRose99 @JasonDufner & @padraig_h #PGAGrandSlam pic.twitter.com/QDRv3q8qjY

— PGAGrandSlamofGolf (@PGAGrandSlam) October 15, 2013
It's still early, but Harrington looks to be out of contention, as the other three players all have momentum and a nice shot at picking up the title.