In the Minnesota Vikings' 35-10 loss on Sunday, the Carolina Panthers proved that problems are on both sides of the ball, and there is no quick fix as to what is wrong with this team.
In the course of one game, things completely fell apart for the Vikings. The struggles of the defense have been well documented all season—31st in the NFL in yards allowed and 30th in scoring defense. What we learned is that when facing a decent defense, the offense was nowhere as good as its 28-point scoring average.
Unfortunately, we also learned that Matt Cassel is not the answer at quarterback. As good as his numbers were against the Pittsburgh Steelers in the Vikings' win, they were worse against the Panthers.
Matt Cassel: The Tale of Two Starts

| | | | | | | |
| --- | --- | --- | --- | --- | --- | --- |
| Opponent | Comp | Att | Yds | TD | Int | Rating |
| Steelers | 16 | 25 | 248 | 2 | 0 | 123.4 |
| Panthers | 32 | 44 | 241 | 1 | 2 | 74.1 |
| Season | 48 | 69 | 489 | 3 | 2 | 92.0 |
ESPN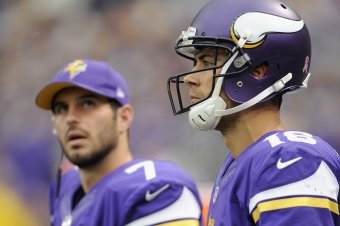 Hannah Foslien/Getty Images
For many, including Ryan Wilson at CBS Sports, it's a foregone conclusion that Cassel or Ponder are only starting at quarterback until Josh Freeman is ready to take over. That could be as early as Monday night in New York when the Vikings play the Giants.
If Freeman's performance this season is any indication, he might not be the answer either.
Minnesota Vikings: 2013 QB Comparison

| | | | | | | | |
| --- | --- | --- | --- | --- | --- | --- | --- |
| Quarterback | Starts | Comp | Att | Yds | TD | Int | Rating |
| Christian Ponder | 3 | 59 | 100 | 691 | 2 | 5 | 65.9 |
| Matt Cassel | 2 | 48 | 69 | 489 | 3 | 2 | 92.0 |
| Josh Freeman | 3 | 43 | 94 | 571 | 2 | 3 | 59.3 |
Pro Football Reference
Of course, statistics don't always tell the entire story. Here's a look at the average rankings for the opponents each quarterback has faced this season.
Average Defensive Rankings of Teams Faced

| | | | |
| --- | --- | --- | --- |
| QB | Pass Yds | Scoring | Teams |
| Christian Ponder | 17.0 | 18.3 | Det, Chi, Cle |
| Matt Cassel | 5.5 | 9.5 | Pit, Car |
| Josh Freeman | 12.0 | 8.7 | NYJ, NO, NE |
Stat Milk
This would indicate that Ponder has faced the easiest opponents, while Cassel and Freeman have played against some tougher defenses to score against. So, again there doesn't seem to be any indication that Freeman will do any better than Cassel or Ponder.
At this point, head coach Leslie Frazier needs to make a change, if for no other reason than to prove he is doing anything he can to win. Even if he's looking on the wrong side of the ball.
Division Standings
This past week was not kind to the Vikings as they were the only team in the NFC North to lose. Now two games back in losses, it's going to take a lot to climb back into the thick of things in the division. Perhaps it's not too late to petition the league to move to the NFC East, where the Dallas Cowboys and Philadelphia Eagles lead with 3-3 records.
NFC North Standings

| | | | |
| --- | --- | --- | --- |
| Team | Wins | Loss | Week 7 Opponent |
| Chicago Bears | 4 | 2 | @ Redskins (1-5) |
| Detroit Lions | 4 | 2 | vs. Bengals (4-2) |
| Green Bay Packers | 3 | 2 | vs. Browns (3-3) |
| Minnesota Vikings | 1 | 4 | @ Giants (0-6) |
St. Paul Pioneer Press
It appears the Detroit Lions get the toughest test this weekend hosting Cincinnati. So far this season, the Bengals are 1-1 against the NFC North, losing on the road in Chicago and beating the Green Bay Packers at home. This game could have implications within the division for the Lions as results against common opponents is the third tiebreaker.
Injury Report
After coming out of the Steelers game with no injuries, and getting back defensive starters Chris Cook and Jamarca Sanford, the Vikings defense suffered three significant injuries against the Panthers.
Frazier provided an update during Monday's press conference, sharing the news that linebacker Desmond Bishop will require reconstructive knee surgery and is done playing this season.
Minnesota Vikings Injury Report

| | | |
| --- | --- | --- |
| Player | Injury | Status |
| Desmond Bishop | Torn ACL | Lost for the season |
| Harrison Smith | Turf Toe | Pending MRI |
| Xavier Rhodes | Sprained Ankle | MRI - Negative |
Vikings.com
It's uncanny how the injury bug keeps biting the defense. With the exception of Ponder, the starters on offense have gone unscathed. The defense has lost four starters for at least one game, including Kevin Williams who missed the season opener, Cook and Sanford in Week 5, and now Bishop and possibly Xavier Rhodes and Harrison Smith.
What Must Improve
On a positive note, pick just about any part of the team and there's a need to improve. On the negative side, how do you choose what to focus on?
If everything is emphasized, then nothing is emphasized.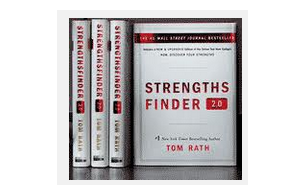 A self-improvement book by Tom Rath, Strength Finder 2.0, suggests that if you want people to improve their performance, it's not always a good idea to focus on what they do poorly, but to focus on what they do well—their strengths.
By focusing on strengths, a person improves a lot more by doing what he does well even better.
Give the Ball to AP
If the case holds true for teams, then on offense the Vikings need to focus more on the running game—one of their strengths.
Perhaps it's time to climb back on the back of Adrian Peterson and let him carry the team. Against the Panthers, he finished with his highest average per carry of the season at 6.2 yards. The problem is the Vikings had to abandon the running game after falling behind and tried to come back using the pass.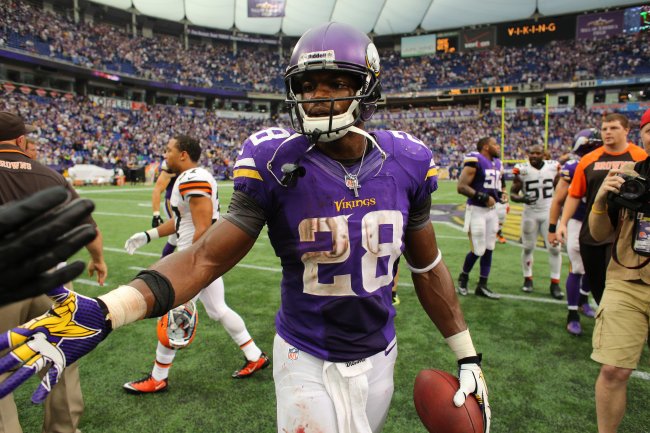 Adam Bettcher/Getty Images
By utilizing the running game more, the Vikings can use up more of the clock. By grinding out some longer drives, they will leave less time for the defense to get burned.
Take Advantage of the Kicking Game
Another strength on offense has been their kicking game. Provided Blair Walsh's hamstring is healthy, the Vikings might look to take advantage of his ability to convert long field goals.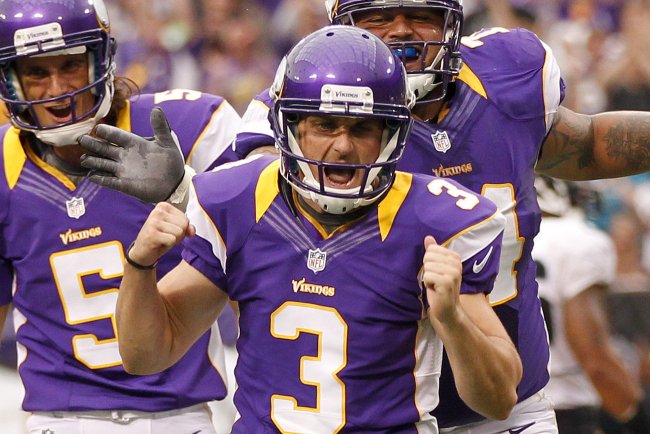 Andy King/Getty Images
Rookie punter Jeff Locke has averaged 46.6 yards per punt and has placed five of 23 punts inside the 20-yard line.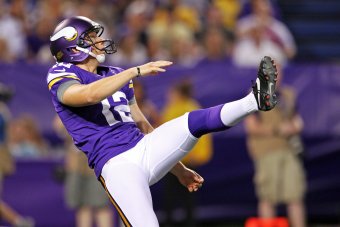 Brace Hemmelgarn-USA TODAY Sports
If they focus on gaining an edge in field position, perhaps they win a few more games by a couple of points, instead of losing them by a couple of points—at least in their losses to the Chicago Bears and Cleveland Browns.
Pressure the Quarterback
Taking this approach to the defense it would be futile to try to improve the ability to stop the pass by focusing on the defensive backfield—specifically the cornerback position.
Instead, the Vikings should focus on what used to be one of their strengths—sacking the quarterback.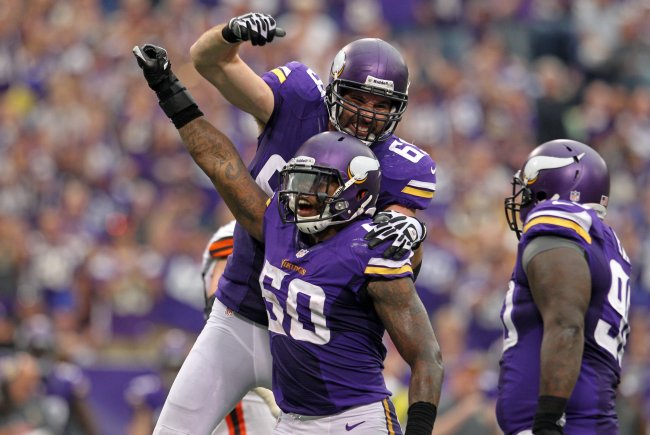 Brace Hemmelgarn-USA TODAY Sport
Defensive coordinator Alan Williams should blitz on every down. All right, that might a bit extreme, but by sending an extra pass-rusher more often than not, quarterbacks will have less time to find the open receiver.
Even if they do find that wide-open receiver, the Vikings are ranked 29th in passing yards allowed, so there are more opportunities to move up than down.
The defense, specifically linebackers Chad Greenway and Erin Henderson, has been more prolific at intercepting passes this season than last. Along with Smith, they lead the team with two interceptions each.
Therefore, the extra pressure on the quarterback should come from the cornerback position. That does two things—it takes the weakness from the defensive backfield and turns it into a strength by putting more pressure on the quarterback.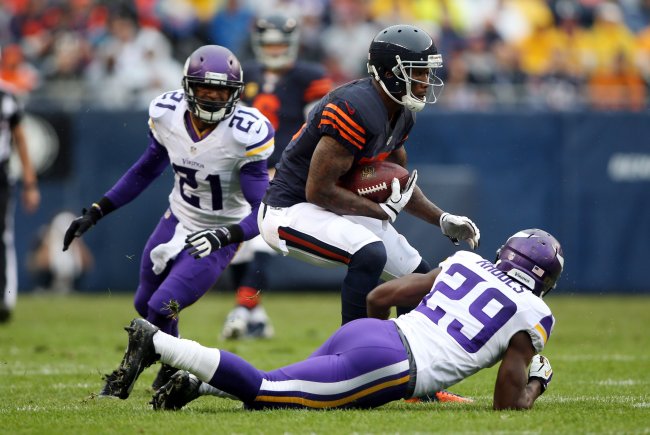 Jerry Lai-USA TODAY Sports
Who knows, it might just be that simple.