The development of Manchester City's infrastructure looks set to continue.

The club have announced their intention to expand the Etihad Stadium from its current 48,000 capacity to 61,000, with a plan to add third tiers to the two stands behind the goals. The £50 million project is still subject to discussions with local residents, but there is a strong desire from City to make it happen.
They will initially concentrate on securing planning permission to increase the South Stand, with an application expected to be submitted within weeks and work potentially starting in January. Development of the North Stand is due to commence at a later date.
If work on the South Stand does begin early next year, the club have said construction will not affect current Seasoncard holders.
If both stands are eventually increased, City's 61,000 capacity will be the second highest in the Premier League after Old Trafford.
One major benefit for fans will be the availability of more reduced-priced Seasoncards, with many starting from as little as £299. There is also expected to be more mid-range hospitality, in keeping with the ideas put forward by supporters at consultation meetings. Fans can sign up to a waiting list now for the new allocation of seats.
With the construction of City's state-of-the-art Etihad Campus already underway, this news is just the latest exciting proposal put forward by the club. The Etihad Campus, being built adjacent to the stadium, is a £100 million development that will see new first-team training and youth development facilities built all on one 80-acre site.
City's huge wealth often sees them accused of "ruining football" due to their ability to purchase almost any player, yet their commitment to improving the long-term stability of the club and the surrounding area of North Manchester goes relatively unnoticed.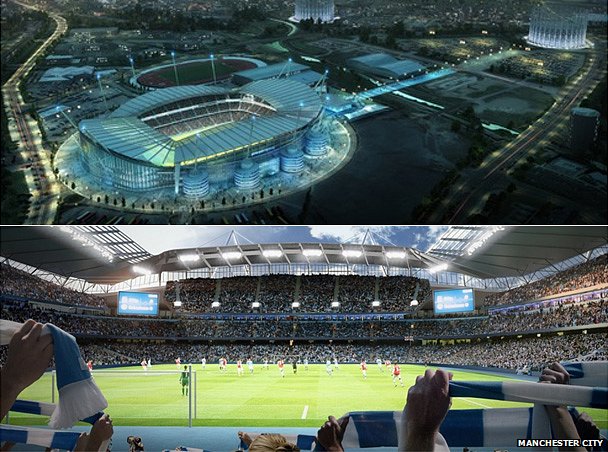 The truth is that Sheikh Mansour is laying the foundations for a successful club in the long term. By ensuring City have facilities to attract and produce top young talent, as well as increasing the stadium capacity, Mansour is creating a lasting legacy. It's time others in the football world gave City some credit.
Rob Pollard is Bleacher Report's lead Manchester City correspondent and will be following the club from a Manchester base throughout the 2013-14 season. Follow him on Twitter here @TypicalCity