Ranking the Most Surprising Boxing Performances in 2013 So Far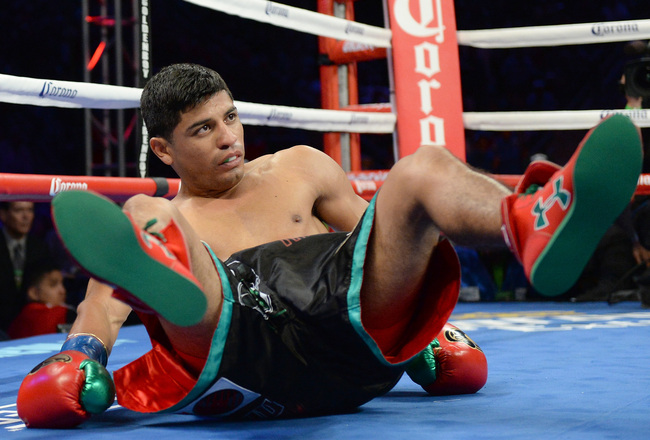 Harry How/Getty Images
Surprise is among the sports fan's greatest pleasures. If there weren't so many of us interested in the drama of live sports, Netflix would have put the cable companies out of business long ago.
So far in 2013, boxing fans have seen some great fights, some gritty performances and some very exciting surprises.
I think there will be at least one or two more big surprises in the year's remaining weekends. But these are the 10 biggest of 2013 to date.
10. Deontay Wilder Poleaxes Siarhei Liakhovich in Round 1
This one probably can't be viewed as a total surprise. Unbeaten heavyweight prospect Deontay Wilder entered his August encounter with Siarhei Liakhovich sporting a perfect 28-0 record with 28 KOs.
Nobody had made it out of the Round 4 against him.
But Liakhovich was supposed to be a different type of challenge for Wilder. He's a former world champion, and even though he had been stopped twice in recent years, both times, it had been by late TKO.
The rugged and experienced Liakhovich was expected to at least give Wilder some physically uncomfortable moments.
Instead, Wilder rolled to victory in his usual manner. His Round 1 KO of Liakhovich was legitimately scary, and Wilder now has more buzz than any American heavyweight has in years.
9. Guillermo Rigondeaux Gives Nonito Donaire a Boxing Lesson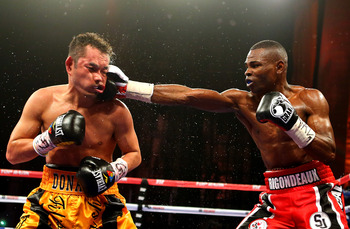 Al Bello/Getty Images
There was definitely a small cadre of fans and writers who felt Guillermo Rigondeaux would be able to beat Nonito Donaire when the super bantamweights faced off last April. That the two-time Olympic gold medalist was a boxing virtuoso was obvious.
But Donaire entered the fight a universally regarded pound-for-pound top-five fighter. To many observers, it just didn't seem possible that Rigondeaux would be prepared to last 12 rounds against a pro of Donaire's ability in just his 12th professional fight.
Rigondeaux used brilliant movement and sharp, tactical counterpunching to beat Donaire in a relatively easy manner.
Donaire has been among the best pound-for-pound offensive fighters of the past five years. To see him rendered almost completely ineffective came as a tremendous surprise.
8. Mikey Garcia Jumps All over Orlando Salido
Mikey Garcia entered 2013 as one of the most highly regarded young prospects in boxing. When he entered his WBO featherweight title challenge against Orlando Salido in January, plenty of fans expected him to have a good shot at winning.
But few predicted the kind of one-sided beatdown that he delivered against the veteran champion.
Garcia was undefeated with 26 of his 30 wins coming by way of stoppage, but his knockouts had often come through careful and methodical tactics.
Against Salido, he took his effective aggression up a notch, knocking down Salido twice in Round 1 and once more each in Rounds 3 and 4. The win made Garcia one of the hottest fighters in the sport.
7. Evgeny Gradovich Capitalizes on a Big Break Against Billy Dib
Evgeny Gradovich accepted his world-title challenge against IBF featherweight champion Billy Dib last March on just four weeks' notice. Although the undefeated former Russian amateur had just 16 professional fights, he did not shy away from such a big step-up in competition under less-than-ideal circumstances.
Dibb was one of the first fighters signed to rapper 50 Cent's fledgling promotional organizations. The music-industry star performed as he accompanied Dibb to the ring for this Friday Night Fights showdown.
Once the fight started, Gradovich applied intelligent pressure and outworked the champion to earn a split-decision victory and another world title for the Robert Garcia Boxing Academy.
6. Lucas Matthysse Mows Down Lamont Peterson
This fight was among the most anticipated of the first half of the year. The gunslinger, Matthysse, was viewed as among the hottest fighters in the sport, but few looked at Peterson as a likely candidate to get steamrolled.
Peterson was a reigning world champion. He'd lost just one fight as a professional, to Timothy Bradley by decision.
He was a traditional slow starter, so in hindsight, his Round 3 TKO destruction against Matthysse makes some degree of sense. Matthysse is no fighter to start slowly against.
5. Artur Szpilka and Mike Mollo Bring Back the Heavyweight Slugfest
Undefeated Polish heavyweight Artur Szpilka has improved his reputation, with U.S. fans, tremendously in 2013 by virtue of winning two highly entertaining fights against journeyman Mike Mollo by stoppage on ESPN2's Friday Night Fights.
Fighting in front of his hometown Chicago crowd on both occasions, Mollo did his best impression of Rocky Balboa. The stocky Mollo mauled the undefeated contender in their first fight in February, knocking Szpilka down in Rounds 1 and 4 before going down by Round 6 KO.
The rematch in August was fought before a large crowd at U.S. Cellular Field. Mollo, again, made a brave fight, dropping Szpilka in the third before losing by TKO in Round 5.
4. Timothy Bradley Survives a War Against Ruslan Provodnikov
Timothy Bradley's fight last March against Ruslan Provodnikov was his return to the ring following his controversial split-decision victory over Manny Pacquiao in June 2012.
His stock was at an all-time low, even as his record remained perfect. Few fans felt he had deserved to beat Pacquiao, and his defensive fighting style was not considered charismatic.
Against Provodnikov, Bradley was uncharacteristically aggressive. He attacked Provodnikov, and it nearly resulted in disaster. Bradley was almost knocked out in both of the first two rounds and again in the final round.
In between, he, somehow, managed to control the majority of the fight and beat Provodnikov up badly. The result was the likely 2013 Fight of the Year.
3. Sergey Kovalev Crushes Nathan Cleverly
How surprised you were by the result of Sergey Kovalev's journey to Wales to face Nathan Cleverly last August probably depended upon how much attention you had been paying to the light heavyweight division.
Honestly, I wasn't terribly surprised when Kovalev stopped the undefeated champion. I had expected it to take him until the later rounds.
But a high percentage of the boxing media I read that week picked Cleverly, and the fans on the other side of the pond were extremely confident that the slugger, Kovalev, would be exposed by the technical skill of Cleverly.
Kovalev's late-summer performance against Cleverly was the kind of terrific surprise that helps make a boxing fan's year.
2. Jhonny Gonzalez Blitzes Abner Mares in Round 1
This is another one of those huge surprises that doesn't seem quite so surprising when you look at it in hindsight. Jhonny Gonzalez was an experienced and accomplished former world champion. He was a larger man than Abner Mares.
But WBC featherweight champion Abner Mares entered their fight last August as a burgeoning pound-for-pound star. He was an undefeated three-division world champion.
Last May, he had stopped Daniel Ponce De Leon by TKO to capture the belt. Ponce De Leon had won the belt from Gonzalez.
Gonzalez's performance against Mares was one of those kind of things that happens in boxing. But that doesn't make it any less of a surprise.
1. Adonis Stevenson Smashes Chad Dawson in Round 1
Chad Dawson was returning from a brutal Round 10 TKO loss to Andre Ward when he faced Adonis Stevenson last June. But Dawson was still the reigning lineal champion at light heavyweight. The loss to Ward aside, some still viewed him as a pound-for-pound top-10 boxer.
Stevenson was known to have serious power, but he was also viewed as a limited boxer. He'd lost to Darnell Boone, a career journeyman whose record frequently dips below .500. Few picked Stevenson to beat an accomplished champion like Dawson.
But Stevenson shocked the boxing world by knocking Dawson out in Round 1. He made his first defense last month against former champion Tavoris Cloud and showed improved boxing en route to recording a one-sided Round 7 TKO.
Between Stevenson and Sergey Kovalev, the light heavyweight division is suddenly among the hottest weight classes in the sport, and that, in itself, is a surprise.
Keep Reading