LEXINGTON, Ky. — When one came out, the other came in. The offense didn't miss a beat, looking like the last three national championship offenses.
For the second game in a row, Alabama boasted a rushing attack that had two dominant runners—something that had been missing for much of the beginning of the season.
T.J. Yeldon went for 124 yards on 16 carries, while Kenyan Drake spelled him for 106 yards on 14 runs. Each back scored two touchdowns as Alabama cruised to a 48-7 victory in Commonwealth Stadium.
Thru 3 qtrs, @AlabamaFTBL has 2 100-yard rushers (Yeldon 15-112 & Drake 14-106) would be 16th time in UA history to have 2 RBs over 100...

— Douglas Walker (@uasiddoug) October 13, 2013
"I was really proud of the way we dominated the line of scrimmage offensively," Alabama coach Nick Saban said.
"We pretty much controlled the line of scrimmage," left tackle Cyrus Kouandjio said.
Controlling the line of scrimmage was a theme Saturday night, as Alabama had struggled on the offensive line, at times, during the year, rotating players around due to injury and performance. But the Crimson Tide front manhandled the Wildcats all night and watched their running backs combine for 301 yards.
Yeldon came into the season as the feature back, but Alabama has always had a dominant option as the No. 2 in its national championship years.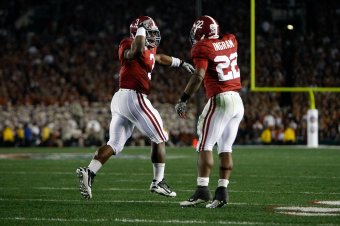 Jeff Gross/Getty Images
In 2009, Trent Richardson backed up Mark Ingram. In 2011, Richardson ran in front of Eddie Lacy. And last year, Lacy and Yeldon—a freshman at the time—split carries nearly evenly, and both went for more than 100 yards in the SEC and BCS Championship Games.
So the question heading into 2013 was, who would be the No. 2 to Yeldon?
It looks like Alabama has found its answer.
Drake didn't make the trip to Atlanta for the season opener. (Saban was very mum this week on why, saying that he "didn't do what he was supposed to do.") But he has looked like the runaway No. 2 since.
He sealed his position Saturday.
Drake went over 100 yards for the first time on the year, and besides his well-known speed, showed off his physical side, darting between the tackles and punching in two one-yard touchdowns.
He also caught three passes for 44 yards.
"I like the type of runner Kenyan is. He's downhill, quick guy," Kouandjio said. "It's great blocking for those two running backs. It makes you want to block that much harder."
It wasn't all smooth sailing for Alabama's two feature backs. The pair fumbled on back-to-back drives on the Crimson Tide's second and third possessions of the game. But both bounced back to have standout performances.
Alabama will head back to Tuscaloosa for a three-game SEC homestand that concludes with LSU, after a bye week, in a game that will most likely decide the SEC West. That game always comes down to the wire in the regular season, and there's no reason to believe it won't be the same this year.
Now, the Crimson Tide have shown they have the horses in the backfield that have been the trademark of its championship teams.