Bradley vs. Marquez: Outlining How Bradley Will Outlast Marquez for Major Win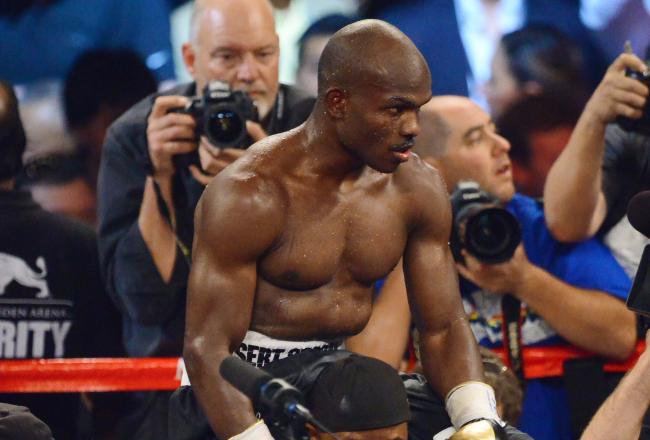 Mark J. Rebilas-USA TODAY Sports
When WBO welterweight champion Timothy Bradley collides with Juan Manuel Marquez on Saturday, the champion will have little issue going the distance for the win against the future Hall of Famer.
Bradley and Marquez are alike in the ring in a lot of ways. Bradley is not a slugger, instead relying on effective combos and a reactionary style to defeat his opponents.
Marquez does much of the same, but he has more knockout power and is easily one of the sport's top counter punchers.
Heck, they've even both defeated Manny Pacquiao.
Marquez has had quite a ride to this point, but the younger Bradley will outlast him on Saturday. Here's why.
Lessons Learned from Past Mistakes
Bradley has been abused in his past two fights. Although he officially won both, it seems like he lost them.
Two fights ago, he scored a controversial split decision over Pacquiao to much backlash from the fans. He's been scrapping to win back the fans ever since.
Clearly impacted by the fans' reaction, Bradley came out swinging in his last fight against Ruslan Provodnikov, only to be almost knocked out twice in the first two rounds. Bradley recovered to win, but he had learned a lesson.
The lesson? He is not an offensive-minded boxer and will suffer against opponents who excel at taking damage and effectively countering it—which Marquez does exceptionally well.
Bradley has knocked out just 12 of 30 opponents and would be wise to remember it against Marquez.
Not Playing Into Marquez's Strategy
Bradley's lesson is Marquez's loss.
Marquez is at his best when he can sit back, dissect what his opponent is throwing his way and capitalize on any openings.
This strategy has allowed him to land his world-class straight-right counter and knock out 40 of 55 foes.
With the humble pie that Bradley ate in the first two rounds against Provodnikov, there is no chance he'll come out aggressive and do exactly what Marquez wants him to do.
Superior Endurance and Athleticism
Bradley is the superior athlete in the ring at 30 years of age. He's also accustomed to fights going the distance, as referenced by his low knockout numbers.
Going the distance is his game plan as one of the sport's most athletic specimens.
Unfortunately for Marquez, his age of 40 is starting to catch up with him, and he'll only get slower as the match continues. If he is unable to score a knockout in the first half of the bout, it will play into Bradley's hands.
This in no way should undermine the stellar career of Marquez, who is well on his way to the Hall of Fame, but Bradley will outclass the Mexican legend if the fight goes the distance.
With Bradley now understanding what it takes to beat a fighter of Marquez's caliber, he'll make sure to stand until the final bell.
Follow Bleacher Report's Chris Roling on Twitter for more news and analysis @Chris_Roling
This article is
What is the duplicate article?
Why is this article offensive?
Where is this article plagiarized from?
Why is this article poorly edited?