Timothy Bradley Must Learn from Manny Pacquiao Fight to Beat Juan Manuel Marquez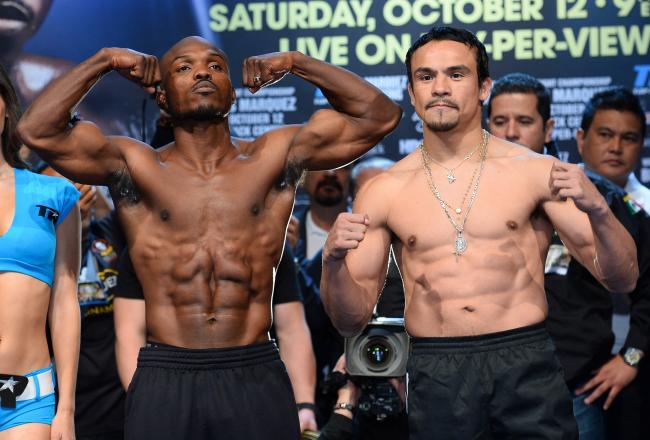 Ethan Miller/Getty Images
Timothy "Desert Storm" Bradley boasts a perfect 30-0 career record heading into his WBO Welterweight Championship defense against Juan Manuel Marquez on Saturday night, but most boxing observers would probably agree that Bradley's record is a farce. Bradley was gifted a win against Manny Pacquiao, and he must learn from that experience to legitimately beat "Dinamita."
Bradley's bout with Pacquiao last year was the biggest of his career by a wide margin. It was obvious that Bradley had elite ability, but he had never really faced elite competition. Pac-Man flexed his muscle throughout the fight as he was the aggressor, and the result was pretty much viewed as a foregone conclusion.
Despite Pacquiao's perceived dominance, Bradley won the fight via split decision in what can accurately be called one of the biggest judging gaffes in recent memory.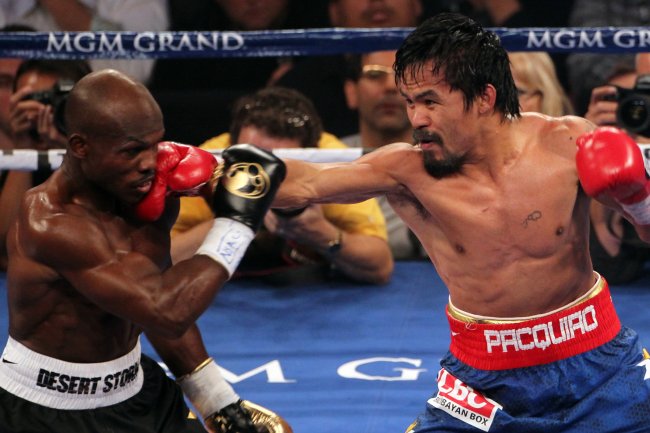 Jeff Bottari/Getty Images
Bradley was on his heels for essentially the entire fight, and nothing he did suggested that he deserved to come out on top. Bradley showed a lot of heart by hanging in there and refusing to go down, but that shouldn't be confused with a winning performance.
The underdog was thoroughly outboxed by a superior fighter, and he was very lucky to escape with an unblemished record. Bradley shouldn't be held accountable for the judges' mistakes, though. All he can do is fight to the best of his ability and let the chips fall where they may.
After such a close call against Pacquiao, however, Bradley has to realize that he can't be so timid against high-caliber fighters. As someone who beat Pacquiao once and arguably should have beaten him on at least two other occasions, Marquez is clearly a force to be reckoned with.
Marquez has pretty much done it all at the age of 40, and he has faced the toughest fighters boxing has to offer. He is more than prepared to tussle with Bradley, and he has the tools necessary to get the job done. As seen in this video courtesy of HBO boxing, Marquez has scored some impressive victories over the years.
A look back at @jmmarquez_1's Greatest Hits: http://t.co/yzklyMQXec #BradleyMarquez @TRBoxing

— HBOboxing (@HBOboxing) October 12, 2013
In terms of punching power and explosiveness, Marquez has proven on many occasions that he is right on par with Pacquiao. Bradley had all kinds of issues with those attributes when he faced Pacquiao, so he definitely seems to be at a disadvantage. Bradley's game plan simply doesn't seem to jive with that style of fighting.
Much to the credit of Bradley, he tested himself after the Pacquiao fight by taking on Russia's Ruslan Provodnikov. The "Siberian Rocky" had some highlight-reel knockout victories before challenging Bradley, and he turned their bout into a slugfest. Bradley stepped out of his comfort zone, but he proved that he could win that type of fight by prevailing in a unanimous-decision ruling.
Who will win on Saturday?
Based on Marquez's recent encounters, he too will try to instigate a brawl rather than a pure boxing match. With just 12 knockouts among his 30 victories, Bradley is clearly more comfortable when it comes to playing defense, baiting his opponents and winning it on the scorecards.
After what happened against Pacquiao, though, Bradley definitely can't afford to let this one go the distance provided he employs the same strategy he did against Pacquiao. Bradley either has to win this fight by knockout, which is somewhat unlikely, or at least out-point Marquez decisively.
With the Bradley vs. Pacquiao decision still fresh on the minds of many along with the bizarre scoring in the recent Floyd Mayweather vs. Canelo Alvarez fight, expect the judges to be very careful about how they score Saturday's contest.
Many are still down on Bradley after the Pacquiao fight, and that is evidenced by the fact that Marquez is a -150 favorite, according to Bovada. Also, former heavyweight champion Lennox Lewis is picking Marquez, so Bradley is a decided underdog on all fronts.
It's hard to call but I'll give Marquez the slight edge. #BradleyMarquez

— Lennox Lewis (@LennoxLewis) October 12, 2013
Bradley is a smart, methodical boxer, though, which means he is unlikely to let history repeat itself. He got away with one against Pacquiao, but lightning won't strike twice unless Bradley makes some significant changes.
Follow @MikeChiari on Twitter
This article is
What is the duplicate article?
Why is this article offensive?
Where is this article plagiarized from?
Why is this article poorly edited?