Carl Frampton vs. Jeremy Parodi: Preview and Prediction for Upcoming Bout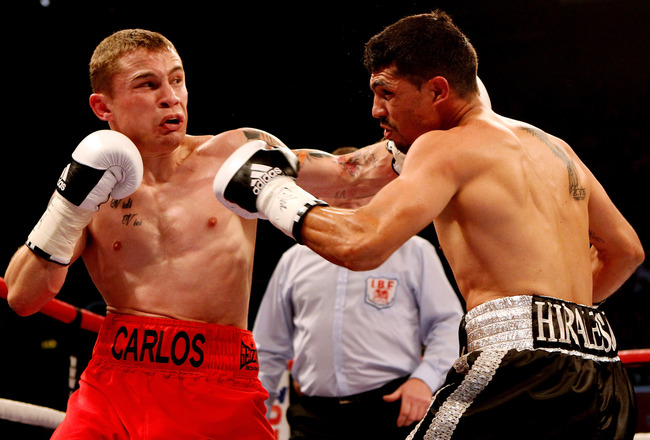 Carl Frampton will defend the European Boxing Union Super Bantamweight Championship on Saturday night.
Scott Heavey/Getty Images
Carl Frampton vs. Jeremy Parodi will take place on Saturday night in Belfast, Northern Ireland, and the European Boxing Union Super Bantamweight Championship will be on the line.
The implications, however, are more far-reaching than just the EBU belt, and both guys could be fighting to earn a world title shot.
Frampton is undefeated in 16 professional bouts and is frequently mentioned atop lists of the best young fighters from across the pond. He has an exciting style and a marketable personality that could make him a star in this game if he continues winning.
Parodi, on the other hand, has spent virtually his entire career fighting in his hometown in France. He has a gaudy professional record but has yet to face anyone near the level or notoriety of Frampton. This will be his first real test.
Here, we set you up right with all the information you'll need for this Saturday's big fight.
This is your complete preview and prediction for Frampton vs. Parodi.
Tale of the Tape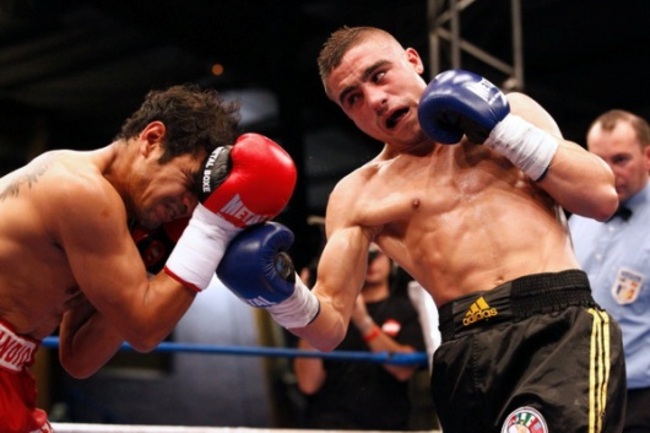 Jeremy Parodi will be fighting outside of France for the first time. Photo Credit: http://tout-sur-la-boxe.net/?p=28936

It's hard to get a true gauge on Jeremy Parodi, as not a ton is known about him outside his native France. What we can see is that he has more in-ring experience than Carl Frampton.
He's had more than twice the number of bouts and nearly three times as many rounds. A lot of that, however, has been against low-level opposition and emphasizes his lack of punching power.
Frampton would appear to have a clear advantage on that score. He sports a solid knockout rate of 69 percent, while Parodi has only knocked out a paltry 24 percent of his opponents.
That power gap is huge, and it could prove decisive on Saturday night.
Record:

Carl Frampton

16-0, 11 KO

Jeremy Parodi

35-1-1, 9 KO

Height:

5'6"

Unlisted

Reach:

62"

Unlisted

Weight:

121.5 (last fight)

120.5 (last fight)

Stance:

Orthodox

Orthodox

Hometown:

Belfast, Northern Ireland, UK

Toulon, Var, France

Rounds:

79

247
*Profiles via BoxRec.
Main Storylines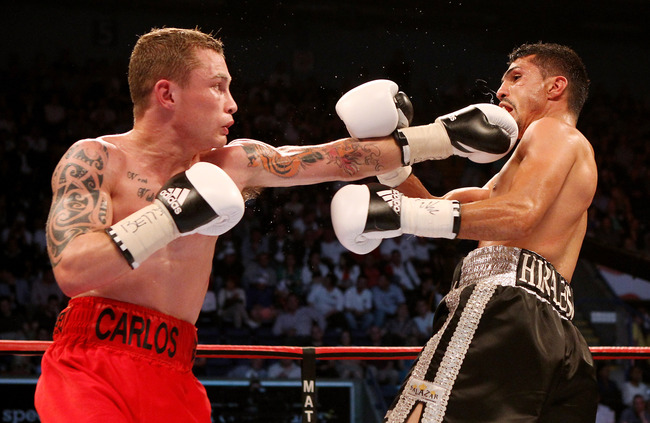 The Jackal is next in line for a world title shot.
Scott Heavey/Getty Images
Carl Frampton
Frampton will be fighting on Saturday night as much for the next fight as the one in the ring.
If he disposes of Jeremy Parodi—as he's expected to do—he should find himself challenging for the IBF Junior Featherweight Championship sometime early next year.
The title is currently held by Kiko Martinez—who Frampton easily stopped earlier this year—and will be defended against No. 1 ranked contender Jeffrey Mathebula on Dec. 21 in Spain.
Frampton is currently ranked No. 3 by the IBF, and with a win, he should become the mandatory challenger.
Frampton will need to guard himself against a letdown and take care of business in order to earn his title shot.
Jeremy Parodi
Parodi has never fought outside of his native France, and truth be told, he's rarely even ventured far from his hometown as a fighter.
A look at his record doesn't give us much to go on about his in-ring abilities.
It's largely a collection of fighters you've never heard of, and while a few are credible on the European circuit, none are world-class.
He currently holds the IBF International Super Bantamweight Championship, but it's safe to say that Frampton will be his most significant challenge to date.
Parodi will also be entering the fight with world championship aspirations.
He's currently ranked just behind Frampton as the IBF's No. 4 rated contender, and it's possible that a win would catapult him to a shot at the winner of Martinez vs. Mathebula.
Strengths
Parodi is a solid technical boxer.

Carl Frampton
Frampton has great hand speed, and his reflexes are first rate.
He fights a highly aggressive style and is effective on both the inside and outside. His defense is very solid. He's able to slip and dodge punches and has great general quickness on the defensive end.
He loves to put his punches together, and his combinations are almost always solid and effective.
Frampton has a great killer instinct when he has his foe in trouble—something that can't be taught—and he is generally smart with his aggression.
Jeremy Parodi
Parodi is a solid technical boxer who has solid hand speed and defense. He doesn't have much power on his punches, which necessitates him to box effectively in order to win his fights.
Parodi holds victories over some solid European boxers, but he's taking a big step up in class. He'll need to fight a perfect fight and box well in order to have a chance.
Weaknesses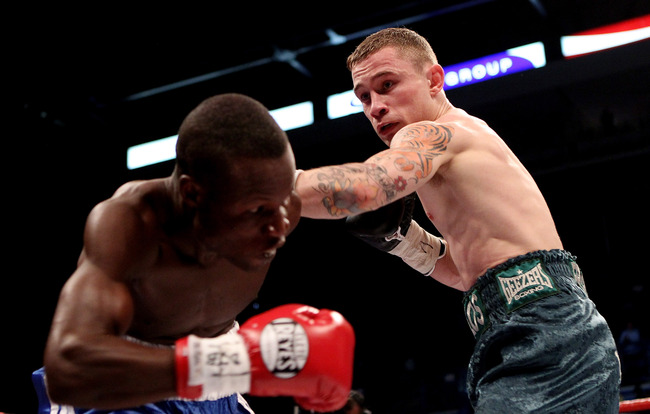 Frampton sometimes just throws his punches out there, and that could be an issue down the line.
Scott Heavey/Getty Images
Carl Frampton
Frampton would be quick to tell you that he doesn't have any weaknesses, and he's not all that far from the truth.
He's a very solid fighter, and he does pretty much everything well. But he's still young and still just moving out of the prospect stage of his career.
He sometimes allows himself to throw punches without much a care about where they're going to end up.
That's not the worst thing in the world at this point, but as the competition level goes up, it could present problems. He also sometimes tends to fall into lulls and doesn't let his hands go enough. And yes, that's an odd pair of complaints.
Jeremy Parodi
Parodi is not one of those fighters who you'd say has thunder in his hands.
He has only knocked out nine opponents amongst his 35 wins, and it isn't as if he was facing world beaters. That's a serious problem, and it's hard to see how he'll have anything in his arsenal to keep Frampton honest.
Carl Frampton Will Win If...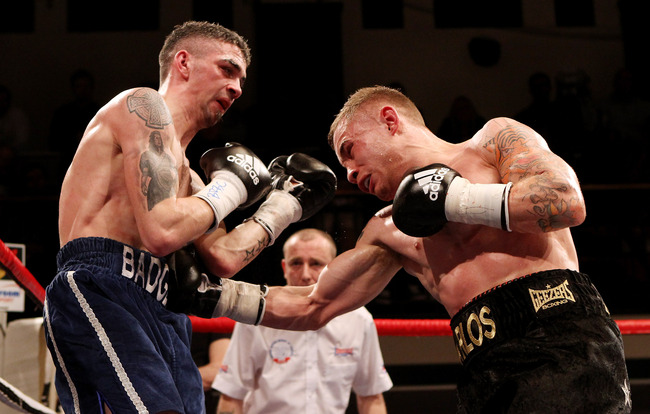 Is getting to the arena on time enough?
Scott Heavey/Getty Images
It's kind of unfair to the sport to say that all Carl Frampton needs to do in order to win is show up to the arena on Saturday and make sure he packs his gloves and trunks.
After all, anything can happen, right?
But it seems that short of something completely unexpected, he should win this fight with relative ease.
Frampton will need to emphasize his advantages in the fight, and he should be aggressive against an opponent with very limited power. He'll need to use good footwork in order to prevent Jeremy Parodi from getting set, and he should frequently fire away with quick combinations.
It's hard to see how Parodi will have anything in his bag of tricks that can keep Frampton honest.
With only nine knockouts on his ledger (against low-level opponents), Frampton can likely afford to come at him with less abandon than he did in his last fight against the more dangerous Kiko Martinez.
As long as he doesn't make any major mistakes and sticks with his gameplan, Frampton should win this fight and move on to bigger and better things.
Jeremy Parodi Will Win If...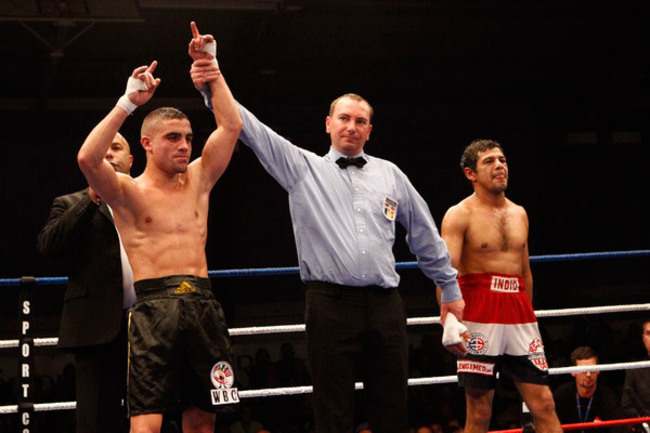 Parodi needs something unexpected to happen. Photo Credit: http://www.ffboxe.com/news-12235-lamare-stoppe-morelli.html

Jeremy Parodi is something of an unknown quantity.
Most people have never seen him fight—he's never fought outside France and only rarely outside his hometown—and he's faced mostly low-level opponents.
It'd take something pretty unexpected for him to walk out of the arena on Saturday night with a victory over Carl Frampton. But since he's unknown, we don't know what to expect from him. He can't be dismissed entirely.
Parodi's best chance is to box effectively and use Frampton's aggression against him.
If he can make him miss enough and make him pay when he does, he has a chance of winning rounds and pulling out a decision victory.
He doesn't have the power to make that much of a factor, so boxing well is the best option.
And the Winner Will Be...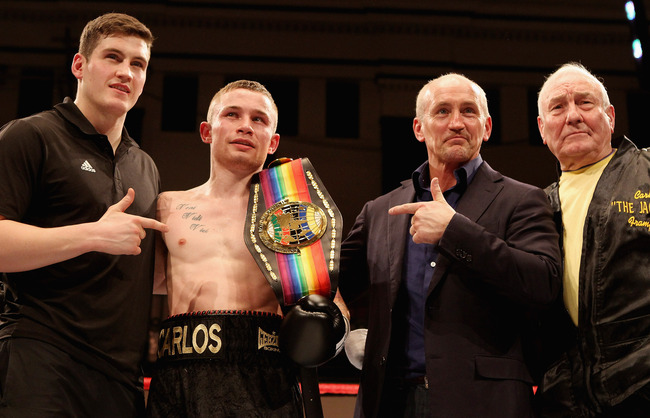 It's virtually impossible to pick against "Carlos The Jackal" in this one.
Scott Heavey/Getty Images
It's just really hard to see how Carl Frampton doesn't win this fight.
He's a fighter on the upswing and has true star potential.
With a world championship shot—possibly against a fighter he's already knocked out—on the horizon, he should be well prepared and ready to go.
Look for Frampton to come out aggressively and look to make the fight. He has a clear advantage in power and should be able to use his quick combination punching in order to make Jeremy Parodi very uncomfortable.
The gap in opposition levels is substantial, and nothing Parodi has done thus far shows he's ready to deal with coming into a hostile environment and emerging victorious.
Frampton will put on a boxing clinic, and he'll win this fight by a wide margin on the scorecards.
Frampton UD 12 Parodi (118-110)
Keep Reading