Bradley Retains Welterweight Championship with Split-Decision Nod over Marquez
Timothy Bradley retained his championship with a split-decision victory over Juan Manuel Marquez.
Ethan Miller/Getty Images
Timothy Bradley came into the ring on Saturday night in Las Vegas as the champion, but he was looking for one thing and one thing only—respect.
He should have no problem getting that now.
Bradley outboxed and outworked Mexican legend Juan Manuel Marquez, winning a split-decision, and retaining his WBO Welterweight Championship.
Scores were 115-113 and 116-112 for Bradley and 115-113 for Marquez.
Coming into the fight, many observers questioned whether Bradley would be able to stay out of range of Marquez's devastating punching power. He did so by coming in behind a stiff jab, and darting in to land shots and get out before Marquez could counter.
He attacked early and often to the body and fought a smart, tactical fight that emphasized his advantages in speed and footwork.
Marquez—who failed in his quest to become the first Mexican fighter to win world titles in five weight divisions—struggled to get his timing throughout the contest, and struggled with Bradley's quickness and ability to land and get out of dodge.
There didn't appear to be any point in the fight where he really hurt the champion, and was nearly floored himself in a scintillating exchange in the bout's closing seconds.
With the win Bradley improves to 31-0 with 12 knockouts, and Marquez drops to 55-7-1 with 40 knockouts.
That'll do it for us tonight fight fans. We hope you enjoyed our live coverage of Bradley vs. Marquez.
Here's your quick recap of all tonight's action:
Timothy Bradley SD 12 Juan Manuel Marquez (115-113, 116-112, 113-115. Bradley retains the WBO Welterweight Championship)
Orlando Salido TKO 7 Orlando Cruz (Salido captures vacant WBO Featherweight Championship)
Vasyl Lomechenko KO 4 Jose Ramirez (Lomechenko captures the WBO International Featherweight Championship in his professional debut)
Seanie Monaghan TKO 3 Anthony Smith (Monaghan retains his WBC Continental Americas Light Heavyweight Championship)
As always, stick with us here at Bleacher Report for all your post-fight coverage!
Good night fight fans!
Bradley gets a huge victory, by all too close cards, but I'm sure he'll take it.
And we have the scorecards...
115-113 (Marquez), 115-113 (Bradley), 116-112 for the winner by split-decision....
TIMOTHY "DESERT STORM" BRADLEY!!!!
We await the cards...but Bradley should have this one going away...
Pretty easy fight to score. He was more active, more accurate and landed more shots.
Simple.
Bradley and Marquez exchange furiously in the closing seconds and it was MARQUEZ who nearly tasted canvas.
Bradley wins the round on that punch. If he had a few more seconds he might've ended the night.
117-111 Timothy Bradley on this card, but we await the official judges scorecards.
Round 12: Marquez catches Bradley with a right. Traps Bradley in the corner, but Bradley makes him miss.

— Top Rank Boxing (@trboxing) October 13, 2013
Bradley running out the clock. Just doesn't need to get caught and he should have a huge victory.
Now Marquez attacks along the ropes, but Bradley gets out of the way of all three of those shots.
Definitely in the range, but the consensus seems to be that Marquez needs a knockout to win with just under two minutes left in the fight.
And Marquez doesn't appear too desperate...
Hate to say it. Most media seem to have Bradley comfortably ahead...
But what about judging karma?
Gave JMM the 11th, but he's still well behind.
107-102 Bradley.
Crowd totally out of the fight. Desperation time for Marquez as we approach the end of round 11.
Jeff Bottari/Getty Images
That Bradley jab has done him wonders tonight. It's kept JMM off-balance and out of scoring range.
One Bradley right was best of the night

— Michael Woods (@Woodsy1069) October 13, 2013
Gave Bradley the 10th round as he stunned Marquez.
I have him up big, but I don't know why he's engaging this much. It's a dangerous idea and could be the one thing that gets JMM back in the fight.
98-92 Timothy Bradley.
Bradley stuns Marquez with a big right hand in the 10th!
Both men landing heavy artillery. This is definitely to JMM's advantage, but Bradley more than holding his own.
i dont think JMM last 20 secs wins him the round, it was close and again another swing round,,,87-84 BRadley , could be closer

— fightscorecollector (@thefightscore) October 13, 2013
I felt Marquez definitely took the ninth round. He hurt him in the closing seconds.
Big let hand from Marquez stunned Bradley and he follows it up with a right hand that also hurts him.
Big closing to the ninth round for Marquez.
That was the first time in the fight where he had Bradley hurt.
He takes the round on my card.
But Bradley still leads 88-83.
This fight could be closer on the scorecards, but it's hard to dismiss the fact that Bradley has landed and thrown more in pretty much every round.
Marquez seems to be having an issue with his left eye.
marquez looks confused. cant find his timing or distance

— Miguel Mikey Garcia (@TeamMikeyGarcia) October 13, 2013
Marquez looks all out of sorts.
Could be partly being 40, but largely Tim Bradley just being more active and smart about his aggression.
Bradley's workrate is giving Marquez trouble.
He's being aggressive, but smart. Not sticking around long enough after punching to get tagged in return.
Brilliant tactical fight.
I have never seen Marquez miss this many punches. Against Floyd he didnt punch enough #BradleyMarquez

— TwoPieceBoxing (@TwoPieceBoxing) October 13, 2013
So do I.
Six rounds to one for Bradley. 69-64
I have never seen Marquez miss this many punches. Against Floyd he didnt punch enough #BradleyMarquez

— TwoPieceBoxing (@TwoPieceBoxing) October 13, 2013
JMM looks a tad slow, missing a lot of punches.
Marquez desperately needs to change something up here.
Bradley getting off first in all the exchanges and giving him few openings to land back.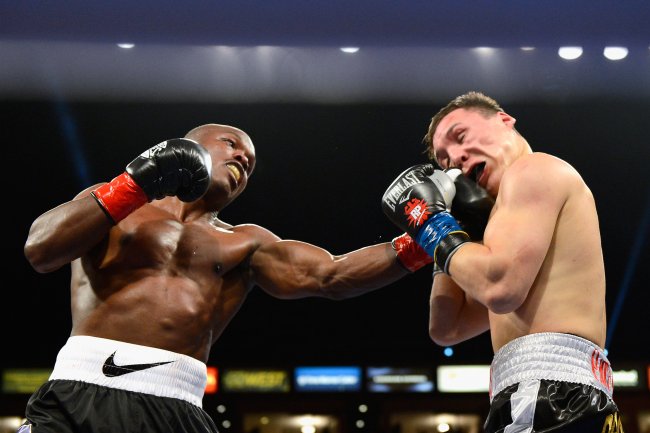 Kevork Djansezian/Getty Images
Harold Lederman has Bradley up 59-55.
Same score as we have here.
Bradley does self no favors backing up at round's close, I'll give it to @jmmarquez_1 up 4-2 on my card.

— Lance Pugmire (@latimespugmire) October 13, 2013
Yeah I think Marquez took that round. Bradley needs to stop backing straight up. That's when he gets caught.
59-55 Bradley as we enter the second half.
This article is
What is the duplicate article?
Why is this article offensive?
Where is this article plagiarized from?
Why is this article poorly edited?