Why Italy Needs Francesco Totti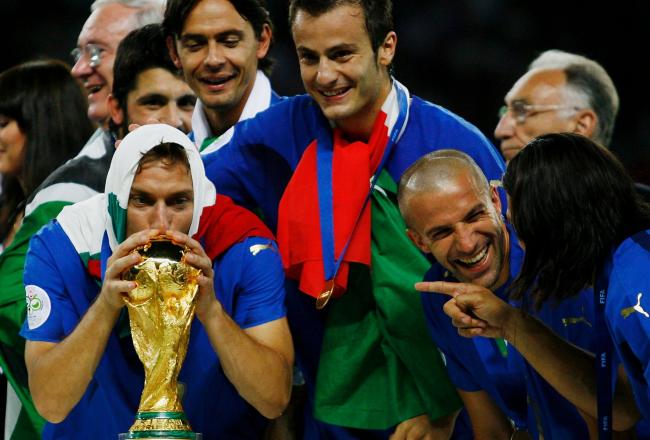 Shaun Botterill/Getty Images
Normally, you'd laugh Cesare Prandelli out of the room for suggesting that it might be useful to have a 37-year-old out of retirement and in the World Cup squad. But Francesco Totti is no normal player.
The Roma captain is currently enjoying some of his career-best football. For a man of his talent, that's saying a lot.
Italy struggled to draw with Denmark in their recent qualifying game, and they'll meet much stiffer opposition in Brazil. In games like those, against a side that's hard to break down, Totti could make the difference.
The No. 10's intelligence and creativity on the ball, the way he can see a clever pass and the way he manipulates the space around him, make him one of the game's most unique—and dangerous—players. And as Prandelli well knows, thanks to Mario Balotelli's recent injury problems, for all their quality, Italy are short on the highest level of talent up front.
Taking age out of the equation, it's a no-brainer. In seven games this season, he's got three goals and six assists. Last season, he managed 12 goals and the same number of assists. He featured in 34 of Roma's league games in 2012-13, so once he avoids injury, fitness clearly isn't an issue. And his pass-success rate is high, but more important than that, his distribution tends to be decisive, too.
If you said all that about a 27-year-old, people would be screaming for a call-up. And it's not only Roma fans who think so. Gigi Buffon joined the clamour to coax Totti out of retirement when he told the Italian football federation's website (here in English via skysports.com):
Francesco is immortal. He is a player who can make a difference at any stage and at any age.

It's normal that you speak of him in those terms but it is also true that we are in October and that there are still eight, nine months until the World Cup. I believe that, if he is still playing this way at the end of the season, no coach, player or fan would have any doubts.
Part of the argument against Totti playing for the Azzurri in 2014—at least abroad—is that he never performed for the national side in quite the same way he did for his boyhood club. There's some truth to that, but only because the Totti in an Italy shirt was compared to his club counterpart, one of the game's all-time greats. A Maserati might not be as fast as a Ferrari, but it's no Fiat either.
Outside of Italy, there's also been some confusion as to what kind of player Totti actually is. Is he the wide forward of Zdenek Zeman's making, or the point man for Luciano Spalletti's strikerless 4-6-0? Is he the classic No. 10 of old, existing between the lines, or is he an attacking midfielder?
In an Italy shirt, he was deployed much deeper than any Roma coach would play him. His adaptability, coupled with the fact Italy had several top-quality forwards, meant that Totti was often expected to play from midfield. In that context, the nine goals he scored in 58 international games don't look so bad. And goals were never what made Totti special anyway.
It seems a funny thing to say about Serie A's second-highest goalscorer of all time, but Francesco Totti is about more than finding the back of the net. He's about finding space, finding a teammate, finding a way to do the impossible and to break the deadlock and to inspire a win when it seems beyond reach. The Italians don't call that kind of player a Fantasista for nothing. Totti is about imagination, about fantasy.
When he played under Marcelo Lippi—with a metal bolt in his ankle—Totti wasn't there to score. That was Luca Toni's job. He was there to create. He can do the same thing for Prandelli.
He's 37. He's not going to be able to run for 90 minutes and track back to defend, but he doesn't have to. He's more mobile than the rightly-lauded Andrea Pirlo, whose name is among the first on anyone's Italy squad. Like his old friend at Juventus, Totti uses his passing and his intelligence to cover ground. He doesn't have to sprint the length of the pitch. It's not his style.
Prandelli needs options ahead of the World Cup. Dani Osvaldo is temperamental, Giuseppe Rossi is brilliant but fragile and Balotelli shouldn't be burdened with the task of single-handedly dragging Italy to the final. There are other options, but none as attractive as the Roman if you forget his age.
The next time you see him play, forget for a moment that you're watching a man approaching 40. Just pay attention to a special talent still in a league of his own—and ask yourself who else you'd prefer to see in an Azzurri shirt next summer.
What do you think about Totti playing for Italy? Let me know on twitter.
This article is
What is the duplicate article?
Why is this article offensive?
Where is this article plagiarized from?
Why is this article poorly edited?

Italy (National Football): Like this team?