The Beaten Path: Team Alpha Male's Anthony Avila on 'Losing Spot in Line'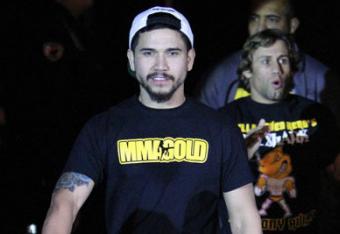 Anthony Avila (left) competes as a featherweight and a lightweight. (Photo credit: Jeff Sherwood/Sherdog)

Pop culture has a lot to tell us about how we should respond to adversity. Choose your cliché, if you dare. Keep calm and carry on. Brush those shoulders off. We fall so we can learn to get back up. What doesn't kill you only makes you stronger.
The sloganeering is all well and good for summer blockbusters and nightclub sing-alongs, but in the real world it's not always so instructive. Case in point: MMA prospects. Not unlike college football, a single setback can submarine months or even years of hard work in the gym and accomplishments in the cage.
Anthony Avila is playing both sides of that coin. He has to. Still four months after his first defeat in five years—a choke-out loss in June to wily UFC veteran Caol Uno at Vale Tudo Japan—the soundbites are delivered almost by muscle memory.
"If you're not on top of your game, you will get caught," Avila said. "I was fatigued, he saw that I didn't have anything left and he took the opportunity. I'm not making any excuses and I have to turn this into a learning experience."
But at the same, the affable 24-year-old and member of Urijah Faber's Team Alpha Male gym—most likely MMA's top training camp for lighter-weight fighters—has the candor and confidence to cut through some of the usual motivational treacle. As he continues to think about it, to relive the loss, Avila gets more expansive.
"It was horrible," Avila admitted. "I let my opportunity slip…I definitely think I lost some hype. I lost my spot in line to the big show."
It's an unflinching self-assessment from Avila (11-2), who describes both his personality and fighting style as "laid-back." But it's also the cold reality, and all part of the game when you're striving to set yourself apart in the ultra-competitive featherweight and lightweight divisions (Avila competes in both weight classes).
Avila, a self-described "bad kid" from Lemoore, Calif., began his MMA career well outside the relative spotlight of the amateur boxing ring or college wrestling mat. He learned he had power in his hands after all of those neighborhood kids kept falling down when he hit them. A friend took him to a wrestling class and, Avila said, things developed from there.
Avila's lone loss in the past five years came in June to UFC veteran Caol Uno.
Given these raw beginnings it took a while for Avila to be discovered, despite the fact that he ended up spending plenty of formative time right under the collective nose of Team Alpha Male.
"I turned pro in 2007. I won my first pro fight and lost my second," Avila recalled. "After that second one, I packed my bags, got in my car and drove to Sacramento. I just started taking the classes [Team Alpha Male] offered to the public."
After a time, current UFC contender Joseph Benavidez and wrestling coach Matt Sanchez noticed Avila in the class and invited him to a private sparring session.
"I don't know why they invited me. I was just a fat kid who didn't know how to fight," Avila said. "They were really beating me up at first. ... But MMA and Sacramento and Team Alpha Male saved me, man. I owe them everything."
That's probably why Avila dutifully puts in two workouts a day there, six days a week, sandwiched around full shifts waiting tables at Sacramento restaurant Burgers and Brew—"Cali people check it out!" Avila effuses—to pay the bills.
Slowly but surely, the work paid off. Before losing to Uno, Avila had compiled a 10-fight winning streak while fighting for respected promotions like Strikeforce and Tachi Palace Fights. (Avila's primary promotional home these days is California's West Coast Fighting Championship, where he is reigning lightweight champion.)
Avila said he hopes to fight again in November or December, and would love a rematch with Uno someday. But for now, he claims he hasn't earned it, and is content to simply win again, then win again and eventually regain top prospect status. He'll do that, he says, by improving as a fighter, not throwing slogans at the problem until it goes away.
"I didn't even know what I was really doing until a couple fights ago," Avila said. "I still have a long way to go, but I'm working hard to get there. I just have to try to turn all this into a career move."
The Beaten Path is an article series profiling top MMA prospects. Read the previous interview here. Scott Harris is a writer with Bleacher Report. Find him on Twitter @ScottHarrisMMA. All quotes obtained firsthand unless otherwise noted.
This article is
What is the duplicate article?
Why is this article offensive?
Where is this article plagiarized from?
Why is this article poorly edited?