Juan Manuel Marquez's Next Fight Shouldn't Be vs. Manny Pacquiao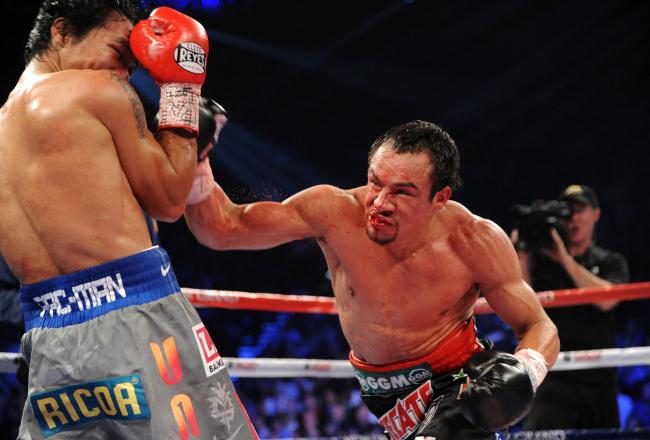 USA TODAY Sports
After taking a tough loss against Timothy Bradley via split decision Saturday night in Las Vegas, there is no question that Juan Manuel Marquez should forgo any possible rematch with Manny Pacquiao and begin his retired life.
After a long and storied career, Saturday's defeat should be his last.
At 40 years old, Marquez isn't the elite fighter he once was. The loss at the hands of the younger and faster Bradley wasn't the ideal final chapter to his story, but there is, no doubt, that it's time to leave the sport.
No matter how much money promoters throw his way for another fight, Marquez has built a legacy with his knockout victory over "Pac-Man" and shouldn't further tarnish that by taking on the legend again.
With Pac-Man looking for vengeance, the Mexican champion doesn't want that matchup.
If Marquez insists on fighting once again, however, there is no doubt his next bout should come against younger talent like Amir Khan or Victor Ortiz to prove he still has enough in the tank to make another run at a championship.
Khan and Ortiz bring the same kind of speed to the table that Bradley possesses, and another match against a fighter of a similar style would be a great way for Marquez to relaunch his career after the tough loss.
Should Juan Manuel Marquez retire?
Marquez and Pacquiao have a longstanding rivalry that stems back to 2004. With four career fights between them (2-1-1 in Pac-Man's favor) and plenty of controversy and excitement in each, there is no doubt the fans would pay to see another bout between these two men.
The intrigue around another rematch—especially after Pacquiao was knocked out so brutally in the last fight—would, undoubtedly, yield a huge pay day for both fighters. It will be hard to turn down that much cash for a fight, but Marquez has to start thinking about the future.
Marquez has a family now, and at this point of his waning career, he should seriously consider going out on his own accord instead of outstaying his welcome and being forced to leave the sport.
This article is
What is the duplicate article?
Why is this article offensive?
Where is this article plagiarized from?
Why is this article poorly edited?