With much of the world singing Neymar's praises as he steps temporarily into the ample boots of Leo Messi as Barcelona's main point of attack, there comes a new wave of diving accusations from some very highly respected quarters.
No fewer than three managers—namely Chelsea's Jose Mourinho, Celtic boss Neil Lennon and Juan Ignacio Martinez of Real Valladolid, as per Marca—have been vociferous in their claims that the Brazilian spends much of his time diving and effectively trying to con the referees.
Here's my case for the defence.
If he is conning the referees since his arrival in Barcelona, then they're all falling for it. The fact is that to date Neymar (32 times) is the most fouled player in La Liga this season, one ahead of Diego Costa and five in front of Real Madrid's Isco. Is he really diving that much? I don't see it.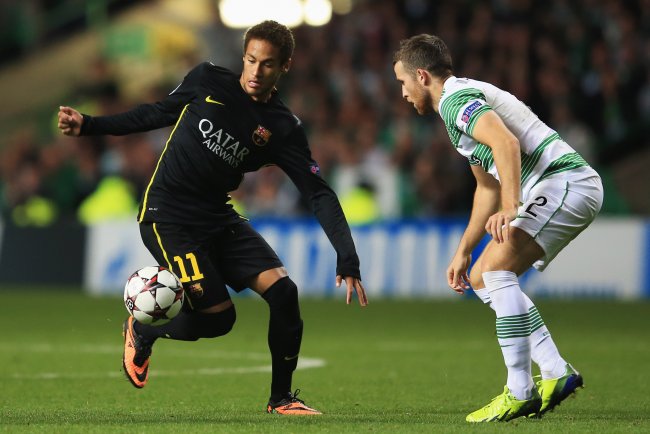 Richard Heathcote/Getty Images
Secondly, unlike Messi, who has a very low centre of gravity and is considerably stronger, it is much easier to bring a player like Neymar down. He also has a tendency to showboat when the ball is at his feet—an act more likely to provoke a foul rather than a nod of appreciation from opposing defenders.
His pace in the first few metres is difficult to stop, and perhaps that speed makes it difficult for referees to stop evident fouls. (He should have been given two penalties against Valladolid.)
Since he arrived at the Camp Nou, when Neymar is fouled he gets up, doesn't protest and just carries on. He accepts that it's all part of the game and is also following Tata Martino's instructions not to protest.
Maybe he behaved differently in Brazil, but I don't see this "European" Neymar as a diver, and it is the "European" Neymar that those coaches are talking about.
I do remember something once said by Mourinho, who once accused Neymar's teammate, Leo Messi, of similar tendencies, as per BBC Sport. Sometimes, Mourinho said paradoxically, the player has to help the referee see what has happened.
Mourinho criticising Neymar & Balotelli for diving is like Ben Johnson condemning Lance Armstrong for doping. #hypocrisy

— Andy West (@andywest01) October 7, 2013
I am not sure what side of the debate Jose is on. Is he trying, as he did with Leo, to put Neymar in the category of diver to influence the referee? I hope non-Chelsea fans are not falling for that.
That Celtic's Scott Brown kicked Neymar, albeit lightly, in their Champions League match with Barcelona in Glasgow is beyond dispute. Brown admitted as much when he apologized after the match, as per the Daily Mail. The fact that Neymar made it easy for the referee to make the decision is hardly the Brazilian's fault. Lennon was more upset with the reaction of Neymar than the one of his defender. But it was his player who made the mistake.
Is Neymar guilty of diving?
All three of Neymar's recent critics are coaches who strongly favour the strong, physical, direct approach. That explains their use of words. But it is disappointing that they preferred to concentrate on that side of Neymar and not on the one hundred reasons to celebrate a player who enjoys playing football and entertaining people.
It is disappointing that Mourinho, Lennon and Martinez prefer not to dwell too long on the fact that he can single-handedly make the difference in any team that he plays for.
Already with six assists and three goals to his credit, this is just the beginning for a player who is set to become an extraordinary talent. We should embrace his art, enjoy his talents and not waste time discussing whether or not he is a diver.

Sometimes people who so eagerly embrace that debate and point the finger of blame to the "new diver in town" (normally foreign) tell us much more about themselves than they do about the player.