Why Does United States Excel at Presidents Cups but Struggle at Ryder Cups?
Use your ← → (arrow) keys to browse more stories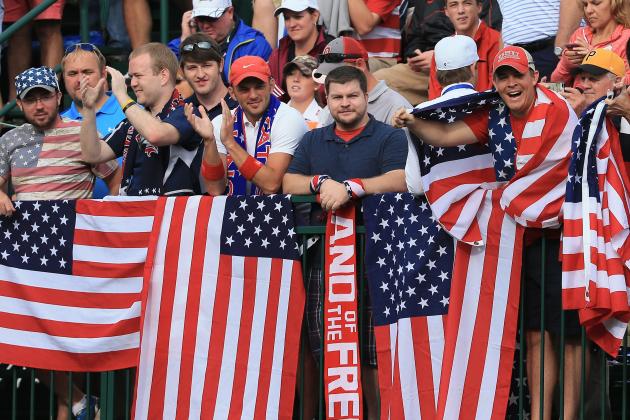 David Cannon/Getty Images

Following its fifth consecutive Presidents Cup victory this past weekend, there was little about the United States' performance at Muirfield Village Golf Club not to celebrate.
That is, however, save for one gnawing question that just gets louder each time the Americans cruise to yet another victory over their talented International counterparts in the biennial event.
Why is it that the United States performs so masterfully in the Presidents Cup yet manages to choke so miserably against the Europeans in the Ryder Cup just 12 months later?
The US team continue their trend of success in odd years and no doubt they'll be tuned up for a jolly good spanking in Gleneagles in 2014.

— Tweeter Alliss (@TweeterAlliss) October 6, 2013
The Yanks last lost the Presidents Cup in 1998 when Bill Clinton was calling the shots in the White House and Tiger Woods had only one major championship to his credit.
During that same 15-year period, however, the Americans have captured just two of seven Ryder Cup matches, a stretch that includes a pair of losses on its home soil and a historic collapse in the 2012 competition at Medinah.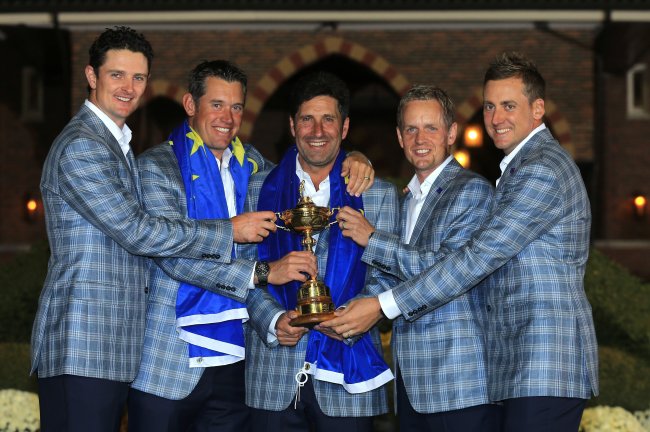 David Cannon/Getty Images
It's a confounding trend that must have current Ryder Cup captain Tom Watson searching for answers in advance of the 2014 matches scheduled for next September at Gleneagles in Scotland. The Americans will be looking to topple the Europeans on their home turf for the first time since 1993.
If the legendary Watson was paying any attention this weekend, he would have witnessed a United States team that was focused, confident and above all else loose at Muirfield.
Pairings such as Woods and Matt Kuchar, Phil Mickelson and Keegan Bradley, and even Steve Stricker and rookie Jordan Spieth weren't just effective, they were engaged and having fun.
As a result, even when the Americans fell behind, as they did early in the final foursomes session on Saturday, the Yanks managed to stay relaxed and eventually rallied.
"When you're prepared, you're more confident. When you have a strategy, you're more comfortable."--U.S. Captain Fred Couples

— Golf Digest (@GolfDigestMag) October 7, 2013
Ironically, that's the exact winning formula the Europeans have utilized during their run of dominance in the more intense and prestigious Ryder Cup.
By contrast, the Americans play the event as if in a vice grip of pressure and angst. Top golfers like Tiger and Phil play like the world is on their shoulders and other veterans and less experienced golfers often appear in over their heads to put it kindly.
That was certainly the case at Medinah last year as the Americans blew a four-point lead at the start of the singles competition and appeared to be playing golf in quick sand as the Europeans rallied to retain the cup by a single point.
For his part, Woods failed to win a single match in that competition, finishing 0-3-1. In the past three Presidents Cups, however, Tiger has claimed the clinching point each time and is a combined 11-4-0 in those matches.
Tiger Woods' last 3 #PresCup Singles: '13: def. Sterne, clinched Cup '11: def. Baddeley, clinched Cup '09: def. Yang, clinched Cup

— PGA TOUR (@PGATOUR) October 7, 2013
Mickelson, the Americans' second-best player, performed well in the 2012 Ryder Cup, providing three points in the losing effort. Yet in the 2008 and 2010 Ryder Cups combined, Mickelson managed just that same number of points.
Recent struggles certainly aren't limited to Woods and Mickelson, but when the top Yanks tank it only intensifies the pressure on the rest of the lineup. More often than not, that has proved too much to overcome against the Europeans.
Additionally, the Ryder Cup format often works against the United States' strong depth, which has been a major advantage against the Internationals in the past several Presidents Cups.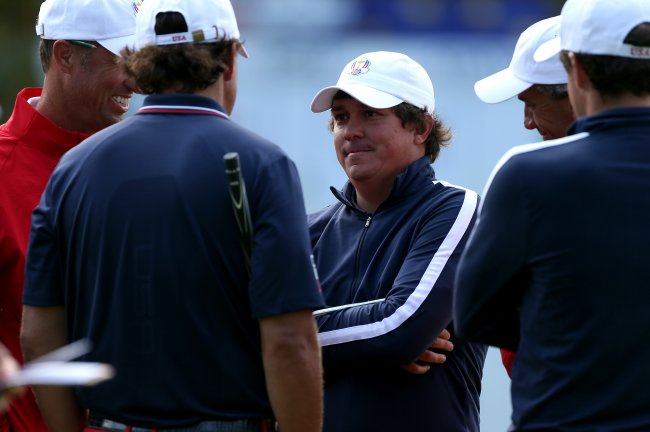 Andy Lyons/Getty Images
Only eight of the 12 golfers play in each foursomes and four-ball Ryder Cup session, allowing the European captain to strategically sit multiple players who might be struggling or lack success in one particular format or another.
It's much tougher, however, for the International captain to hide players in the Presidents Cup as all 12 golfers compete in the first two sessions and only two from each side sit in both the third and fourth.
Not only does that format expose the Internationals' lack of depth, it forces golfers to play more matches under intense pressure, which can take a toll as the competition wears on.
Following the first two days at Muirfield, the United States led by only one point. Yet by the time the fourth session was complete early Sunday morning, the Internationals trailed by six and the competition was essentially over even before the singles began.
If Nick Price could've sat Sterne and Grace, how different would #PresCup have been? They went 0-8. Overhaul needed.

— Robert Lusetich (@RobertLusetich) October 7, 2013
While no Ryder Cup format change is forthcoming, there is reason to be optimistic for the 2014 competition and beyond.
An emerging crop of talented match play golfers such as Bradley, Jason Dufner, Bill Haas and Webb Simpson made a positive impact on this year's U.S. team, and those golfers will likely be key members of Watson's 2014 squad.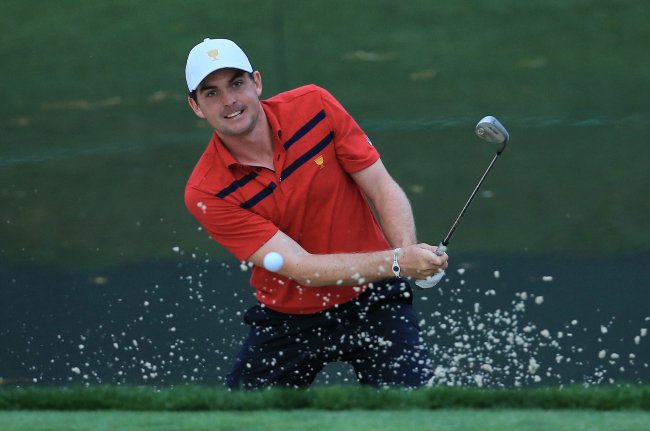 David Cannon/Getty Images
Likewise, the growth and importance of the FedEx Cup is keeping the top American golfers playing later into the season, and the sharpness that can create has already begun to translate to better Ryder Cup performances to say nothing of the Presidents Cup.
If not for the singles meltdown last year, the United States would be defending the Cup at Gleneagles next year instead of chasing it. Additionally, the Yanks played well at Celtic Manor three years ago, challenging late before falling short.
Close and almost, however, doesn't get it done in the Ryder Cup, and if the Americans are going to reverse recent results and reclaim superiority, their entire approach to the event needs to change.
That may well be easier said than done, but the good news is the blueprint to that winning formula was on display this past weekend at Muirfield.
Watson just needs to remind his golfers of that a little less than 12 months from now.