West Bromwich Albion vs. Arsenal: 6 Things We Learned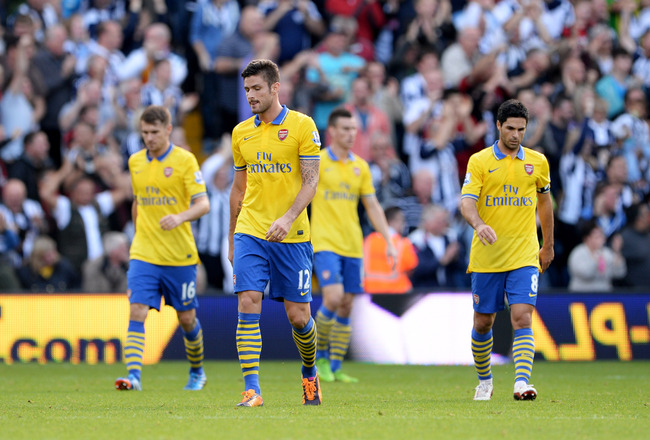 Michael Regan/Getty Images
Arsene Wenger will reflect with a degree of satisfaction on a hard-won point away from home to West Brom.
Arsenal's winning streak away from home may be over, but Wenger's team remain unbeaten since the opening day defeat against Aston Villa. What's more, the point takes the Gunners back to the top of the Premier League table.
With West Brom on a high having beaten Manchester United last week, Arsenal will consider this a decent result, and one that sets them up well for the resumption of Premier League action after the international break.
Go to the next slide to see what we learnt from this closely-fought game.
Arsenal Can Come from Behind Too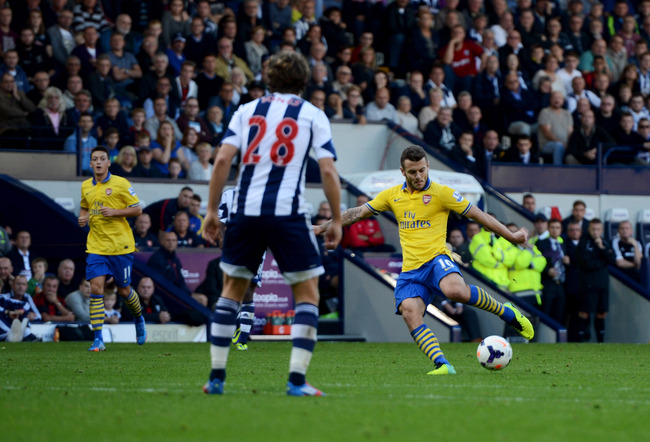 Michael Regan/Getty Images
When Claudio Yacob headed West Brom in to the lead, Arsenal fell behind for the first time this season.
In fact, Arsenal had not conceded the opening goal in a game since the 3-1 victory over Norwich in April.
The Gunners showed real spirit to come from behind and claim a crucial point.
Arsenal Miss Their Wingers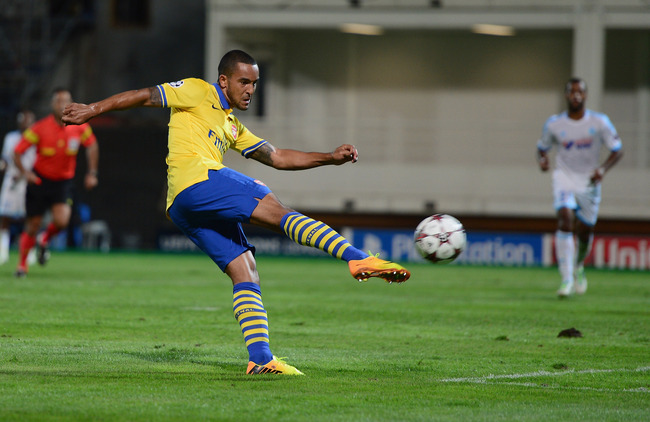 Jamie McDonald/Getty Images
Arsenal went in to this game without Theo Walcott, Alex Oxlade-Chamberlain or Lukas Podolski.
Against a packed West Brom defence, Arsenal lacked the necessary width to break down the superbly-organised Baggies.
Arsenal fielded a similarly narrow midfield against Napoli, but the Italians showed more ambition than the midlands team.
Arsenal would have benefited from including a natural wide player like young German Serge Gnabry.
Jack Wilshere Should Not Be Written off so Quickly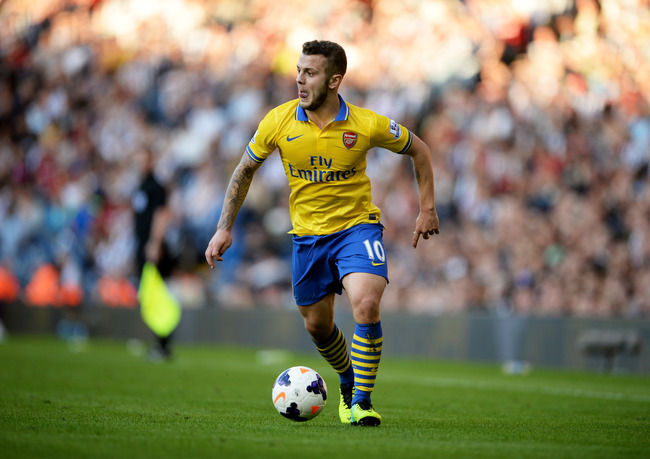 Michael Regan/Getty Images
Arsene Wenger shuffled his starting XI to give Jack Wilshere a start, with Tomas Rosicky dropping to the bench.
In the first half, the decision seemed to have backfired spectacularly. Wilshere's erratic performance saw him give the ball away more than any Arsenal player. He appeared to spend more time on the ground than on his feet, and was eventually booked for a rash lunge after being dispossessed for the umpteenth time.
In fact, Wilshere's display was so poor that fans were surprised to see him emerge from the tunnel for the second half.
In the Englishman's defence, he was deployed in an unfamiliar left-wing role. He is not a natural wide player, and has a tendency to dribble in to crowded areas rather than to the byline.
Wilshere produced a powerful shot which deflected in to give Arsenal their equaliser. However, his presence on the scoresheet can not paper over the many flaws in his performance.
Wilshere has not become a bad player overnight. It's true that on current form it could be argued he does not warrant a place in Arsenal's starting XI. However, you can not doubt his character. He recovered from his dreadful first half to score a vital equaliser and emerge as one of the better players on the pitch in the second 45.
Carl Jenkinson's Major Weakness Is in the Air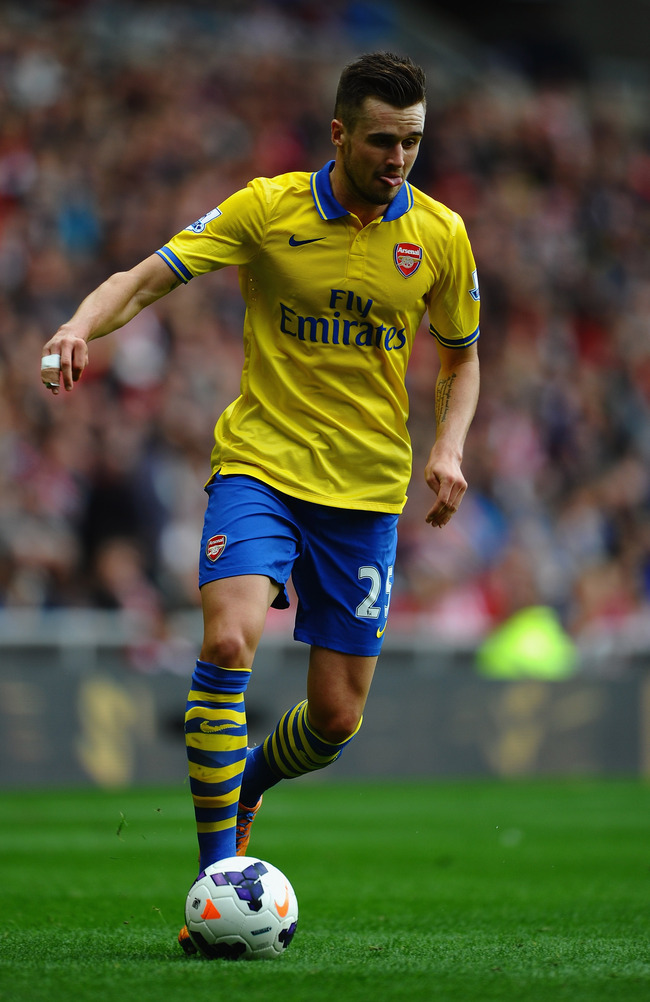 Laurence Griffiths/Getty Images
Carl Jenkinson is a very versatile defender, but has not been used by Arsenal as a centre-back. Against West Brom, we saw why. He is very poor in the air.
Jenkinson is tall but lacks spring in his jump and accuracy with his heading. Early in the first-half, an attempted clearance skewed off the back of his head and ended up assisting the West Brom attack.
He was also at fault for the Baggies' opener, allowing Claudio Yacob to run across him and head in to the near post.
Arsenal fans will hope Bacary Sagna recovers from his thigh problem quickly.
Nicolas Anelka Might Still Be a Gunner!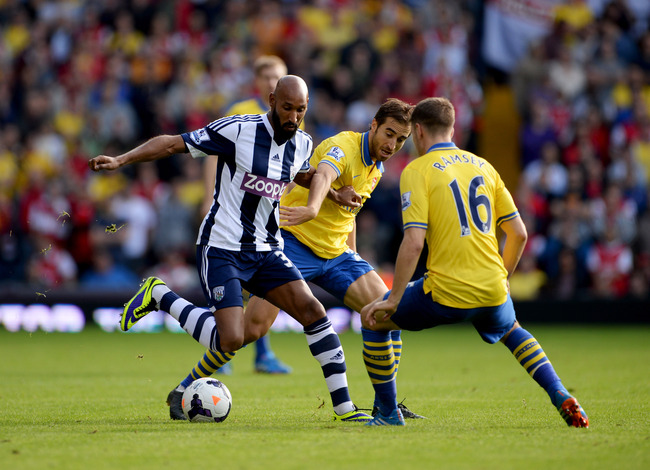 Michael Regan/Getty Images
Arsenal fans always fear Nicolas Anelka. Since leaving the club in 1999, he has been a perennial threat to the Gunners.
However, twice today he spurned clear opportunities to punish his former club. First, he allowed a cross to come off his heels when he appeared certain to score. Then, one-on-one with Wojciech Szczesny, he bent a trademark shot just past the post when a goal seemed inevitable.
Perhaps the usually ice-cool Anelka has redeveloped a soft spot for his former club.
Aaron Ramsey Is Human After All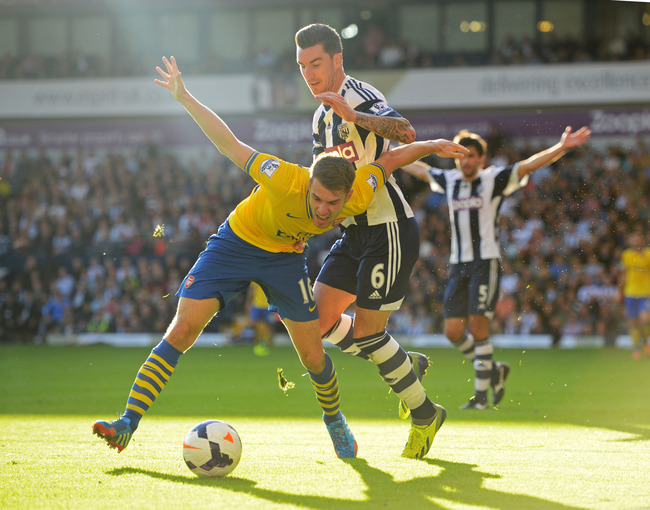 Michael Regan/Getty Images
Given Aaron Ramsey's incredible performances this season, you could be forgiven for thinking Arsenal had replaced him with some kind of Welsh-accented football automaton. His stamina has been inhuman and his finishing in front of goal terminator-like.
However, against West Brom he was withdrawn after an ineffective hour, clutching his thigh. Ramsey is human after all.
The Welshman was probably exhausted. Arsenal will hope the injury he picked up today is enough to keep him out of the Wales squad over the international break. Ramsey could do with a rest.
Keep Reading

Arsenal: Like this team?