The Americans dominated Day 3 of the Presidents Cup, but so did the weather—again.
Team USA holds a five-point lead over the International team after dominating through the first two days and what the golfers could actually do in Day 3:
Presidents Cup Scoreboard

| | | |
| --- | --- | --- |
| Team USA | | International Team |
| 3.5 | Thursday Four-Ball | 2.5 |
| 3.0 | Friday Foursomes | 3.0 |
| 4.0 | Saturday Four-Ball | 1.0 |
| 1.0 | Saturday Foursomes (Incomplete) | 0.0 |
| 11.5 | Total | 6.5 |
President's Cup Official Website
The first four-ball session was completed, but only one match in the second session went final after delays from Friday bumped everything back. Play was suspended on Saturday, and the day's events will bleed over into Sunday's action:
#PresCup Suspended: Darkness. Continues Sunday at 7:35AM ET on Golf Channel. USA 11.5, INTL 6.5 -> http://t.co/LsNpGMgWW5

— Golf Channel (@GolfChannel) October 5, 2013
Tomorrow: Foursomes will resume at 7:35am ET. Captains to draw Singles matches 8am, with tee-times beginning appx 9am. #PresCup

— The Presidents Cup (@PresidentsCup) October 5, 2013
Team USA won four of the five four-ball matches before winning the only foursome match to go final.
One team must reach 17.5 points to take home the victory. After foursomes are wrapped up on Sunday, golfers split, and every player from both sides must be active in singles action.
Here is a look at some of the best performers from Saturday with a critical Sunday on the way.
Tomorrow: Gates will open at 6:30am. TV coverage will air live on Golf Channel at 7:30a ET and NBC starting at 12p ET. #PresCup

— The Presidents Cup (@PresidentsCup) October 5, 2013
Jason Day and Graham DeLaet
As the only two International players not to suffer defeats in the early session, Jason Day and Graham DeLaet get a nod here with momentum to utilize heading into Sunday.
Day and DeLaet downed the American duo of Steve Stricker and Jordan Spieth after a stunning comeback despite falling behind by the time the first hole had concluded.
The dynamic duo wound up winning the match by hitting a birdie on two of their final three holes.
PGA Tour illustrates the big win nicely:
The Internationals grab a full point in the second match of the session, as DeLaet & Day improve to 2-1. #PresCup >> pic.twitter.com/2PSlvUSwrO

— PGA TOUR (@PGATOUR) October 5, 2013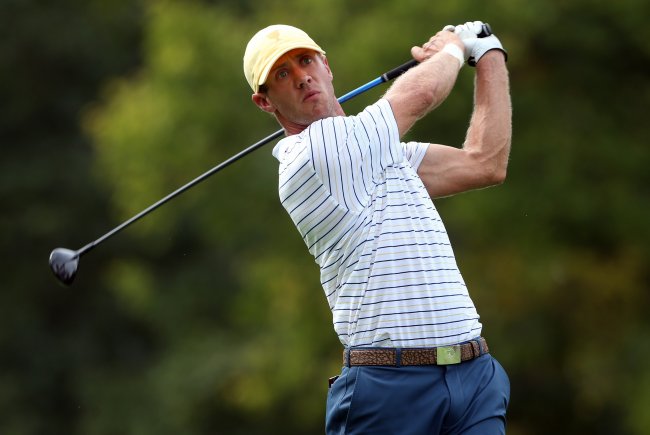 Brian Spurlock-USA TODAY Sports
DeLaet in particular continues to have an impressive tournament for his team. He was recently the first Canadian to score a point for the team since 2009:
Today @GrahamDeLaet recorded the first @PresidentsCup point by a Canadian since Mike Weir halved his singles match in 2009.

— PGA TOUR (@PGATOUR) October 4, 2013
Day and DeLaet have some much-needed momentum for the international team with a deciding Sunday on the horizon.
Keegan Bradley and Phil Mickelson
Speaking of dynamic duos, Keegan Bradley and Phil Mickelson are now 4-1 as a team after an impressive outing on Saturday.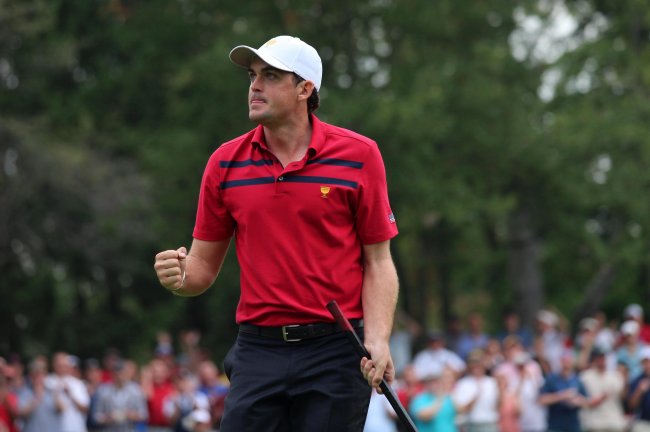 Allan Henry-USA TODAY Sports
Things started off rocky for the two earlier in the tournament after a loss to Louis Oosthuizen and Charl Schwartzel, but things took a major turn for the better on Saturday.
The duo notched back-to-back victories following the defeat and topped it off on Saturday with a comeback victory over Ernie Els and Brendon de Jonge, who had jumped to a two-stroke advantage before Mickelson took over.
Mickelson scored three times to Bradley's two in the span of eight holes to notch the victory.
Today was Phil Mickelson's 10th @PresidentsCup victory in the foursomes format. He and @Keegan_Bradley are now 4-1 as a team. #PresCup

— PGA TOUR (@PGATOUR) October 5, 2013
Perhaps the most interesting aspect of the early carry-over action on Sunday? Bradley and Mickelson will be in the middle of a foursome match against Day and DeLaet with things tied up through 13 holes.
Stay tuned: Sunday is going to be epic—weather permitting, of course.
Follow Bleacher Report's Chris Roling on Twitter for more news and analysis @Chris_Roling