Tiger Woods may not have won a major championship in 2013, but his performance alongside fellow American Matt Kuchar at the 2013 Presidents Cup has the helped the United States tremendously through three days of action in Dublin.
Play was halted due to darkness on Saturday afternoon at Muirfield Village with the U.S. holding an 11.5-6.5 lead on the scoreboard over the International team.
Woods was a big part of that effort. He and Kuchar recorded a point in the morning session with a 1-up win over Hideki Matsuyama and 2013 Masters champion Adam Scott.
Ernie Els and Brendon de Jonge currently have a 2-up lead over Woods and Kuchar in their foursome match with a little less than the full back nine to play on Sunday. Woods will have about a six-foot birdie putt on No. 10 when play resumes on Day 4.
After breaking the record for most wins at the tournament on Thursday, we should have known it was going to be a good week for Woods. ESPN Stats & Info explains:
Tiger Woods won his 21st career match Thursday at the Presidents Cup-- most in the history of the event

— ESPN Stats & Info (@ESPNStatsInfo) October 4, 2013
He and Kuchar were undefeated through two days of play. Coming into a crucial Saturday for captain Fred Couples and the Americans, it was clear the No. 1 player in the world would need to be on top of his game from the get-go.
Suffice to say, he was exactly that.
As noted by the PGA Tour's Twitter account, Woods was in a groove by hole No. 6:
Tiger birdies No. 6 (his third straight) and pulls the final match back to All Square. 3 matches are A/S, while the U.S. leads the other 2.

— PGA TOUR (@PGATOUR) October 5, 2013
After hitting a birdie, he had recorded three straight under-par scores and pulled his group all square with Scott and Matsuyama in the process.
The International team would take a 1-up lead after Matsuyama birdied No. 11, but Woods would save his best for last. A birdie on No. 13 helped started the comeback and wipe the slate clean on the scoreboard.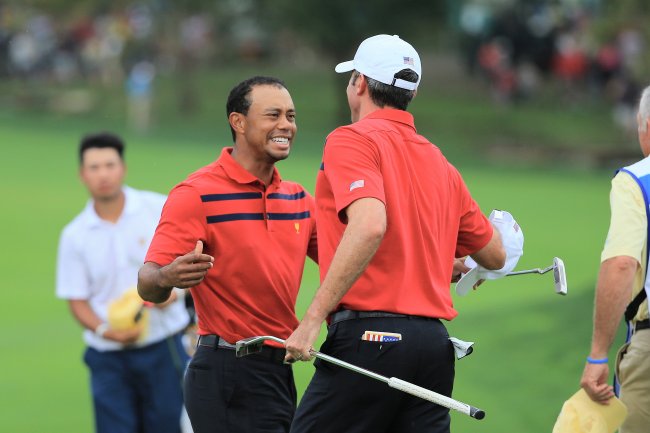 David Cannon/Getty Images
Kuchar followed with a birdie of his own on No. 14, and a conceded eagle on No. 15 wound up being the final nail in the coffin toward the 1-up victory.
As this tweet from CBS Sports' Kyle Porter suggests, Tiger is focused, motivated and intent on guiding the U.S. to its fifth straight Presidents Cup victory:
Tiger with the monster f-bomb after Kuchar's putt went down. Big session for the US Team.

— Kyle Porter (@KylePorterCBS) October 5, 2013
If nothing else, it's important to understand how far Woods has come after his career seemed to be on the downward slope nearly two years ago. ESPN's Bob Harig had a tweet for those who don't appreciate what Woods has done during the entire 2013 season:
Exactly 18 weeks ago today, Tiger shot 79 at Muirfield Village with a 44 on front nine. Now 3-0 at #PresCup with Kuchar

— Bob Harig (@BobHarig) October 5, 2013
Although he wasn't as effective in the foursomes part of the day as he was during the four-ball match, Woods still had a successful afternoon and hit his best shot of the day (No. 15) when it mattered the most.
Kuchar, for one, is probably willing to excuse Woods' slow start since there's plenty of golf left to play on Sunday. This tweet from Jason Sobel of the Golf Channel certainly points to that conclusion:
Matt Kuchar on Tiger: "This guy is a horse. Holy cow." That's a lot of animals in one tweet.

— Jason Sobel (@JasonSobelGC) October 5, 2013
After a disappointing finish at the 2012 Ryder Cup, Tiger can expel some of his previous international demons with a strong showing during the final day of action. In the process, he can also gain some momentum for the 2014 season and impending chase for his next major championship win.
It's been an impressive year across the board for Woods. A 5-0 record at the Presidents Cup might be the most impressive stat from his yearly resume when it's all said and done.
Follow B/R's Ethan Grant on Twitter.