For the first time since 2007, the Cleveland Browns have realistic playoff aspirations. But those aspirations hinge solely on the improvement of quarterback Brandon Weeden.
Just a few days ago, it appeared that Weeden's career as a Cleveland Brown was all but over. Third-string quarterback Brian Hoyer was inserted into the lineup after Weeden suffered a thumb injury in Week 2 and immediately became a fan favorite.
After an 0-2 start with Weeden at the helm, Hoyer led the Browns to back-to-back wins against the Minnesota Vikings and Cincinnati Bengals. For a franchise that isn't accustomed to strong quarterback play, it appeared he had done enough to claim the job for the rest of the season.
However, in a stroke of bad luck that is all-too-familiar for Cleveland fans, Hoyer was lost for the year due to a partial ACL tear suffered in the first quarter of the team's Week 5 tilt against the Buffalo Bills, per Nate Ulrich of the Akron Beacon Journal.
#Browns HC Chud said MRI shows QB Brian Hoyer suffered torn ACL that will require surgery. Said he'll be out for season.

— Nate Ulrich (@NateUlrichABJ) October 4, 2013
With Hoyer out of the lineup, it was Weeden who was once again called upon to lead the Cleveland offense to victory. He didn't exactly disappoint.
The maligned quarterback went 13-of-24 for 197 yards and a touchdown with no interceptions and a quarterback rating of 95.3. While those aren't the most flashy numbers in the world, it was enough to take advantage of Travis Benjamin's 179 punt return yards to win 37-24.
While the thought of Weeden taking the reins may be cause for some fans to throw this season away, the Browns can still be a playoff team if the team puts Weeden in positions to succeed and he continues to improve as the season progresses.
Here's how the team, and Weeden, can continue their success through the rest of the season.
Run the Ball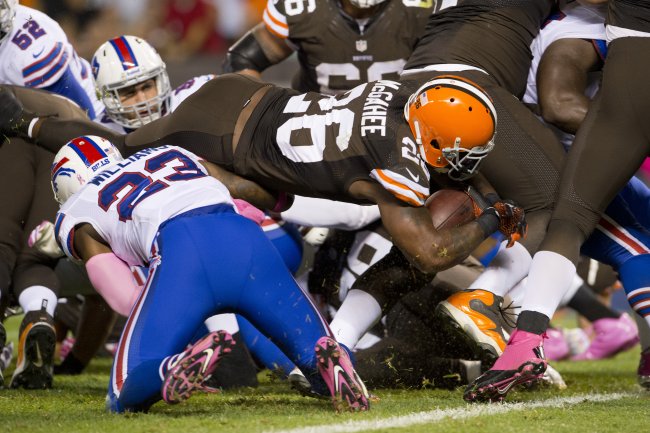 Jason Miller/Getty Images
While Hoyer immediately improved the offense, a decided change in play-calling philosophy also aided the Browns improvement as the season has wore on. Here's a look at the team's rushing performance from week-to-week:
Cleveland Browns Rushing Stats

| | | | | |
| --- | --- | --- | --- | --- |
| Opponent | Attempts | Yards | Avg. | Result |
| Miami Dolphins | 13 | 47 | 3.6 | L 23-10 |
| Baltimore Ravens | 20 | 65 | 3.3 | L 14-6 |
| Minnesota Vikings | 17 | 103 | 6.1 | W 31-27 |
| Cincinnati Bengals | 30 | 89 | 3.0 | W 17-6 |
| Buffalo Bills | 32 | 91 | 2.8 | W 37-24 |
Stats via ESPN.com
The Browns are far from having an efficient rushing attack. Willis McGahee doesn't appear to be as explosive as he once was, and the blocking hasn't been fantastic, either. But that doesn't mean that the team can abandon it.
If Norv Turner expects Weeden to throw the ball 50-plus times a week like he did in the Browns season opener loss to the Dolphins, he won't be successful. The coaching staff must continue to keep defenses honest with the run. Even if its not setting the world on fire.
Focus on Short Passing Game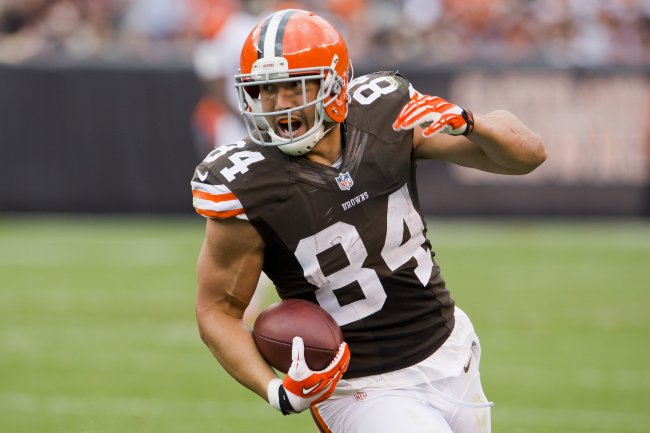 Jason Miller/Getty Images
The primary difference between Hoyer and Weeden is the latter's penchant for holding onto the ball too long. Pro Football Focus quantified this difference during Thursday night's game against the Bills.
Big difference in how quickly Weeden & Hoyer get rid of ball. Hoyer averaging 2.59 seconds time to throw, Weeden 3.25 yesterday

— Pro Football Focus (@PFF) October 4, 2013
And Bleacher Report's Michael Schottey made the observation when Hoyer was finding success against the Vikings.
Weeden has the arm for Chudzinski's vertically-based offense, but Hoyer has the decision making. NB: Vikings D has disappointed this year.

— Michael Schottey (@Schottey) September 22, 2013
While most of the onus has to be placed on Weeden for not making quick decisions, the coaching staff can help him out by utilizing more screens and three-step drops to get the ball out in space to playmakers like Travis Benjamin and Josh Gordon.
Improve on Third Downs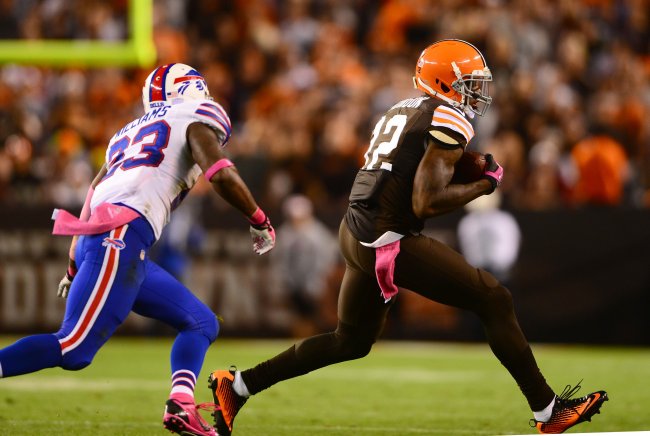 Andrew Weber-USA TODAY Sports
This one comes down to Weeden.
The best quarterbacks find ways to convert on third downs. As ESPN Stats & Info illustrated, Hoyer did while Weeden hasn't. That's the biggest difference between the two.
Entering day, Browns offense had converted 46% of 3rd downs with Hoyer at QB, 17% of 3rd downs with Weeden at QB.

— ESPN Stats & Info (@ESPNStatsInfo) October 4, 2013
Converting on third down extends drives, gives the defense more time to rest on the sideline and is the key to sustained success as an offense. If Weeden can start to convert on third down it will spark a drastic improvement in how the offense performs as a whole.
The Browns have the pieces to be a serious contender in the AFC North. With Josh Gordon and Jordan Cameron forming a dynamic receiving duo and the defense emerging as a truly elite unit, the only thing missing is a quarterback that can consistently put the Browns in position to win.
Whether Weeden can become that guy or not this season will ultimately determine their ceiling.