The United States is clinging to a tight lead after the first two days of the 2013 Presidents Cup.
Play on Friday was suspended because of darkness, with the US up on the International team by just a point, via PGA.com's Twitter account.
Play halted by darkness at Presidents Cup, USA leads 4.5 to 3.5 with 4 matches to finish up early Saturday morning. #PresCup

— PGA.COM (@PGA_com) October 4, 2013
Only two matches were able to fully get in before the golfers were forced off the course. The other four are all onto the back nines and shouldn't take much longer to finish up on Day 3.
Golf Channel's Rex Hoggard reported play will pick back up on Saturday at 7:35 a.m. ET., before the third round of action officially gets underway.
There will be a 7:35 a.m. restart @ the #PresCup on Saturday, followed by a 1 hr break before start of 3rd session.

— Rex Hoggard (@RexHoggardGC) October 4, 2013
Here's a look at Friday's results.
Presidents Cup Results—Friday

| | | |
| --- | --- | --- |
| United States Team | International Team | Match Result |
| Phil Mickelson/Keegan Bradley | Jason Day/Graham DeLaet | US wins 4 & 3 |
| Bill Haas/Hunter Mahan | Ernie Els/Brendon de Jonge | INT wins 4 & 3 |
| Steve Stricker/Jordan Spieth | Branden Grace/Richard Sterne | US 3UP thru 14 |
| Webb Simpson/Brandt Snedeker | Angel Cabrera/Marc Leishman | INT 1UP thru 13 |
| Tiger Woods/Matt Kuchar | Louie Oosthuizen/Charl Schwartzel | US 3UP thru 12 |
| Jason Dufner/Zach Johnson | Hideki Matsuyama/Adam Scott | INT 4UP thru 11 |
Presidents Cup website
Phil Mickelson and Keegan Bradley got things started off right for the United States, wrapping up a win with three holes left.
Things were looking a bit iffy early, as the duo dropped the first hole to Jason Day and Graham DeLaet and halved the next three.
However, Mickelson and Bradley then went on an absolute tear, winning seven of eight holes between No. 5 and No. 12. It was more than enough to essentially see the United States through to a point. Day and DeLaet were able to win 13 and 14, but the damage had already been done.
Mickelson and Bradley have formed a rather fruitful partnership over the years, via Randall Mell of GolfChannel.com.
Mickelson/Bradley are now 4-1 as partners in international team matches, 3-0 in foursomes.

— Randall Mell (@RandallMellGC) October 4, 2013
The United States weren't able to build much momentum, though, as Ernie Els and Brendon de Jonge secured a point for the Internationals.
Rather than going on a run like Mickelson and Bradley did for their win, Els and de Jonge were more workmanlike in their victory. The International team went up on the second hole and didn't look back. Bill Haas and Hunter Mahan were never able to get into the match.
In fact, the US team didn't win a single hole throughout the entire round.
Els and de Jonge were working exceptionally well on the course, and the match just strengthened the mutual admiration between the two, via Presidents Cup Twitter account.
Ernie Els on Brendon de Jonge: "He's just coming into his own. I played with him in Boston and said to Pricey, I found my partner." #GoINTL

— The Presidents Cup (@PresidentsCup) October 4, 2013
The other four matches will have to finish up on Saturday.
Based on what has happened so far, the United States look sure to wrap up two points, while the International team will counter with one of their own.
Steve Stricker and Jordan Spieth are three-up on Branden Grace and Richard Sterne through 14 holes, while Tiger Woods and Matt Kuchar are three-up with six to go on Louis Oosthuizen and Charl Schwartzel.
It would be shocking to see either of the teams lose that lead with so few holes left to play in the round.
You could say the same for Hideki Matsuyama and Adam Scott, who are four-up on Jason Dufner and Zach Johnson through just 11 holes. The International duo were almost perfect on Friday, and they left themselves with little work to do on Saturday.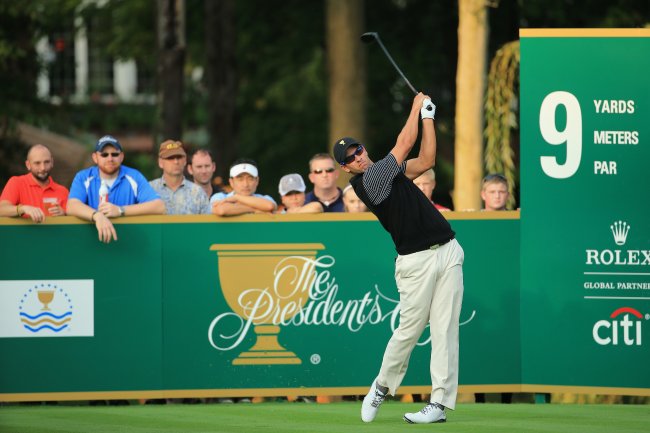 David Cannon/Getty Images
The only match up in the air is between the teams of Angel Cabrera/Marc Leishman and Webb Simpson/Brandt Snedeker. The Internationals have a one-hole lead through 13 holes. The United States have a chance to snatch the win late, but Cabrera and Leishman were the much better partnership for most of the day.
It's probably best to bank on the US maintaining a one-point lead when Day 3 of the Presidents Cup tees off.