Patriots Steal Miracle 30-27 Win over Saints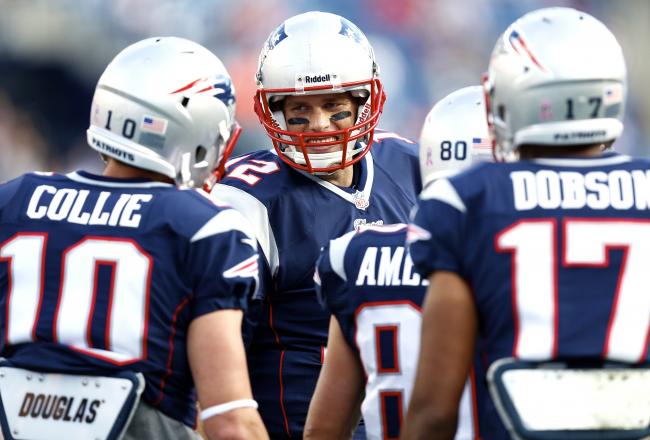 The 5-1 New England Patriots defeated the 5-1 New Orleans Saints on Sunday, with Tom Brady throwing the game-winning touchdown with just :5 seconds left on the game clock.
It was one of the most impressive moments of Brady's career, when it looked fairly certain he would take a large amount of criticism for the looming loss.
New England took an early 3-0 lead, but the Saints marched down the field on their second drive, capping it with a three-yard touchdown pass from Drew Brees to Travaris Cadet.
The Patriots responded on the next drive, getting two big catches and a drawn pass interference call from Aaron Dobson. Stevan Ridley capped the drive with a one-yard touchdown run.
After another three-and-out by the Saints, the Patriots drove the length of the field, with Ridley once again capping it off with a touchdown, this one from four yards out.
The Patriots defense did a masterful job shutting down Jimmy Graham in the first half, holding him to zero catches.
The Saints opened the second half with a quick drive that ended with another red-zone field goal. On their next drive they would not be denied as Khiry Robinson tied the game with a three-yard touchdown run.
The Patriots broke the momentum with a 54-yard field goal by Stephen Gostkowski. The second half saw the Pats also lose both Aqib Talib and Danny Amendola. New England continues to be hit hard with injuries, to key star players.
A Kyle Arrington interception set the Pats up in the Saints' red zone, but they could not convert a third-and-goal from the four yard line. They settled for a six point lead with just under nine minutes remaining.
The Saints would respond with another touchdown drive with Brees finding Kenny Stills with a 34-yard pass in the end zone.
The Patriots had no response, going four-and-out on their next possession. The defense held the Saints to a field goal, just before the two-minute warning.
It looked like the Saints had wrapped it up, until Tom Brady led a furious 70-yard drive that got them down to the 17-yard-line with :10 to play. He hit Kenbrell Thompkins on the next play for the touchdown, sealing a 30-27 victory for the Pats.
With today's win, his 210th as a head coach, Bill Belichick moves past Chuck Noll for 5th all time in NFL history.

— Field Yates (@FieldYates) October 13, 2013
And the Patriots win. There hasn't been a miracle like that in Foxboro in quite some time.
4th quarter, :05 remaining
In an unbelievable moment, Tom Brady found Thompkins with a 17-yard touchdown and the Pats take the lead with just five second left.
Touchdown Kenbrell Thompkins!!!!!!!
Fourth quarter, :35 remaining
Patriots aren't dead yet, moving inside the Saints' 40!
Fourth quarter, 1:13 remaining
Patriots are going to get one last chance as the defense forces a punt. Third time might be the charm?
---> @ErikFrenz Brady was 16-for-20 at halftime. 4-for-15 in the second half.

— shalise manza young (@shalisemyoung) October 13, 2013
Fourth quarter, 2:16 remaining
Brady goes deep on the first play to Edelman, but the pass was way off the mark and picked off. Saints almost have this thing wrapped up.
Saints up 27-23 after Hartley hits a 39-yard field goal. Pats will get one more shot with 2:24 to play.

— New England Patriots (@Patriots) October 13, 2013
Fourh quarter, 2:29 remaining
Saints take the field goal and it's a four-point game. The Pats have one timeout remaining, but the last possession doesn't inspire much confidence.
Fourh quarter, 2:33 remaining
Patriots not conceding anything, forcing the Saints to make their plays count. Pats could get the ball back if they can hold.
Fourth quarter, 2:46 remaining
It looks like a fitting end for the Patriots, as they can't even get a single yard on the drive. Aaron Dobson dropped a fourth-down pass that would've picked up the first down.
10 plays, 81 yards, 5:05 on that drive for the Saints.

— Christopher Price (@cpriceNFL) October 13, 2013
Fourth quarter, 3:29 remaining
And on 3rd-and-20, Brees sticks a 34-yard touchdown pass to Kenny Stills. The Saints have taken the lead by a point.
Do Tom Brady and his uneven offense have a game-winning drive in them? They have the time and the timeouts. Big test for the young offense coming up....
Fourth quarter, 3:35 remaining
Jerod Mayo and Darren Sproles are both down after a big hit from Steve Gregory. Saints facing a 3rd-and-20. It's crunch time!
Fourth quarter, 3:48 remaining
Saints take a timeout after a holding penalty cost them 10 yards. Patriots defense has bent all day, but will they break here in crunch time? The Saints have just one timeout left.
Fourth quarter, 4:40 remaining
Saints have over 100 yards rushing in the second half and now have another first down inside the Patriots' 20-yard line.
Fourth quarter, 6:00 remaining
Saints are sticking to the ground and having some success. Likely getting ready to take a shot.
Jimmy Graham's left shoe is off on the sideline. He's getting re-taped. Offense hits field without him.

— Jeff Howe (@jeffphowe) October 13, 2013
Fourth quarter, 8:34 remaining
Bolden gets stuffed on a third-down draw and the Pats have to settle for three.
Pats 23, Saints 17
Fourth quarter, 10:00 remaining
Stevan Ridley has made a big difference this week, carrying the rock and converting a 3rd-and-2.
The Pats face a third down inside the five. Big moment.
Patriots now have at least one turnover in 33 straight games, the longest active streak in the NFL.

— Mike Reiss (@MikeReiss) October 13, 2013
Fourth quarter, 12:00 remaining
Chandler Jones picks up a second-down sack, the first for the Pats on the game, and Kyle Arrington picks off Brees on the next play.
Big chance for the Patriots now as they take over inside the Saints' 20.
Fourth quarter, 13:45 remaining
Brady gets sacked for the fifth time today and the Pats are punting. Austin Collie has made his Patriots debut.
Patriots Injury Update: Danny Amendola has a head injury & will not return to the game. #NOvsNE

— New England Patriots (@Patriots) October 13, 2013
This article is
What is the duplicate article?
Why is this article offensive?
Where is this article plagiarized from?
Why is this article poorly edited?

New England Patriots: Like this team?