In a week loaded with exciting matchups between top teams, the Seattle Seahawks' visit to Lucas Oil Stadium to take on the Indianapolis Colts is one of the more intriguing battles.
The Seahawks (4-0) are coming off of a 23-20 overtime victory over Houston, the reigning AFC South champions. The Colts (3-1), meanwhile, are coming home after two statement victories on the road in San Francisco and Jacksonville.
Seattle is seen as one of the top two teams in the NFL (along with Denver) by virtually every analyst out there, while Indianapolis has calmed early concerns with strong defensive play and an efficient offense over the last two weeks.
Not only is this a battle of two of the league's most promising teams, it's the first head-to-head matchup between Andrew Luck and Russell Wilson, arguably the league's two most promising quarterbacks.
In order to win this one, both quarterbacks will be looking to solve a defense that has been stingy to start the season. The Seahawks and Colts are third and fourth, respectively, in points allowed so far this season (47 and 51 points allowed). Both offenses have relied heavily on the running game, with the Colts and Seahawks currently sitting at fourth and fifth, respectively, in yards per game.
The two teams are very similar, in reality. The defenses are both carried, currently, by their strong secondaries, while the offenses are fairly balanced for teams with such impressive young quarterbacks. The winner in this one will likely be determined by who executes better, with such similar teams, but there still are a few things that we can point to that Indianapolis will try to attack in order to finish the upset.
No. 1: Discipline in the Pocket
This isn't anything new for the Indianapolis defense, who faced Colin Kaepernick in Week 3, but it's a key part of defending Russell Wilson.
Wilson showed his dynamism in last week's win over Houston. Wilson ran for 65 yards on six rushing attempts, including an impressive scramble on 4th-and-3 where he made two defenders miss on his way to the first down.
When the Colts played San Francisco, they were able to keep him under control by cupping him in the pocket and getting pressure on him without blitzing him incessantly. Kaepernick finished with just 20 yards on seven carries against the Colts in Week 3, with a career low of 2.86 yards per carry (min. five attempts).
The key to containing Kaepernick that week was two-fold. First, the defensive line was active, but disciplined in holding their gaps. The line did a fantastic job of "cupping" Kaepernick and not allowing him to escape the pocket and outrun defenders to the edge. When rushing lanes opened up inside, Kaepernick often had no way to take them, due to the Colts' use of a quarterback spy.
Jerrell Freeman was often the spy, and finished with a sack and a forced fumble on the day.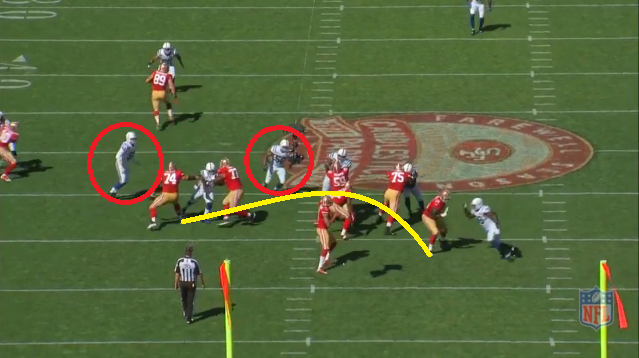 On this play, for example, the Colts pushed the right side of the pocket up field, and used two psuedo-spies to patrol the two main gaps on the left side. Kaepernick couldn't find an open receiver on the play, and tried to escape the pocket, but failed. He eventually threw the ball away to avoid being sacked by about three Colts.
The Colts will likely apply similar defensive tactics against Wilson. If they use man-to-man coverage on the outsides, which best suits their corners, they'll have to keep a spy on Wilson. Allowing Wilson to see a field full of defenders with their backs to him would be suicidal.
Of course, don't get me wrong, the Colts can't just sit back and let him sit in the pocket. Wilson will pick them apart if the Colts can't get pressure on him. According to Pro Football Focus (subscription required), Wilson has a 120.3 quarterback rating when he isn't pressured, and a 49.6 rating when pressured. It's not a new phenomenon for a quarterback to struggle when pressured, but with Wilson there is a huge difference.
With Seattle's injury issues on the offensive line, the defensive line should have a shot at pressuring Wilson, but will need to keep their gaps closed at the same time.
No. 2: Open up the field for Reggie Wayne
One of the keys to the Pep Hamilton offense thus far has been using deep routes and the threat of the run to open up the middle of the field for Reggie Wayne, something that Sports Illustrated's Doug Farrar covered in-depth in his review of the Colts offense:
And when the Colts do run play-action, one of their favorite concepts is to line speedy young receiver T.Y. Hilton outside veteran Reggie Wayne in the slot. At the snap, you'll see Hilton take the top off and work at least one safety, while Wayne owns the middle of the field behind linebackers that have been frozen by the fakes.
This is something that Luck and Wayne have been able to take advantage of quite frequently. Just take a look at Wayne's receptions by direction chart.
Reggie Wayne Receptions by Direction

| | | | |
| --- | --- | --- | --- |
| Distance | Left | Middle | Right |
| 10+ Yards | 2 for 30 yds | 8 for 155 yds | 1 for 17 yds |
| 0-9 Yards | 1 for 4 yds | 7 for 85 yds | 1 for 3 yds |
| Behind the Line | 1 for 3 yds | 1 for 0 yds | 0 for 0 yds |
Pro Football Focus
The vast majority of the Colts' success with Wayne has come over the middle, something that should come in handy against Seattle. The Seahawks generally trust their two starting corners, Richard Sherman and Brandon Browner to their respective sides of the field, and rarely move them.
The Colts, on the other hand, love to move Wayne, especially to slide him into the slot and close to the line of scrimmage as a flanker. This should allow the Colts to get Wayne matchups with corners not named Browner or Sherman.
The Seahawks are actually 30th in the league in defensive DVOA against the opposing team's No. 1 receiver, so this could as good of a time as ever for Indianapolis to take advantage of them.
There are plenty of other keys, but those are two that the Colts can focus on schematically that isn't simply a matter of execution. The Colts will need everything to go right to get this upset, but it's one that is certainly doable at home on Sunday.