One Prediction for Tampa Bay Lightning's Top Stars in 2013-14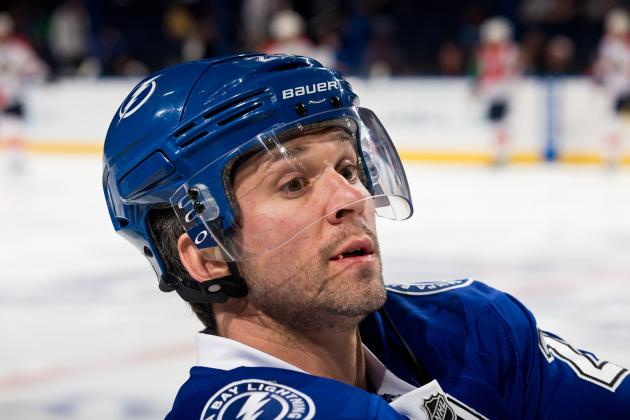 Scott Audette/Getty Images
Martin St. Louis has a new addition to his jersey. He will be one of a few stars the Lightning count on in 2014.
The Tampa Bay Lightning have a new attitude to bring to the ice starting Oct. 3 in Boston to kick off their 2013-14 NHL season. Led by a new group on and off the ice, the Lightning's stars look to meet expectations this year.
Recently announced as team captain, Martin St. Louis will look to bring coach Jon Cooper's mission to life this season as the team hopes to reach the playoffs for the first time since 2011. It will be familiar faces like St. Louis that will be asked to shoulder a heavy load.
Tampa Bay's stars have a tough season ahead of them, but they have expectations to fulfill. Here is one prediction for each of the Lightning's top stars this season.
Begin Slideshow

»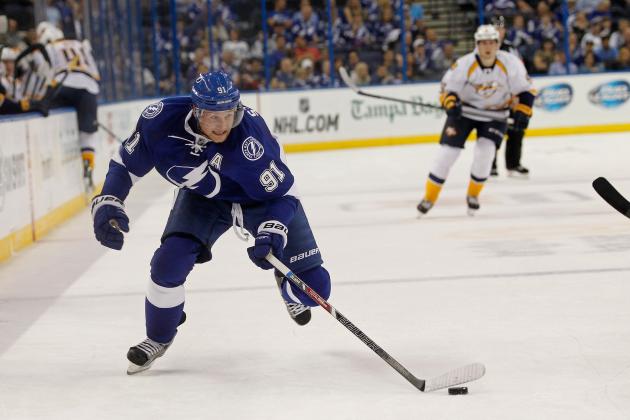 Scott Iskowitz/Getty Images
The league's most prolific goal scorer, Steven Stamkos, will be looking for another career year.
Stamkos sets a career high in assists
A few weeks ago, the bold prediction for Steven Stamkos was 50 goals before the Olympic break. On a more realistic level, Stamkos will be asked to be a consistent producer this season. He will be leaned on early and often as the young players develop.
For this season, he will set a career high in assists. His current career high is 46 set in 2010-11. He had 44 the year before.
It isn't outlandish to believe that Stammer is capable of a 100-point season. He has hit 97 and 91 in his last two full seasons.
A career high in assists would mean the rest of the offense is producing well. That would be a great sign for the Bolts.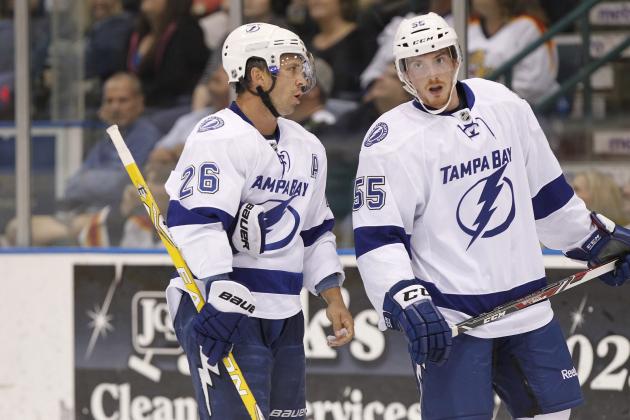 Kim Klement-USA TODAY Sports
St. Louis's career is winding down, but don't tell that to him or his teammates.
St. Louis has another average year
The prediction itself sounds so pedestrian. Everyone in the league could have an "average" year, but that's what makes Martin St. Louis so special.
His average season is above-average for most players. St. Louis has 912 points in 14 years—12 with the Lightning. Counting his two years in Calgary, he is averaging over 65 points per season.
Since 2006, St. Louis's lowest production total for a complete season was 80 in 2008-09. At 38, the captain should add another "average" season to his name this year. He will add another quality season to his presumably Hall of Fame career.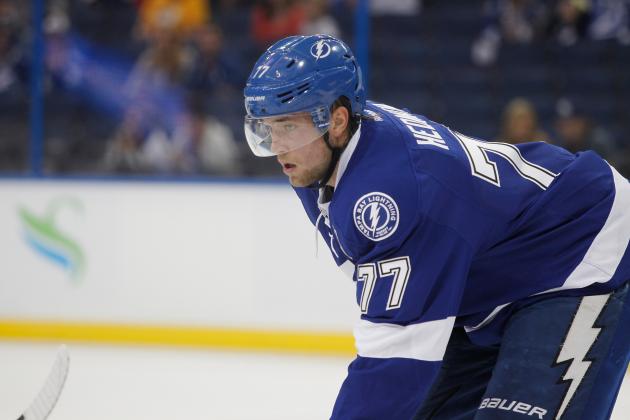 Scott Iskowitz/Getty Images
Victor Hedman will be asked to cover a lot of ground and eat a lot of minutes in 2013-14.
Hedman will lead the team in minutes
Victor Hedman is one of the brightest young players on the Lightning's roster. Entering his fifth season, he will be a focal point on the blue line to provide consistency and quality minutes.
Last season, Hedman averaged 22:39 minutes of ice time—second on the team. The year before he finished a similar second, but with 23:05 in average time. He has been a minute eater since earning a full-time spot in 2009.
He has produced at least 20 points in each of his first four seasons, but needs to improve his career minus-eight rating. The Swede will be used in all situations again this year as the Lightning hope to establish themselves in the Atlantic Division.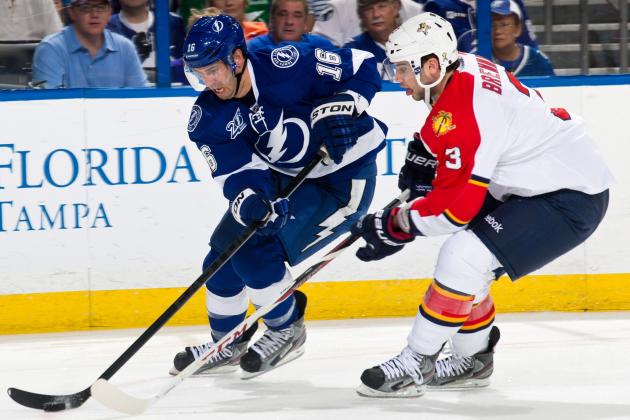 Scott Audette/Getty Images
Teddy Purcell could push his production to a new level with a solid season paired with Valterri Filppula.
Purcell breaks the 70-point mark
Teddy Purcell is one of the best players on the Lightning roster. He rarely misses games and has brought his career to new levels since leaving Los Angeles for Tampa Bay.
The 2011-12 season included career highs in goals, assists, plus/minus rating and penalty minutes. Last year's shortened season put a small damper on that, but he was still on pace for another 60-point year.
With Vincent Lecavalier in Philadelphia, Purcell will be asked to provide secondary scoring and be a mentor to the young prospects. On a line with Valtteri Filppula, he could thrive on both ends of the ice.
He has fallen just short of 70 points a couple times in his career. This could be the year he breaks that plateau.