Great Britain and Ireland's dominance over the Seve Trophy has lasted 11 years. As Sam Torrance's inexperienced team travels to Paris for this year's competition, Continental Europe will feel this is the perfect time to end a losing streak that has spanned six consecutive tournaments.
The much-anticipated contest takes place between Oct. 3-6 and features a packed schedule of fourball, foursome and single matches.
With the action just about ready to begin, let's take a look at the two teams competing and predict how the Saint-Nom-la-Breteche course will pan out for them.
Continental Europe
Team Continental Europe

| | | |
| --- | --- | --- |
| Player Name: | Years Played: | Record: |
| Jose Maria Olazabal (Non-playing captain) | 2000, 02, 03, 05. | 7-8-3 |
| Thomas Bjorn | 2000, 02, 03, 05. | 8-15-4 |
| Gregory Bourdy | Debut | N/A |
| Nicolas Colsaerts | 2011 | 1-3-1 |
| Gonzalo Fernandez-Castano | 2007, 09, 11. | 4-5-0 |
| Mikko Ilonen | 2007 | 2-1-1 |
| Miguel Angel Jimenez | 2000, 02, 03, 05. | 12-18-2 |
| Joost Luiten | Debut | N/A |
| Matteo Manassero | 2011 | 1-3-1 |
| Franceso Molinari | 2009, 11. | 5-3-1 |
| Thorbjorn Olesen | Debut | N/A |
Information via europeantour.com.
This year's lineup features a decent array of experienced players and debutantes. Jose Maria Olazabal captains the team for a second time and will look to replicate September 2012's "Miracle of Medinah" win in the Ryder Cup.
Should the drama reach anything near that level of intensity, we are in for a mouthwatering battle.
Predictions
While Continental Europe's only win remains in the year 2000's inaugural contest, Olazabal will be hugely motivated to replicate such a distant triumph. The longtime playing partner of Seve Ballesteros—for whom this competition is named—will want to build upon the dramatic Ryder Cup triumph with a victory for his sadly departed friend.
Olazabal leads a team that is missing the world-class talents of Henrik Stenson, Sergio Garcia, Jonas Blixt and Martin Kaymer. With seven of the side within five places of the world's Top 50, it is Matteo Manassero—currently world No. 31—who must lead by example on the course.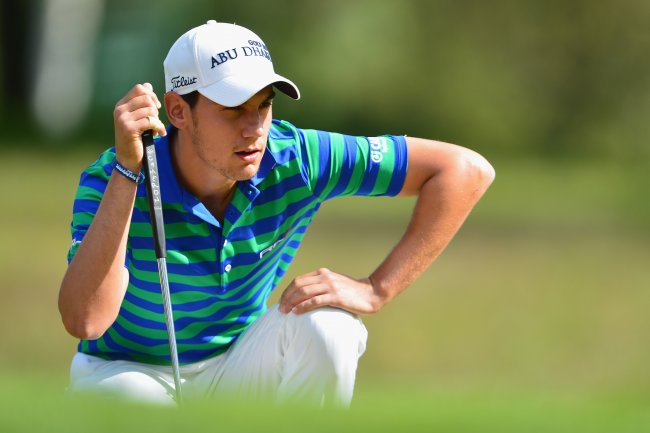 Stuart Franklin/Getty Images
Aside from possessing a higher world-ranking average, Olazabal's men are also leading the stakes in the Race to Dubai. A number of members competed at the recent Alfred Dunhill Links Championship, but worryingly for Europe, Joost Luiten's 24th-place finish was the best anyone could muster.
Skybet currently outlines Olazabal's side as narrow favourites with odds of 8-15, but this has the ability to spell trouble for those representing the continent. Playing under the weight of expectation will only hamper a side that is collectively under pressure to perform in France.
Olazabal will be looking to the likes of Thomas Bjorn for inspiration against GB and Ireland. The Danish golfer overcame Lee Westwood in the singles two years ago and—alongside Manassero—has the experience to alleviate pressure from younger members of the team.
Even so, Continental Europe will struggle under the assertion that their higher-ranked players should dominate the competition.
Great Britain and Ireland
Team Great Britain and Ireland

| | | |
| --- | --- | --- |
| Player Name: | Years Played: | Record: |
| Sam Torrance (Non-playing captain) | N/A | N/A |
| Paul Casey | 2003, 05, 07. | 10-7-0 |
| Jamie Donaldson | 2011 | 2-1-2 |
| Stephen Gallacher | Debut | N/A |
| Tommy Fleetwood | Debut | N/A |
| Scott Jamieson | 2011 | 3-1-0 |
| Simon Khan | Debut | N/A |
| Paul Lawrie | 2000, 02, 03. | 3-8-3 |
| David Lynn | Debut | N/A |
| Marc Warren | 2007 | 1-2-0 |
| Chris Wood | 2009 | 4-0-1 |
Information via europeantour.com.
Predictions
Much like Olazabal, Torrance possesses the kind of knowledge that can inspire any team to victory. While the 60-year-old Scot never competed in the Seve Trophy, his plethora of European Tour wins and recent Ryder Cup success holds the team in good confidence.
Stuart Franklin/Getty Images
Following suit from the Continental Europe dropouts, Torrance will be without superstars such as Rory McIlroy, Justin Rose, Graeme McDowell, Lee Westwood, Luke Donald, Ian Poulter and Martin Laird.
The big players' unwillingness to take part has led to anger in the Team GB and Ireland camp, which, rather ironically, features nobody from Ireland.
Who will win the 2013 Seve Trophy?
As reported by Alasdair Reid of The Telegraph, Paul Lawrie recently launched a verbal attack on the missing members. Five of Team GB and Ireland's 10 players currently nestle outside the world Top 100, with Jamie Donaldson leading the charge at No. 41.
Even so, the pressure has been lifted from this inexperienced side, especially when you consider Continental Europe are billed as favourites. Torrance's roster can travel to Paris knowing that—if Team GB and Ireland lose—those who take part are unlikely to get the blame.
The absence of McIlroy et al makes this year's competition a different prospect from tournaments gone by, but Scott Jamieson should prove a key man for Great Britain and Ireland, having achieved as many top-five finishes as anybody else on the European Tour this year.