The World Series is upon us.
The Boston Red Sox enter the Fall Classic after a 4-2 series victory over the Detroit Tigers in the American League Championship Series. Boston took two games in Detroit to further build upon its status as road warriors, but then closed out the series in the friendly confines of Fenway Park.
Over in the National League, things were just as wild. The St. Louis Cardinals won the NLCS 4-2 against the Los Angeles Dodgers
Both the Red Sox and the Cardinals have won two World Series titles since 2004. Tune in for a memorable series.
*Watch postseason baseball live on TBS.com or your mobile device.
You can get the full playoff bracket on MLB.com. Here's the schedule as it stands today: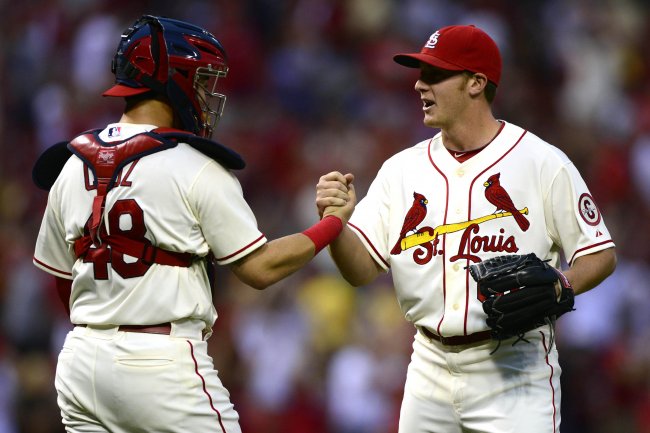 Jeff Curry-USA TODAY Sports
Completed Series
Game
Matchup
Date
Time (ET)
TV

Streaming

Game 1

Boston Red Sox 8

St. Louis Cardinals 1

Wed, Oct. 23
FOX
Postseason.TV
Game 2

St. Louis Cardinals 4

Boston Red Sox 2

Thu, Oct. 24
FOX
Postseason.TV
Game 3

St. Louis Cardinals 5

Boston Red Sox 4

Sat, Oct. 26
FOX
Postseason.TV
Game 4

Boston Red Sox 4


St. Louis Cardinals 2

Sun, Oct. 27
FOX
Postseason.TV
Game 5

Boston Red Sox 3

St. Louis Cardinals 1

Mon, Oct. 28
FOX
Postseason.TV
Game 6

Boston Red Sox 6

St. Louis Cardinals 1

Wed, Oct. 30
FOX
Postseason.TV
World Series
Game
Matchup
Date
Time (ET)
TV

Streaming

Game 1

Detroit Tigers 1

Boston Red Sox 0

Sat, Oct. 12
FOX
Postseason.TV
Game 2

Boston Red Sox 6

Detroit Tigers 5

Sun, Oct. 13
FOX
Postseason.TV
Game 3

Boston Red Sox 1

Detroit Tigers 0

Tue, Oct. 15
4 p.m.
FOX
Postseason.TV
Game 4

Detroit Tigers 7

Boston Red Sox 3

Wed, Oct. 16
8 p.m.
FOX
Postseason.TV
Game 5

Boston Red Sox 4

Detroit Tigers 3

Thu, Oct. 17
8 p.m.
FOX
Postseason.TV
Game 6

Boston Red Sox 5

Detroit Tigers 2

Sat, Oct. 19
4:30 p.m.
FOX
Postseason.TV
ALCS