Is Julio Cesar Chavez Jr. Still a Contender After Squeaking by Brian Vera?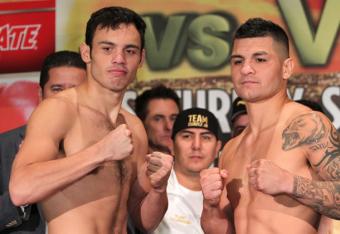 The derision that followed Julio Cesar Chavez Jr. into the ring against Brian Vera on Saturday night was just as prevalent after his controversial victory.

Few would argue that Julio Cesar Chavez Jr. has advantages when it comes to a boxing career.
He's got an athletic frame, can punch well with both hands and goes to the body like few fighters can. Oh, yeah, and he's got some pretty famous bloodlines, too.
In the immediate aftermath of his unanimous-decision victory over Brian Vera on Saturday night in suburban Los Angeles, a lot more writers, fans and wannabe experts are likely to opine on the latter qualifications than the former—while claiming the victory was akin to paternal highway robbery.
For full disclosure, my scorecard gave six of 10 rounds to Vera. But unlike those others, I didn't hold my nose and immediately dial up my congressman when Chavez's hand was raised.
Judge 96-94 97-93 and 98-92 for Julio Cesar Chavez. BAD CALL OUCH #ChavezVera

— Kevin Iole (@KevinI) September 29, 2013
It was a good, tough fight and could have gone either way. And when one guy lands 53 percent of his power punches—as even HBO's perpetually indignant Jim Lampley conceded afterward—he makes a pretty strong case that he deserves to win. For me, that's good enough.
Anyway, once the self-righteousness of the evening wears off, the post-mortem analysis will ultimately get to where it should have been from the start, on whether the sluggish 10-round effort against a handpicked six-loss opponent means Chavez's non-surname gifts are still valuable.
The answer here, in spite of the damage of Saturday, is yes.
Whether you believe he deserved the nod against Vera or not, the reality of the night is that Chavez stepped into the ring for the first time in more than a year and went 10 hard rounds against a less skilled, but twice-as-determined opponent who made him work for each and every one of 30 minutes.
He did so after what even his biggest allies would label an "uninspired" training camp, one that resulted in a struggle to make weight even after the contracted agreement was amended 10 pounds north of its original 163. So, while he may not have professional courtesy, he does have heart.
And, though neither the crowd nor the announce team chose to dwell on it, the abrasions and lumps around Vera's eyes indicated that Chavez did indeed have some good moments—proving that even a lazy, rusty version was good enough for an even scrap with the WBC's No. 5 middleweight.
Jayne Kamin-Oncea-USA TODAY Spor
So, given what he was able to do against a decent foe with subpar preparation, it would seem what the kid needs more than anything is discipline. And whether he reunites with former trainer Freddie Roach or chooses another big name to lead his camp, Saturday's remnants indicate success at 168 is hardly an impossible dream.
No oddsmakers worth their licenses would make him anything less than a solid favorite against WBC champion Sakio Bika or WBO titleholder Robert Stieglitz, either of whom would probably be thrilled to risk scorecard controversy to cash the check that sharing a marquee would yield.
A match with IBF champion Carl Froch, given the passion of his and Chavez's fanbases, would be a huge attraction no matter where it was staged. And, given the in-shape Chavez's predilection for fighters who willingly enter punching range, the fight itself wouldn't be bad or unwinnable either.
The same holds true for names like Gennady Golovkin and Saul Alvarez, each of whom have been suggested as potential foils. A match with Chavez would represent a sizable jump in both quality and name for the streaking Kazakh, while a duel with "Canelo" could wake echoes of the 100,000-plus that Chavez's old man drew to Mexico City during his glory days.
While no one asserts that Saturday was the kid's finest (half) hour, it probably—once the ill will subsides—did little to impact his long-term outlook. And provided he gets back to work and avoids a technical virtuoso like Andre Ward, even the most critical of the night's grenade-lobbers will ultimately give him a mulligan for bad behavior.
We should all have his job security after a lousy day at work.
This article is
What is the duplicate article?
Why is this article offensive?
Where is this article plagiarized from?
Why is this article poorly edited?