Fresno State, Northern Illinois, Boise State ... Does Anybody Have a Shot?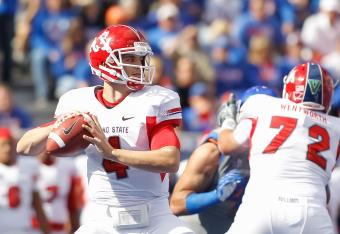 Otto Kitsinger III/Getty Images
Four weeks into the 2013 season, it's obvious that the flurry of conference realignment moves over the past two seasons have clearly created a chasm between college football's haves and have-nots.
Beginning with Nebraska's defection to the Big Ten in 2011, the big five conferences (ACC, Big Ten, Big 12, Pac-12 and SEC) will have seen seven members switch allegiances and added five new schools by next season. The former Big East has disintegrated and will become a rump conference of mostly former Conference USA teams by 2014 while the Western Athletic Conference has vaporized altogether.
As a result, the non-Automatic Qualifying conferences have never been more marginalized, with most of their best schools having been plucked by the big boys. In this week's simulated BCS standings, there's an all-time low in teams appearing in the standings anywhere since the BCS Guru began the compilation in the 2007 season. A total of just three non-AQ teams—No. 25 Fresno State, No. 30 Northern Illinois and No. 39 Navy—are listed among the 44 teams qualifying for the standings.
Without a doubt, a non-AQ team's inclusion to this year's BCS bowl games is very much in peril.
Since the BCS modified its format in 2006 to allow non-AQ members better access to BCS bowls, there have been seven entrants over the following seven seasons, including two—TCU and Boise State—in 2009, when they faced off in the Fiesta Bowl. The 2011 season was the only time when non-AQ teams were shut out of the 10-team field, as the Broncos, despite finishing No. 7 in the final BCS standings, were conveniently excluded because they failed to win the Mountain West title.
Though it's still only September, we're very close to writing off almost all of the non-AQ teams this season. The reconstituted Conference USA and Sun Belt are already done, with every member having at least one loss and lacking any high-profile opportunities to make a case. Neither conference has a team among the 44 listed in the latest simulated BCS standings.
That leaves us with just half a dozen non-AQ teams to consider—Fresno State, Wyoming and Boise State from the Mountain West, Northern Illinois and Ohio from the MAC, and independent Navy. But with Notre Dame, Duke, Pittsburgh still remaining on the schedule, let's just quickly dispense with the Midshipmen as they have no realistic chance to qualify for a BCS bid.
As for the other five:
- Northern Illinois, which got into the Orange Bowl last year by finishing No. 15 in the final BCS standings, is off to a 3-0 start, having already won at Iowa. If they can beat Purdue on Saturday and run the table to win the MAC again, the Huskies will have an excellent chance of becoming just the second non-AQ team to appear in back-to-back BCS bowls after TCU did it in 2009 and '10.
- Ohio was blown out by Louisville, but it might not hurt that much as long as the Cardinals keep winning. If the Bobcats can win their remaining games and upset an unbeaten NIU in the MAC championship game, they might have an outside shot of sneaking into a BCS bowl—but it's a very longshot.
- Wyoming's rally fell short at Nebraska in the season opener, but its offense is off to a flying start, scoring at least 34 points in each of its four games. If the Cowboys can go undefeated the rest of the way—winning a very competitive MWC Mountain Division—and then beat Fresno State again in the MWC championship game, they'll earn the non-AQ bid over the MAC champion no matter what.
- Boise State's BCS quest isn't dead—as we analyzed last week after a one-point loss to Fresno State—but it's very much on life support. The Broncos' faint hopes hinge on not just running the table, but also the Bulldogs staying unbeaten until they meet in the MWC title game. It's possible, but not likely.
- Fresno State is the only non-AQ team that controls its own BCS destiny. The Bulldogs are already in the top 25 in both polls as well as the simulated BCS standings. If they can get through the weaker MWC West Division unscathed and then beat either Boise State or Wyoming again for the conference title, they'll have a BCS bowl bid waiting for them.
This article is
What is the duplicate article?
Why is this article offensive?
Where is this article plagiarized from?
Why is this article poorly edited?