Formulating a Plan to Resolve the Heineken Cup Dispute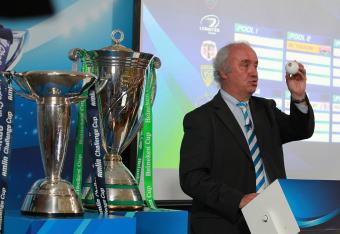 Peter Muhly/Getty Images
Being set this task is a bit like being sent to ask Rangers and Celtic fans if they wouldn't mind awfully just getting along.
It's never going to happen.
And in the last few days it seems equally unlikely that the Heineken Cup, at least in its present state, will last beyond the current campaign.
The English clubs are out. They are as out as an angry Peter Jones from the Dragon's Den who's just been pitched a fireguard made of chocolate fingers. They couldn't be more out if they tried. Out.
The French would like to be out with them, but they have a problem, they're bound by French law to compete only in tournaments sanctioned by their governing body. At the moment, that means they have no chance of competing in what they and their fellow rebels have called The Rugby Champions Cup.
So as it stands, it's the Heineken Cup or nothing for them in the 2014-15 season.
Should they opt for nothing, it leaves the Irish, Welsh, Scots and Italians supping at the Heineken bar, which, if you haven't twigged it yet, gives us the same competitors as those in the RaboDirect PRO12.
The suits at Heineken must be thrilled.

How to resolve this awful mess? We're going to try in three steps.
1. For God's sake, go to the meeting
Canadian lawyer Graeme Mew has been appointed to mediate in this mess.
This is the same Graeme Mew who ruled there was nothing to change about a questionable IRB decision earlier this summer. The decision in question was that they choose not to cite Wallabies skipper James Horwill after his boot made contact with the head of Alun-Wyn Jones in the second Lions test of the summer. Hmm.
There is a meeting set for October 23rd which, currently, the English and French clubs have no interest in attending, adamant that their new tournament will begin in 2014. But they also admit that it would be all the poorer without the inclusion of the likes of Munster and Leinster involved.
They've even mooted that South African franchises, fed up with travelling through time zones to play Super Rugby, could come north instead.
This is nonsense.
Sense must prevail, the meeting must be attended. Once at the table, Mew has the job of teaching both sides the art of compromise. Let's pretend for a moment he succeeds.
David Rogers/Getty Images
2. Start with a blank sheet of paper
This is what Mark McCafferty, Chief Exec of the English club game, has insisted Mew must start with if he has a hope in hell of getting them back into the tournament.
This sheet of paper will need to make allowances for the fact that the English clubs have already penned a TV deal with BT Sport for cross-border games, while ERC have done a deal for the Heineken Cup with Sky. If both deals are watertight, both will have to stand.

Then, they will have to agree a format and a revised remuneration plan. England and France want more cash for their part in the competition, and potentially more places based on merit. Whatever the agreement they thrash out over money, the allocation of places could do with looking at. One idea that would retain the 24-team format is to do the following:
England: Top six Premiership finishers
France: Top six Top 14 finishers
Ireland: Top three in the PRO12
Wales: Top three in the PRO12
Scotland: Best PRO12 finisher
Italy: Best PRO12 finisher
The next three places could be decided by playoffs between seventh placed English and French clubs, fourth Irish province, fourth Welsh region, second Scottish region and second Italian side in a seeded draw.
Final place awarded to Amlin Cup winner.
Will the Heineken Cup survive in tact?
3. The RFU has to help

The RFU hosts a World Cup in just under two years' time and should their players be frozen out of the highest level of club rugby on offer, they'll be undercooked and underprepared come 2015.
At this point it would be worth the RFU pointing out to the clubs what a successful English World Cup campaign could do for them, too. A healthy relationship between union and clubs has sprung from the mess that was the early years of professionalism, and this is the union's chance to keep the English clubs talking, rather than back their current stance.
It's to everyone's benefit to have strong European rugby including all the big hitters. Long term, going it alone will damage them all.
Over to you Mr Mew...
This article is
What is the duplicate article?
Why is this article offensive?
Where is this article plagiarized from?
Why is this article poorly edited?